In a close-knit relationship with your loungewear sets? We definitely are. That's because these days, loungewear can go anywhere, anytime, thanks to flattering, sophisticated silhouettes and fine fabrics that take you from the couch to the streets in style. Washing your pieces the right way will help keep them in rotation by preserving the fit and feel for longer. So sit back, relax (in your comfiest cozies, we presume), and read on: Our official guide to laundering all your loungewear is right here.
What You'll Need To Wash Loungewear: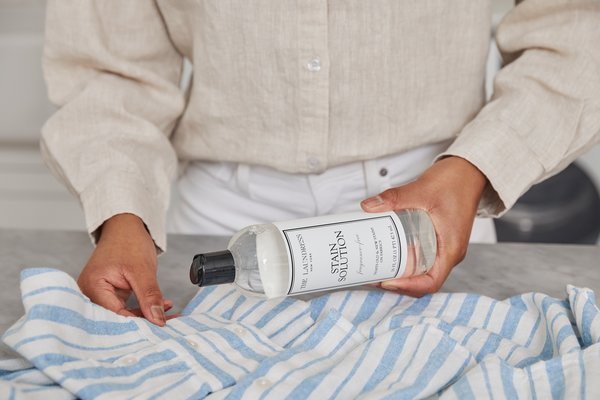 Step 1: Pretreat Stains
Before washing, treat stains with an appropriate pretreatment, using a soft-bristled Stain Brush to work in to the fabric. We love our Stain Solution for old and new stains on washable fabrics. This formula is designed to be applied directly to stains before the wash, where it works its magic to help lift tough protein, tannin and oil stains, from wine spills to chocolate ice cream smears.
Pro Tip: For white or light-colored loungewear, don't skip regular pretreatment for underarms, waistbands, collars, and cuffs, where pesky yellowing and dinginess tends to form.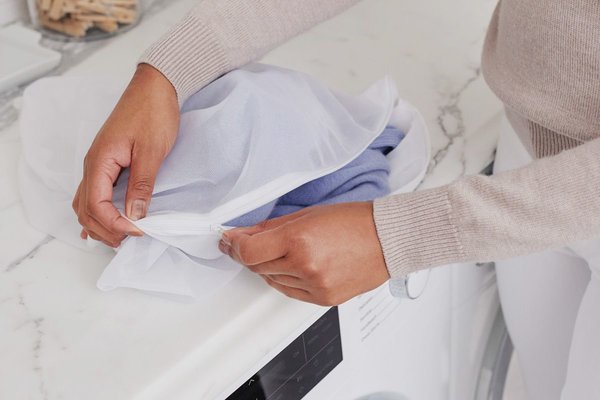 Step 2: Launder
Ready to launder? Keep the "problem of pilling" in mind before the wash by adding proper protection that helps cut down on friction. Turn loungewear fabrics (especially those with applique) inside out and place inside Mesh Bags before inserting them into the machine. Certain fabrics, like knits, delicates, and items with delicate straps, buttons, or detailing should always be put in mesh bags if machine laundering to avoid snagging during the wash cycle.
Cotton & Synthetics
While most loungewear garments are designed to take a lot of wash and wear, some snuggly fabrics are engineered to be extra soft with the inclusion of synthetic fibers. These are best preserved with warm or cool water, a delicate cycle, and a gentle, fabric-specific detergent like Signature Detergent for cottons and synthetics. Don't worry - Signature is expert-crafted for deep cleaning in any water temperature. For an extra touch of softness on these types of everyday loungewear fabrics, add Fabric Conditioner to the softening dispenser.
Knits & Woolens
For loungewear made of knits and woolens, like the viral featherweight cashmere layering tops or your favorite wool sweaters, always opt for an enzyme-free wash, like Wool & Cashmere Shampoo. This formula was optimized for cold-water washing to help maintain beautifully clean and cozy knit fabrics. Always select a cold, handwash cycle with low spin for knits.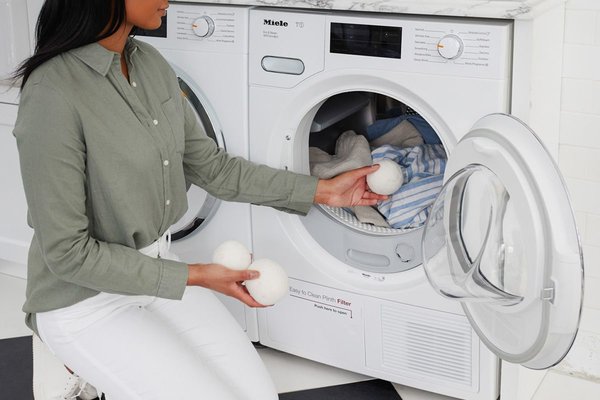 Step 3: Dry + Freshen
To keep your loungewear pieces soft and cozy for longer, air dry whenever possible. Knits and silk fabrics should always be air dried. To help them retain their shape, gently smooth the fabric by hand after washing and reshape to the desired finish before letting dry laying flat.
Word To The Wise: Never, ever machine dry knit or silk blends. Even if something only has 5% or 1% cashmere, wool, or silk, do not put it in the dryer. The heat from the dryer can cause irreversible shrinkage.
If you prefer to machine dry everyday fabrics like cottons or synthetics, opt for a low temperature setting or air fluff. Toss in a set of Dryer Balls to fluff fibers, cut down on static, and make drying more efficient.
Want to refresh your loungewear? Try steaming! Sweaters, leggings, and other loungewear pieces don't necessarily have to be washed with every wear. To keep things fresh, use a hand steamer to gently revive the fabric in between wears.