When summer vacation is up for your fall weather favorites, break them out of storage and get them back to baseline with our tips! From cozy knit sweaters to denim blues, read on to discover how to lift stains, cleanse, and freshen up your autumnal wardrobe in just a few easy steps!
Frustrated by set-in pit stains or a forgotten pen smudge on your favorite fall blouse? We always recommend lifting stains and spots before storage to avoid a tougher mess. However, if you're faced with a stained garment post-storage, don't fret! Grab our triple-enzyme Stain Solution and get to work!
This powerful solution treats protein, tannin, and oil stains, from dinginess and yellowed pits to food spills and marker smears. Before proceeding with stain removal, always assess the stained area and check the tag to ensure you are following manufacturer instructions. If you haven't tried using Stain Solution on your garment before, test in an inconspicuous spot first before following these stain removal steps:
Apply Stain Solution to target areas on everyday fall fabrics, like underarms or shirt collars.
Gently work in with a Stain Brush, moving in circular motions to help enhance stain removal.
Finally, proceed with laundering as normal (we love washing with Signature Detergent!). Depending on the fabric and stain type, we generally recommend washing stained items using the hottest water the fabric can tolerate.
Pro Tip: Always remember to check stained fabrics for stain residue after washing before tossing into the dryer. Machine drying your stained fall fit could make spots harder to remove!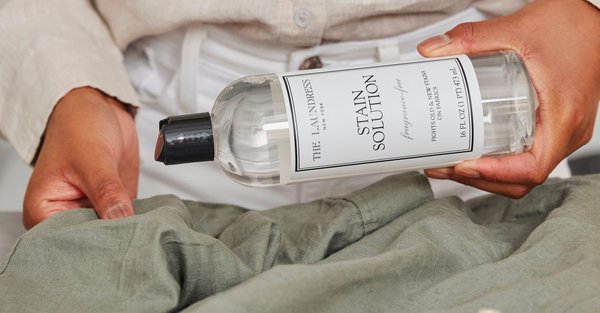 Cleanse
Dinginess and yellowing most often affects cottons, linens, and durable synthetics, but your woolens aren't immune. Here's how to brighten them right up. You should always store items clean to avoid attracting critters, but if you missed a sweater or two, give them a quick wash with Wool & Cashmere Shampoo. Always use a delicate machine setting with cold water, and place your sweater inside a Mesh Bag.
We put together a cheat sheet for cleansing your fall fabrics, so come autumn you can step out in style:
Fall Wardrobe 101: How to Wash
Cardigans and Sweater Dresses:
Place knits in a Mesh Bag, select a cold, delicate cycle, and use Wool & Cashmere Shampoo.
Cotton Tees:
Keep everyday t-shirts looking their best by laundering with a normal cycle and our Signature Detergent formula.
"Shackets" and Flannels:
Help these classic layering pieces maintain their shape by washing on cold with Signature Detergent (or Wool & Cashmere Shampoo for woolen shackets!), and always hang dry.
Denim:
Keep your baby blues feeling fresh by washing inside-out with cold water and Signature Detergent.
Eveningwear:
From slinky dresses to smart slacks, launder washable fall eveningwear pieces on cold with Delicate Wash.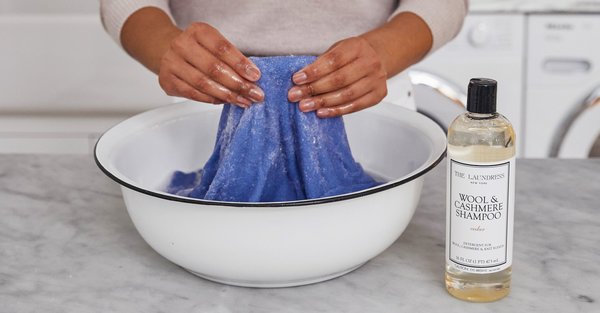 Freshen
When it comes to refreshing your fall wardrobe post-storage, some items (like bulky coats, suit jackets, and "dry clean only" fabrics) simply can't be washed at home. A great option to refresh your non-washable fall wardrobe items is to use a garment steamer! Steaming provides the safest and gentlest finish for laundry items, releasing wrinkles and fluffing fabrics for a natural, relaxed finish. The steam and high heat will also help eliminate any mustiness from storage. Not sure how to steam? Follow our steps for steaming below:
Fill your garment steamer tank with distilled water and turn on.
Hang up your garment on a clothing rack (or shower curtain rod!) to make steaming the garment easier.
Once ready, take the steamer and pass it over your entire garment, working slowly in sections.
Holding the fabric taut, steam each section for about 1-2 minutes to allow the garment fibers to relax.
Let fully dry before putting your garment away.
Don't have a steamer handy? Use an iron set to the "steam" setting, hovering over the item without making direct contact. Pressing an iron on wool, cashmere, velvet, and corduroy fabrics can crush and damage their sensitive fibers, so avoid applying the iron directly on top of these fabrics.
Fabric brushing is another great way of reviving fall fabrics like knits, woolens, and outerwear. Brushing helps bring out the natural oils in your knits, and that's what helps keep them soft and supple! Brush sweaters, blankets, cold weather accessories, outerwear, and more with a fine garment brush designed for knitwear.