You cannot wash leather garments, as it can ruin the finish and fit of the fabric, but its cheaper and more convenient counterpart - faux leather - is able to be cleaned easily at home. Knowing how to clean your faux or fake leather jacket, leggings, or purse is important to helping it stay in your closet for longer. Learn how to properly care for faux leather leggings and jackets with these easy steps.
Is It Real or Faux Leather?
First, check your garment tag to ensure washability. If your faux or fake leather item is missing its garment label, look for inconsistencies in the fabric. Real leather will have a less uniform look while faux leather will have a fairly clean appearance. Faux leather is also nonporous and traps odors easily, so you'll feel the heat and need to clean fake leather with a quick wash after each wear. If you're not sure - consult a dry cleaner to ask if your leather item is real or faux.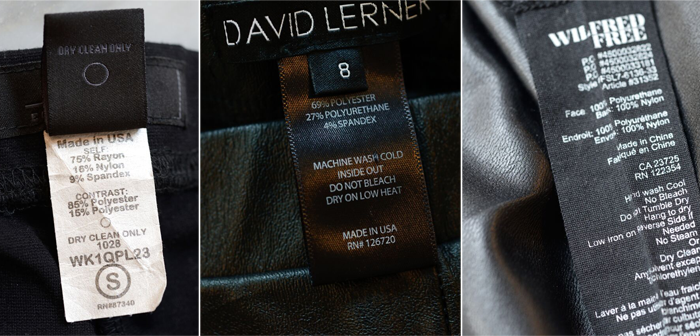 Often made of polyurethane or polyvinylchloride with a polyester backing, caring for faux leather leggings and jackets calls for a gentle detergent. For delicates, we love to use our Delicate Wash, a specialty solution formulated with gentle surfactants for at home cleansing.
Washing Fake Leather Jacket or Pants 
Turn your faux leather item inside out and place it into a Mesh Bag to prevent it from snags and tears. Faux leather is particularly prone to snagging inside the machine, especially if your item contains zippers or hardware, so use a mesh bag if possible. Set your machine to the delicates cycle and make sure to the water temperature is cold with a low spin cycle. Follow the instructions on the bottle to add the required amount of the Delicate Wash to your washing machine.
Drying Faux Leather
Lay your faux leather item in its natural shape on a drying rack or hang to dry. If hanging, be sure to position the item properly on a hanger to prevent stretching. Never put faux leather items in the dryer!