From sneakers to canvas kicks we're sharing our secrets for at-home cleaning. Follow our steps to give your steppers a good scrub down.
If you're wondering how to wash shoes in the washing machine, we've got the answers. When it comes to fabric sneakers, almost all can be machine or hand laundered, including canvas, cotton, and synthetics. Hand washing is the best method to protect shoes from becoming warped or snagged in the machine drum, though many durable shoes can withstand a machine wash. Always check manufacturer cleaning recommendations before starting the wash process. Generally, we recommend using warm water and an everyday laundry detergent, like Signature Detergent to wash your kicks. It's important to treat tough stains with Stain Solution ahead of washing to help lift heavy marks, and to soak laces separately to get them cleaner. 
Sneakers with leather or suede detailing however, should not be fully submerged in water. Don't put these shoes in the washing machine, as it can ruin the suede or leather trim. Instead, spot treat excess dirt or stains on the non-leather parts using a soft stain brush and a stain remover designed for dirt and grease. 
Leather or suede shoes, such as dress shoes or boots, should not be washed at home using water. We recommend using a leather spray that protects your leather shoes from the elements to keep them in tip top shape. For suede, regular brushing with a soft bristled brush or shoe brush can help keep the surface smooth and free of dust and dirt. For stains, consult a leather professional before treating at home, as exposure to water and detergents can damage leather. 
Follow our step-by-step tips below to find out how to wash each type of shoe at home! 
Clean Canvas Kicks
STEP 1:
Sneakers Aren't Sneaky If They're Stinky
Wondering how to wash white shoes? If your white or light-colored canvas sneakers are anything but clean, add some pep to their step by pretreating stains, scuffs, and odors. 
Before treating, always remove laces and liners (if possible). Apply Stain Solution and work in with a stain brush. Keep in mind this should not sit on the surface of your shoes outside of a soak or wash for an extended period of time, so be sure to toss in the wash after applying!
For darker-colored canvas, treat stains with Stain Solution before your wash step. If you are concerned about color bleeding from one part of the shoe onto another (for example, a dark stripe bleeding onto a white background), test an inconspicuous part of your shoes first by blotting with a cloth dampened with hot water. If you observe heavy dye transfer, you'll want to avoid submerging the shoes in water.
Soak laces separately in a bowl or basin of hot water and Signature Detergent. Be sure to agitate the water with a stain brush to activate the solution before soaking! If needed, treat greasy, grimy stains on laces with Stain Solution and work in using the Stain Brush, then soak.
STEP 2:
Take the Plunge
Time to give your kicks a nice, sudsy bath! Add Signature Detergent to a bath or basin of hot water and soak shoes for at least 30 minutes. Change the dirty water and add more detergent as needed! Rinse well at the soak's completion until soapy water runs clear. 
Got extra dirty kicks? If you're curious how to wash white shoes in the washing machine, it is possible! However, you'll need to use a cool or warm setting to avoid melting the rubber. Since there's less agitation and more heat control with hand washing, you can use a hotter temperature, but it's best to play it safer for machine laundering. Be sure to remove the laces from your shoes and place inside a mesh bag before tossing shoes into the machine. Use Signature Detergent and a low spin cycle. Always air dry canvas shoes, as the high heat from the dryer can warp rubber soles, and potentially damage your machine. 
STEP 3:
Dry Off and Jump for Joy
Stuff sneakers with a clean cotton cloth to absorb moisture and leave to sit overnight. The cloth helps to remove excess moisture and speed up the drying process. 
Pro Tip: If possible, air dry your shoes outside. The sunlight will naturally whiten, brighten, and speed up the drying process. Just be sure to thoroughly rinse shoes before letting them dry completely in the sun.
STEP 4:
Freshen Up
There are several ways you can refresh your canvas shoes in between wears and washes. Gently mist the inside and outside of your shoes with a fabric refreshing spray to freshen and infuse the fabric with clean laundry inspired fragrance. To prevent heavier odors from accumulating in the shoes, sprinkle a teaspoon of baking soda inside the shoes. Let sit for at least 30 minutes or up to overnight before shaking out. Repeat 1-2 times a month or as needed.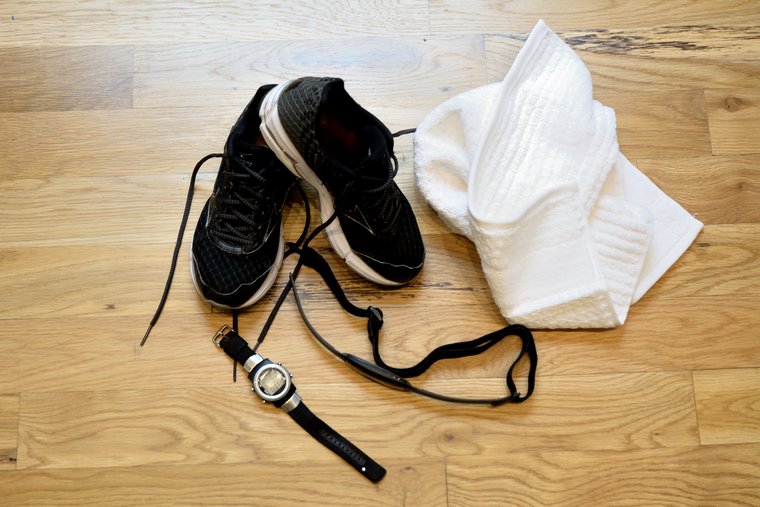 Don't Run From Sport Sneakers
METHOD 1: Quick Clean
When cleaning traditional mesh sport shoes with minimal dirt or grime, we opt for the Stain Solution to treat hard to reach areas and tricky layered fabrics.
Start by removing all liners. These can be hand washed separately in warm or cold water, depending on the material. Then, mix a few drops of Stain Solution with a splash of hot water in a small bowl. Using a soft Stain Brush or toothbrush, work the solution into the shoes.
Finish by thoroughly rinsing. Stuff with a clean dry cloth and leave to air dry.!
METHOD 2: Deep Clean
For a deeper clean, add Signature Detergent to a basin or sink filled with cool to warm water. 
Gently agitate the water with a stain brush to evenly distribute soap and submerge the item. Soak for up to 30 minutes.
Rinse well by running water through the sneaker until the water is no longer soapy. After thoroughly rinsing, stuff with a soft cloth to absorb excess moisture during the drying process.
If you prefer to wash your athletic shoes in the washer, first remove the inserts and laces and place them in a mesh bag. Select a delicate cycle with low spin on your machine, and Signature Detergent. For extra stinky kicks, add 2-3 tablespoons of odor-neutralizing plain white vinegar. After the cycle is finished, proceed air drying your sport shoes, stuffing them with a cloth as needed to expedite drying. 
Pro Tip: When cleaning shoes in the washer, do not toss them in with clothing. Always wash separately to protect clothing items and to ensure the deepest clean! 
METHOD 3: Freshen Up 
Just like canvas shoes, sport shoes can be freshened up in between washes and wears using a fabric freshening spray. For heavier smells or excess sweat, sprinkle odor absorbing baking soda inside the shoes and leave overnight before shaking out. 
Pro Tip: When removing the baking soda out of your shoes, shake them out directly over your kitchen drain, then pour ½ - 1 cup plain white vinegar over, adding more baking soda as needed. This will create a quick drain clearing solution that helps combat food residue and odors! Finish by rinsing with hot water.