We love fabrics with razzle dazzle—dresses, skirts, and blouses adorned with gleamy sequins, elegant pearls, decorative buttons, and delicate embroidery. They have the ability to instantly make you and any event feel magical. Post-festivities, preserve your sparkle with our pro washing, refreshing, and storing moves that'll maintain your decorative 'lil treasures so you can sparkle in them event after event... all year long!
What you'll need to wash sequins & embellishment:
A sink or wash basin
A gentle hand washing formula, like Delicate Wash
A towel and a flat surface area to dry
CHECK TAGS
Before proceeding with laundering any special sequined or embellished garment, be sure to check the item's tag. If the tag says "washable", check for any other laundering recommendations like water temperature. If the tag says "Dry Clean Only" or "Do Not Wash", do not proceed with laundering at home and instead take the item to a professional. While the base fabric might be washable, the sequins or embellishment may be damaged when submerged under water. If the item doesn't have a tag, or if you are unsure about the tagged directions, try completing a water test to determine whether you can wash. In general, we do not recommend attempting to launder very delicate vintage pieces with sequins and heavy embroidery (such as a vintage wedding dress) at home.
PRETREAT STAINS
Once ready to launder your washable garment, tackle stains with Stain Solution, our triple-enzyme formula for old and new stains. Suitable for makeup, dirt, sweat, and grime, this formula should be applied to stain-susceptible areas such as underarms, necklines, and cuffs. If needed, gently work into the fabric using a Stain Brush, but take care to avoid rubbing the brush over sequined or embroidered portions of the garment.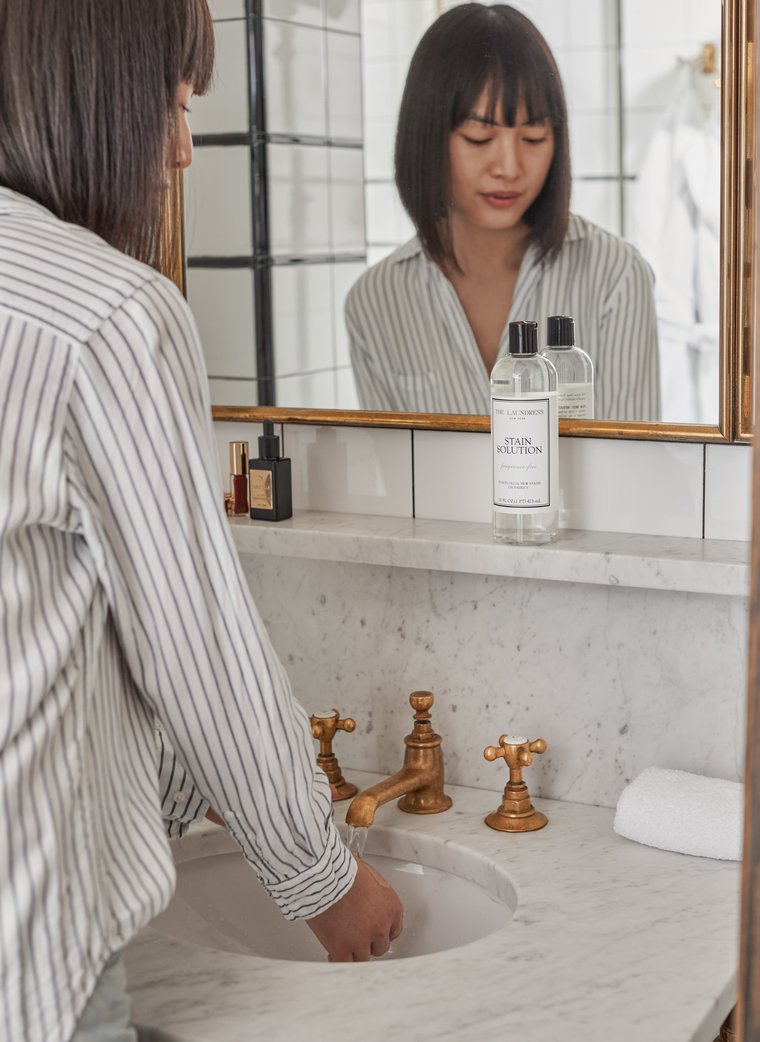 HANDWASH
Hand washing is the best and safest method for washing eveningwear and embellished items at home. Add gentle detergent for eveningwear like our enzyme-free Delicate Wash to a washbasin or sink filled with cool water, and gently agitate to distribute the solution.
Submerge the item and carefully swirl the water with your hands. Soak for up to 30 minutes, then rinse well by running cool water through the item until the water is no longer soapy. Do not wring or twist your embellished garment. Instead, press the water out of the item against the edge of your basin or sink.
DRY
Lay the item flat in its natural shape on a drying rack or towel, or hang dry if appropriate. Only hang dry lighter-weight items, as hanging heavier items can warp the garment. Do not put sequins or heavily embroidered items in the dryer, as it can damage the embellishment.
DE-WRINKLE & FRESHEN
To remove wrinkles and freshen in between washes, we recommend steaming your embroidered item using a hand steamer. If you don't have a steamer, you can use an iron by hovering over the item using the steam setting, just be extremely cautious not to touch the iron to the embellishments.
STORE
Sequined items are often heavy, so it is best to store them folded to avoid the stress and distortion caused by hanging. Always store embellished items clean - don't be tempted to put pieces away after your big sparkly night out! We recommend storing in a breathable cotton storage bag to help protect items from bugs and prevent yellowing.