A swipe of lipstick and mascara and you're ready to take on the day! If a makeup spot appears on your top as you dash out the door, don't worry, mastering red lipstick stain treatment and foundation drips is significantly easier and less time consuming than conquering the coveted cat-eye. Follow these steps for treating lipstick, mascara, eyeliner, gloss, and other dyed, wax-based makeup. Follow this guide on how to treat lipstick stains from clothes at home, along with many other types of makeup.
Lifting lipstick and makeup stains can be as easy as 1, 2, 3 with our expert stain tips and laundry formulas. Whether your makeup stains are more oily and waxy or more dye-based, our Stain Solution works wonders to treat both old and new spots and spills.
Step One: Pour over a few drops of your stain treatment, like our Stain Solution.
Step Two: Work in with a damp Stain Brush.
Step Three: Launder per tag recommendations using a stain-fighting formula like our Signature Detergent.
Read on for more of our expert makeup lifting tips!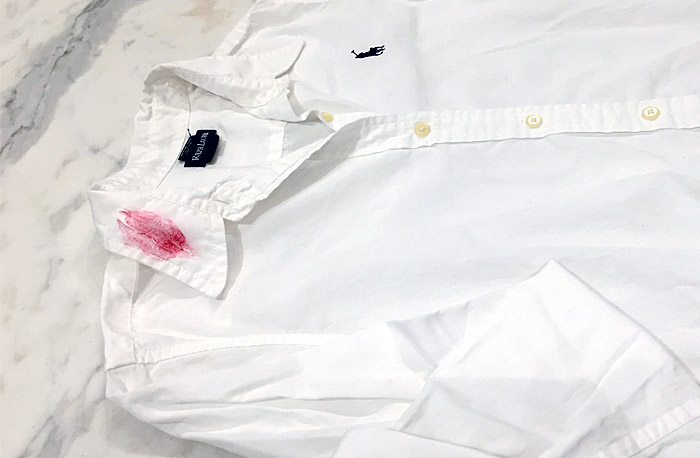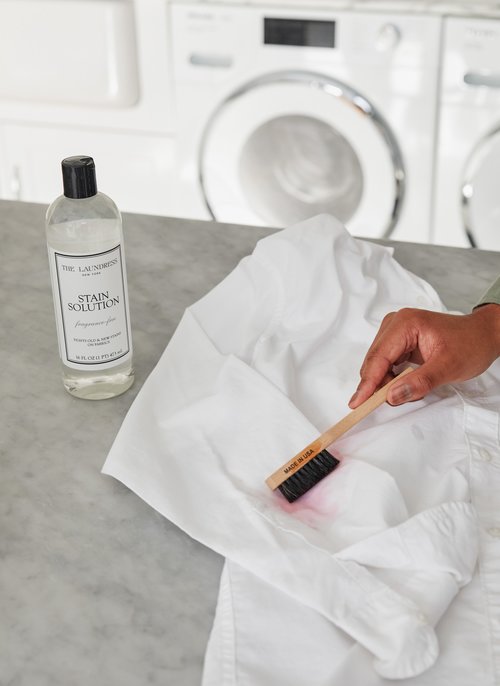 STEP 1: Kiss Stains Goodbye
Remove excess stain with a paper towel or scraping tool as needed. Apply Stain Solution directly to the affected area. This enzymatic formulation helps to treat both old and new stains.
STEP 2: Work It
Work the solution into the fabric using your finger or the Stain Brush. For added cleaning power, put the affected area under the faucet and let the pressure of the water help work the stain. Use hot water for cotton fabrics and cool water for silk and woolens.
STEP 3: Give It a Soak
For tough stains, create a bath of warm water and fully submerge the item. Add a squirt of your detergent formula for extra cleaning power! Allow it to soak for at least 30 minutes.
STEP 4: Launder
Launder the makeup stained item as usual with Signature Detergent using the hottest water the fabric can tolerate (typically hot water for cottons). Always air dry stained items to prevent setting in any lingering residue. Repeat the stain removal steps as needed.