Lunchboxes and backpacks are the unsung heroes of school supplies – they hold the tools that'll help kids thrive. Both are prone to spills, spots, and stains, but our cleaning 101 will provide you with the skills you need to launder and maintain them so they carry your kids from school year to school year, and beyond.
Plus, you probably already have everything you need to clean backpacks and lunchboxes in your laundry toolkit.
What You'll Need To Clean Backpacks & Lunchboxes:
A sink or wash basin for hand washing, or a large mesh bag for machine washing
A soft brush for scrubbing away stains and a stain treatment, like Stain Solution
A powerful, everyday detergent to fight stains, like Signature Detergent
A drying rack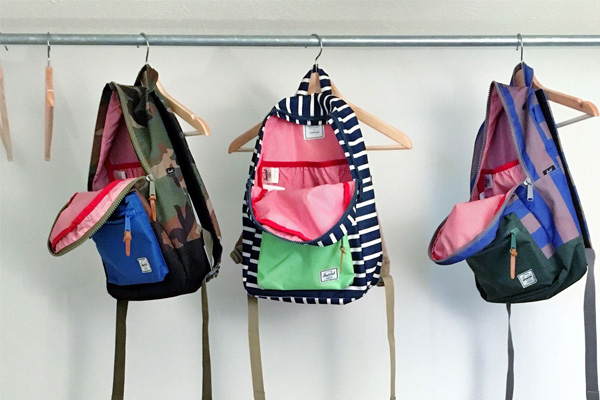 Wash Backpacks & Lunchboxes
Cotton, Polyester, and Durable Synthetic Fabrics
STEP 1: Clear It Out
Remove all folders, papers, and writing utensils; don't forget to clear out pockets, too. A lingering crayon or pen can cause a big mess in the wash, so be sure to shake the backpack out to catch any stragglers.
STEP 2: Pretreat Stains
Treat any visible marks or stains on the interior and exterior of the fabric with a stain treatment, like Stain Solution. Our Stain Solution contains a powerful triple enzyme blend that's great on tough stains. Work it in with a dampened Stain Brush before washing or soaking.
STEP 3: Insert Into Mesh Bag
Place the backpack into a large Mesh Bag if possible. This will protect zippers and straps from tangling or snagging during the wash cycle.
STEP 4: Machine Wash
Wash with Signature Detergent on the normal cycle, selecting warm or cool water. Always check the backpack's tag for any special washing instructions. Avoid washing synthetic backpacks with plastic or vinyl design panels in hot water.
STEP 5: Hang To Dry
Promptly remove the backpack from the washing machine and hang to dry. Do not use the dryer. Make sure to leave all the compartments unzipped for ventilation.
Keep In Mind: This guide is designed for fabric-based backpacks and lunchboxes. For hard plastic or vinyl backpacks and lunchboxes, use a few drops of unscented dish soap and a scrubbing brush to clean. Rinse well with warm water before reusing.