Revitalize outerwear post-storage and keep it clean through the dawn of spring with our tips for washing and stain treatment stains from the warm comfort of your own laundry room. From shackets to puffers, wool jackets and teddy coats, our expert-crafted solutions will keep your layers looking and feeling fresh all winter long.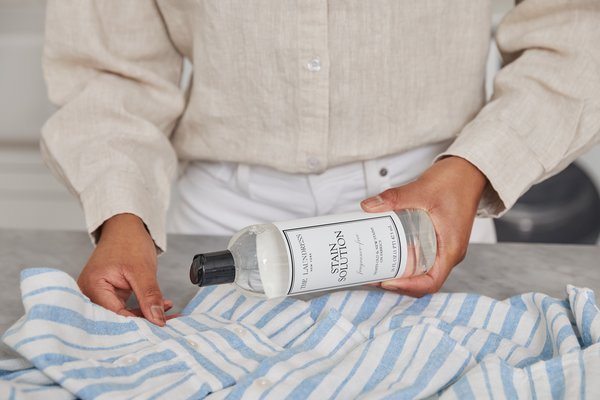 A Quick Note
Whipsawed by confusion over whether to wash? While most outerwear pieces can be laundered, be sure to take note of your item's details and construction. If there are non-removable leather or fur attachments, heavy structuring or paneling, or if the item contains real fur or hide, it's best to gently spot-treat or steam clean.
If your washable outwear contains none of the above, you can easily hand or machine launder with the below steps. We've successfully washed...
Down, fiberfill, and synthetic puffer coats & vests
"Shackets"
Fleeces
Teddy coats
Trench coats
Denim jackets
Wool coats and jackets
Faux fur coats and vests
Step 1: Get Stains & Odors Under Wraps
Stain removal is an essential prep step before washing! We recommend treating stains on washable outerwear prior to washing with a stain remover appropriate for your fabric type.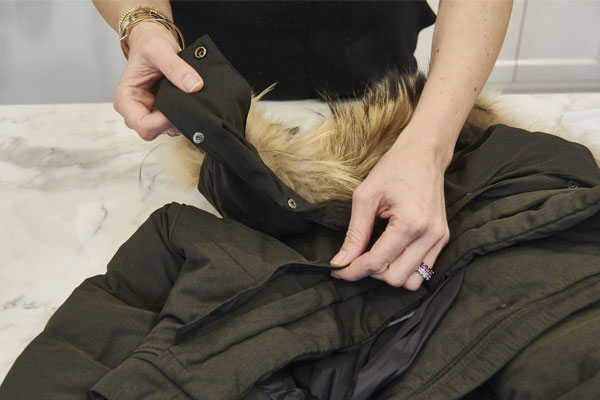 For washable fabrics, pour a tiny amount of the triple-enzyme Stain Solution liquid over the affected area and work in using a Stain Brush. It's always best to start with just a dime-sized amount (or less) of product to avoid over-saturating the fabric—as you work the solution in, you can layer on more as needed. This method is also excellent for pretreating stain-prone areas like cuffs and collars. Always test first before applying stain removers to avoid color pull.
For more in-depth stain removal tips, check out our 10 minute stain prep guide!
Step 2: Wash Like A Pro
Once you're ready to wash, always remove any fur or leather attachments and place your coat inside a Mesh Bag before dropping into the washing machine. This adds a crucial layer of protection against rips, tears, and snagging during the wash cycle, and also helps to preserve fit and finish. We recommend washing coats separately from other garments, and taking care to avoid overloading your machine.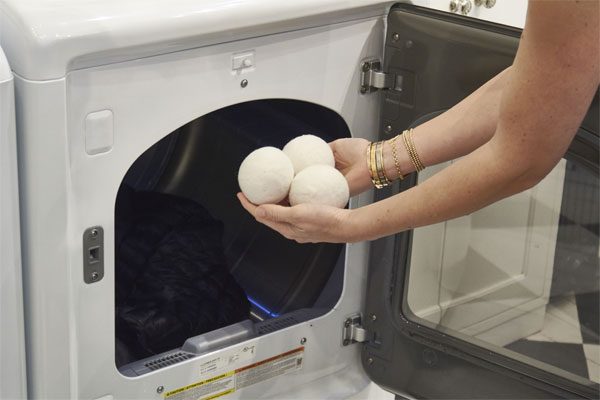 Grab our Wool & Cashmere Shampoo for any woolen or puffer outerwear. This product is optimized for cold water cleaning and specifically formulated without enzymes for a gentle cleanse. Bonus: The shampoo's Cedar fragrance reminds us of a crisp, morning walk along a wooded trail, blending fresh notes of sandalwood, cedar, rosewood, and bergamot.
When laundering cotton or poly outerwear, like a denim jacket, cotton trench coat, or synthetic fleece shacket, opt for Signature Detergent instead for a deeper clean. It contains a blend of bio-based enzymes designed to cleanse in all water temperatures.
For laundering coats in washing machines, first add your chosen detergent into the dispenser. Select a cold, low-spin cycle for laundering such as the handwash or delicate setting. The low spin is key to maintaining the fit and finish of your items. If your coat has heavy buildup select an extra rinse cycle.
Pro Tip: When washing vintage outerwear pieces, inspect the constructions very carefully before machine laundering at home. If you find loose threads, rips, or pulling at the seams, a safer cleaning method would be to simply hand wash or steam. If you don't have a steamer, you can use your iron on the steam setting, hovering just over the item without making contact. If you have a vintage faux fur that sheds after touch, do not wash—only follow the instructions for steaming. For excessive odors on non-launderable items, mist with a 50:50 solution of plain white vinegar (or unflavored vodka) and water, then steam thoroughly. Always check tags to ensure water exposure is appropriate before applying fabric sprays or excessive steam.
Step 3: Dry, Freshen, and Finish
Once you're ready to dry, lay your outerwear flat in its natural shape on a drying rack or hang to dry. Most outerwear, including wool and wool blend coats, faux fur (including anything with faux fur trim), denim jackets, synthetic "shackets", and trench coats should never be placed in the dryer, as it can affect garment construction. Many washable down, fiberfill, and synthetic puffer coats can be removed from their Mesh Bag and air fluffed in the dryer on a no-heat setting using Wool Dryer Balls. Fleece jackets can be dried with either method, just be sure to use the no-heat setting if machine drying to avoid shrinkage. Use a wide-tooth hair comb to detangle and brush faux fur pieces during air drying for a sleek finish!