Little compares to the nostalgic, straight-from-the-dryer scent of fresh laundry, but getting that aroma to last? That's another story. Lucky for you, we've done loads of experimenting over the years and we've cracked the code for locking in that coveted laundry scent with help from our solutions. Because we believe everyday chores like laundry should be enjoyable, our products mix fragrance with function. And because our complex scents are formulated more like a fine fragrance than your run of the mill detergent scent, they can basically take the place of your perfume… just sayin'. Read on for how to get—and keep—your laundry smelling scentsational.
Make Sure Your Washing Machine Is Clean
When's the last time you cleaned your washing machine? Believe it or not, these appliances need some washing themselves. Washing machines that smell musty can transfer that odor to your laundry loads, so be sure to clean yours regularly. Plus, the tools you need and might already have in your laundry cabinet. Discover our guide to cleaning your washer and dryer here.
Stop Stains In Their Tracks
Start fighting unsightly, odor-causing stains before the wash by pretreating everyday fabrics with Stain Solution. This powerful pretreat contains bio-based ingredients designed to combat both old and new stains for a perfect finish.
Choose A Premium Detergent Scent
Each one of our scent formulations contains perfectly balanced top, middle, and base notes that gently unfold throughout the wash cycle, transforming your laundering experience. To capture the timeless scent of fresh linens blowing in the breeze, we love to use Signature Detergent.
Pair Your Detergent With a Complementary Fabric Conditioner
To enhance the fragrance experience and seal in the scent, we make sure to add Fabric Conditioner in a scent that matches our laundry detergent to each load. To complement our Classic Signature Detergent, use Fabric Conditioner in the matching Classic fragrance.
Tip: Skip the use of Fabric Conditioner or just use every other wash when laundering towels, as using too much can affect certain fabrics' absorbency. Do not use with delicates, synthetics, woolens, or moisture-wicking activewear.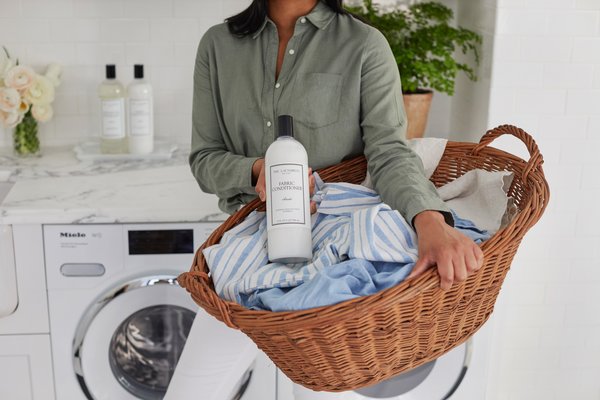 Spritz & Set
Air dry or machine dry your laundry as normal. Keep in mind that line drying (or using an air fluff machine setting) is a great way of helping maximize scent payoff! If desired, spritz the pile or each individual item with your favorite fabric freshening spray.