Transform your everyday laundry routine into a task that's anything but ordinary with the escapist scent of Isle, our newest addition to our bestselling everyday laundry collection. Envelop your senses and your fabrics in the sophisticated, subtly masculine scent of soft ocean spray and warm sandalwood and instantly satisfy your cravings for a getaway. Handcrafted by master perfumers, this scent will linger on your laundry much like a fine fragrance, so you'll get a whiff as you slip into your sheets, a hint as you slip on your favorite T-shirt. Ahead, how to elevate laundry with Isle and discover wanderlust with every wash.
Your Isle Laundering Toolkit:
Wanderlust In A Wash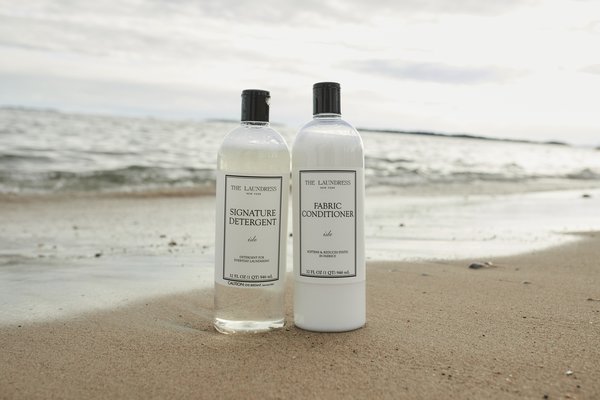 Step 1: Pretreat Stains
Don't skip this essential step! The extra moment it takes to pretreat stains will pay off in dividends as it'll help tackle stains ahead of the wash, keeping fabrics in top condition for longer.
For stains, dirt, and oil marks, like wine, grass, and pit stains, reach for our concentrated liquid Stain Solution. Pour a few drops over the stained (or stain-prone areas like collars and underarms) areas and work in with a Stain Brush, then toss in the wash!
Step 2: Machine Wash
Machine washing is the best way to achieve a deep clean on durable everyday fabrics like cotton and polyester! When selecting a water temperature, keep in mind that warm to hot water is best for washing whites, light colors, and heavily soiled cotton or linen items. Darks, colors, and synthetic items can be washed in warm or cold water. When in doubt, a cold temperature is always a safe bet.
Add the appropriate amount of Signature Detergent Isle per load size to your machine's dispenser. Our updated formula features bio-based ingredients to deep clean and target stains while leaving behind our perfumer-crafted Isle scent. This enveloping, coastal-inspired fragrance blends fresh, watery notes with warm heliotrope, jasmine, and sandalwood. Add complementary Fabric Conditioner Isle for a boost of softness and static reduction.
Pro Tip: Protect everyday items with straps, zippers, or decorative buttons from snagging in the washing machine by placing them inside Mesh Bags.
Step 3: Dry and Finish
To help extend the longevity of the Isle scent (and your garments, too!), select a lower heat or no-heat setting on the dryer. In between washes, gently hand steam to refresh fabrics.