A great winter coat is more than a staple, it can represent a significant investment – one that bad weather conditions can wreak havoc on. When this happens, don't feel down! With the proper care and easy maintenance you can learn how to wash coats and outerwear such as down jackets, polyester puffer jackets, Burberry quilted jackets, fiber fill, and synthetic blend coats. These items can make it through the longest of winters and still look fresh with the proper care. For best results, follow our washing steps at least once a season, and always complete before seasonal storage.
All you'll need to clean down, fiberfill, and synthetic coats are:
A gentle, enzyme-free laundry wash
A washing machine without a central agitator (this can be too harsh on fabrics)
A dryer with a good, low or no-heat setting
STEP 1:
Wash Prep
Prepare your puffer for the wash by removing any fur or leather attachments. These should typically not be washed, as exposure to water can ruin their finish. Next, double check the tag to ensure your coat is washable. If it reads "do not wash" or "dry clean only" it's best to leave it to the professionals.
STEP 2:
Kiss Stains Goodbye
Pretreat your puffer with a stain treatment appropriate for delicate fabrics. Always test enzymatic stain treatments in an inconspicuous spot before applying to stains. Once ready, work your stain treatment directly to the stain and gently massage into the fabric using the Stain Brush. Focus on susceptible areas such as the inner lining, sleeves, collar, pockets, and hem.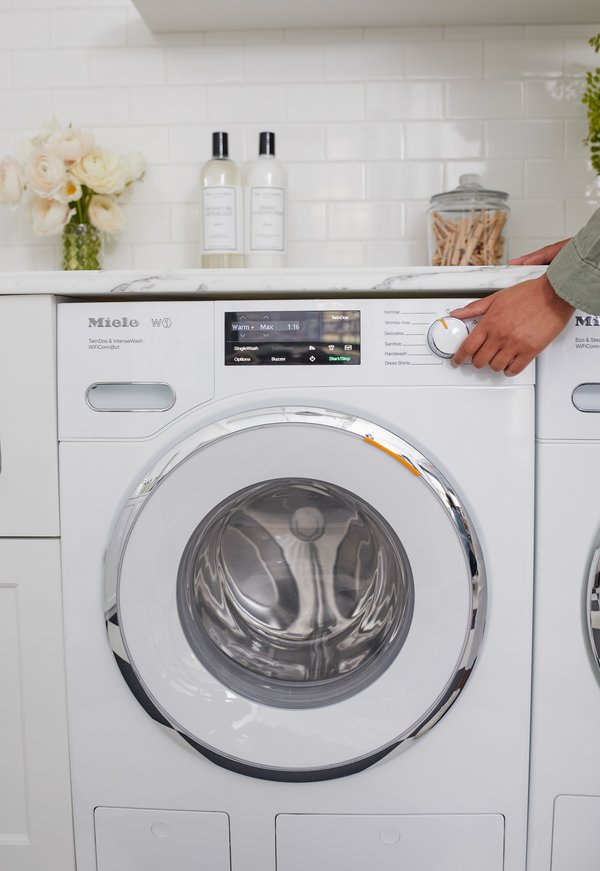 STEP 3:
Machine Clean Down
Place detachable washables like belts or hoods inside a Mesh Washing Bag to add a layer of protection during the wash. Turn your coat inside out and drop into the washing machine drum. 
Select the woolens or delicate cycle on the washing machine and use cool water. Add the appropriate amount of Wool & Cashmere Shampoo according to the machine and load size. This double-concentrated formula is optimized to perform in cold water.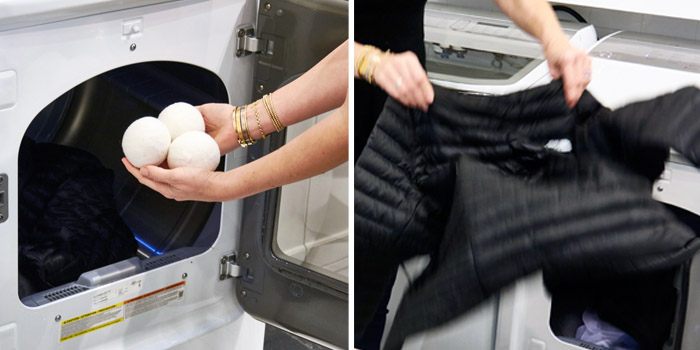 STEP 4:
Take a Tumble
We recommend drying down and fiberfill on very low heat with a low tumble cycle, and repeating the drying cycle until ALL moisture is gone. Take note - this may take longer than your normal dry cycle, but don't be tempted to crank up the heat. Add Wool Dryer Balls or clean tennis balls to help redistribute and fluff up feathers and filling after washing.
Halfway through the dryer cycle, remove the item and give it a good shake to redistribute feathers. Move around any remaining clumps with your hand before adding back to the dryer. Make sure large down coats are fully dried before rewearing or storing. If the filling still clumps together, excess water is present. Sometimes clumps need to be broken up by hand before tossing back into the machine for another dry cycle! Low, slow, and steady wins the race when it comes to drying down and fiberfill items.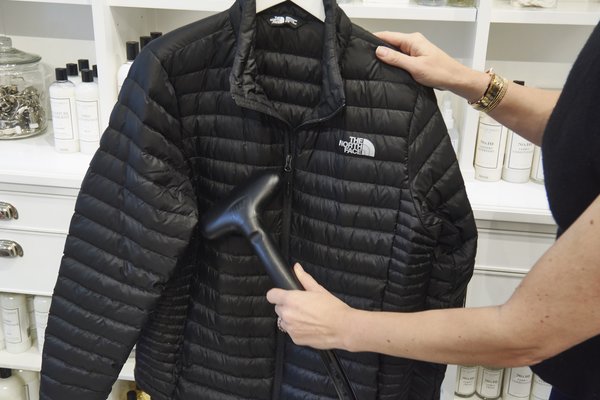 STEP 5:
Get Steamy
While you typically shouldn't iron winter coats (and never use starch), we recommend steaming to remove wrinkles and help extend the time between wears. Steam cleaning is a great alternative to washing when you need to freshen your coat between washing and wearing.
STEP 6:
Store Up 
Outerwear should always be stored clean in a dry place. Attics and basements are not always ideal as they are optimal environments for moth breeding attacks, mold and mildew. 
We recommend against storing in plastic as this can trap moisture and causes yellowing. Instead, place inside a breathable, cotton or canvas storage bag. Tuck a lavender pouch inside for extra freshness.