If you're like us, you can't wait to pull out your cozy faux fur accessories to wear throughout the fall and winter months. So what happens when you need to clean a faux fur vest or wash a furry hat? We've got good news.
Faux fur items are constructed with synthetic fibers, many of which are washable. You can identify a garment made with faux fur by referencing the sewn-in care label or noting the following distinctions: a synthetic backside, thick pile if medium to long length, and flexible and lightweight feel.
Ahead, we're serving up tips for laundering faux fur favorite accessories from the cozy comfort of home.
What You'll Need To Clean Faux Fur Accessories:
A mesh washing bag to protect items (if machine laundering)
A gentle wash designed for sensitive fibers, like the Wool & Cashmere Shampoo
A delicate machine setting with cold water and low spin, or a washing basin
A wire brush or comb to gently re-fluff fibers after washing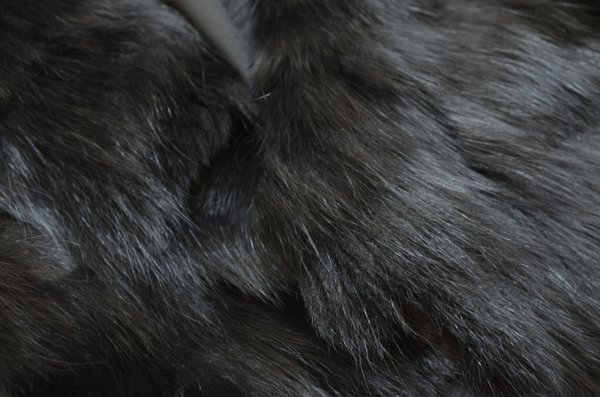 PREP & PRETREAT
Before beginning the cleaning process, determine whether your item can be submerged in water. Start by checking the tag of your faux fur accessory. If it says "dry clean only", leave it to the professionals. We also don't recommend washing any faux fur accessories with leather attachments, heavy beading or other embellishment. Faux fur accessories that are often washable are fabric gloves with faux fur trim, faux fur hats, and faux fur vests.
Once you've determined your faux fur accessory is washable, start by pretreating stains with your preferred gentle stain treatment. Work in using your fingers or a soft Stain Brush. Avoid scrubbing or vigorously rubbing faux fur, as it can cause unwanted tangling.
A Word Of Caution: If your faux fur accessory is truly vintage and over 20 or so years old, we don't recommend washing it. Washing some vintage faux fur can cause excess shedding, so it's best to send to the professionals.
WASH
Hand washing is always the best method for washing faux fur accessories, as it allows for the most control over the garment. Machine wash only if you know you can rely on your machine's delicate cycle (cold water, low spin).
Step 1: Fill a sink or basin with cold water and follow the dosing instructions to add a gentle wash like Wool & Cashmere Shampoo.
Step 2: Submerge the item and gently agitate the water with your hands to evenly distribute.
Step 3: Soak for up to 30 minutes. Rinse well by running cool water through item until water is no longer soapy.
Step 4: Do not twist or wring the item to remove water. Instead, press the water out of the item against the side of the basin or sink.
If laundering in the washing machine, place the item in a Mesh Bag to add a layer of protection. Add your gentle detergent, and select the delicate cycle on the washing machine, making sure the water temperature is cold and the spin is on low. Remove promptly from the machine after washing.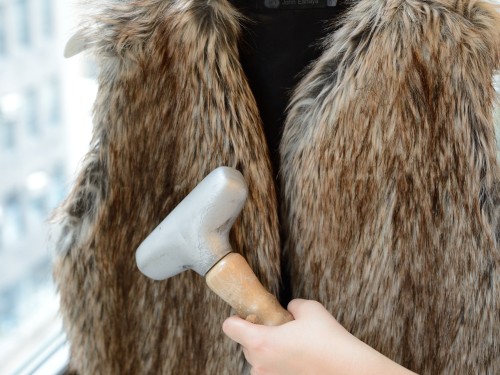 DRY & FINISH
Lay your faux fur accessory flat in its natural shape on a drying rack or hang to dry. Never put these items in the dryer! The heat can quickly melt and mat the fibers, and the garment will never feel the same.
Use a wide-tooth comb to detangle and fluff the synthetic fur fibers.
To freshen, steam the garment for the best and safest finish. Never, ever iron faux fur of any kind.
Important Note: We do not recommend using this process to wash real fur. Fur with skin and vintage fur must be taken to a professional.