Experience the resort-level luxury of crisp white bedding and vibrant, fluffy towels at home by fighting stains on your linens every time you wash with our deep cleaning, targeted solutions. Our Darks & Whites Detergents are designed with powerful bio-based ingredients to cleanse and fight stains for brighter, more vibrant fabrics with every wash! Follow along to discover our top wash tips: These speedy, no-fuss prep steps take 10 minutes or less and deliver exceptionally clean results. 
Your linen closet toolkit: Darks Detergent, Whites Detergent, Fabric Conditioner, Stain Solution, Stain Brush
Step 1: Prep Linens
Bright, plush linens start with sorting. Separate sheets and towels from your other laundry and set aside to wash separately. This will avoid bunching and tangling during the wash cycle. Next, scan linens for stains and apply the appropriate stain products.
Spilled a little morning coffee on your sheets? Target with Stain Solution, which effectively removes new and old stains – from stubborn pit stains to ink, tomato sauce, salad dressing, dirt and grass stains (hello, dirty paw prints on the bed!). Squirt a few drops of the liquid over stains and apply using the Stain Brush.
Tip: Certain acne treatments, such benzoyl peroxide, can bleach towels and pillowcases. If you use them frequently, opt for white bedding and towels to avoid pesky bleach marks.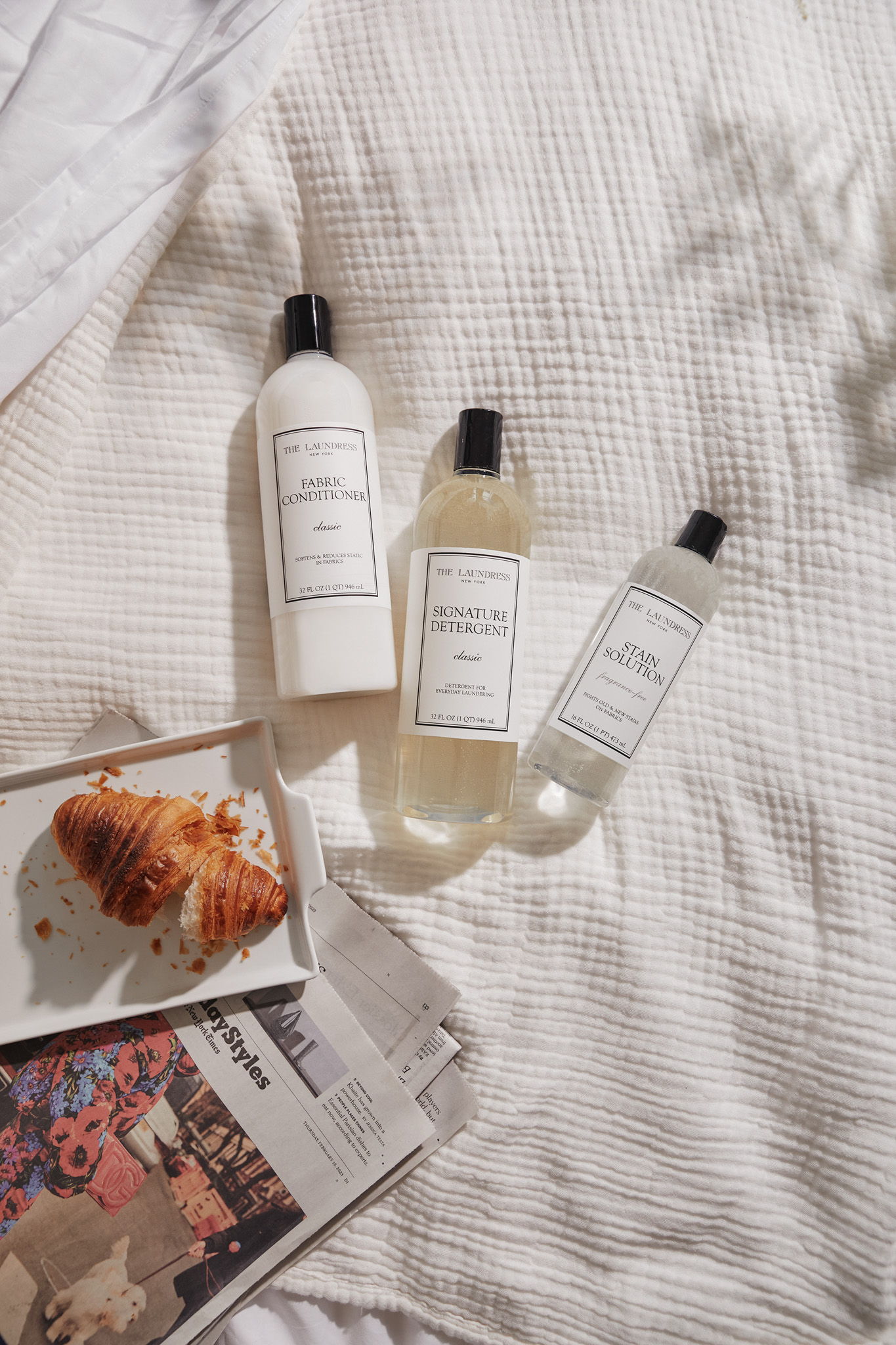 Step 2: Rub a Dub Dub!
Wash white bedding and towels with Whites Detergent, an all-purpose formula made to brighten and whiten fabrics with powerful cleansing agents that are tough on stains, dirt, and oil. For darker colors or patterns, opt for Darks Detergent instead! This formula is made to keep dark fabrics and colors vibrant, plus it's optimized for cold water cleaning.
If you love extra soft and cozy bedding, give linens the full spa treatment and add Fabric Conditioner Classic to the wash along with your detergent. Skip this step for towels, or use every 3-4 washes only. Our new formula is compatible with HE and Non-HE washers and is free of artificial color. Got lots of loads on your hands? Try our Signature Detergent & Fabric Conditioner gallons for up to 126 loads per bottle, with an improved pump for easy dosing.
Dust and sweat buildup on linens can cause odors and irritation, and leave fabrics feeling less than lavish. Bid them bon voyage by selecting a warm to hot temperature, and a long, deep wash cycle every time you wash. If sheets are delicate, go with cool water.
Tip: While bed linens can be washed every week, pillowcases can be washed or replaced daily or every few days. If acne or allergies are a concern for you, a daily change of pillowcases can be a great option!
Step 3: Air Things Out
Shake it out! Give towels and linens a good shake to help fluff fibers and encourage an even drying process before tossing them in the dryer. For bed linens specifically, select a lower heat cycle to help preserve them and ward off fabric damage. Towels can take the heat with a medium or permanent press setting.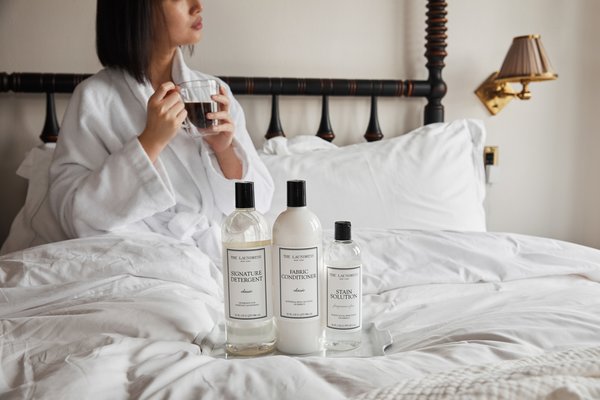 Read More: Towels or bedding just not smelling fresh after multiple washes? Sounds like it's time to give your washing machine a dryer a deep clean! Follow these easy steps.