There's nothing like a clean home for the holidays, but leaving the cleaning to the last minute can trigger the holiday blues (we're speaking from experience here, folks!). From deep cleaning guest rooms to digging out your fanciest tablecloths, the laundry list can feel endless—and that's where our guide comes in. This stress-free, 5-step roadmap will streamline the tidying and drive you straight to guest-ready. Do each one right now, break them up by day, or complete 'em all a few days before the holidays: They're all easy, quick, and crazy effective. Season's cleanings!
Step One: Make Linens 5-Star Hotel-Worthy
There's nothing like slipping into crisp, irresistibly fresh-smelling sheets, and providing your overnight guests with pristinely clean bedlinens that will take their stay from great to unforgettable. Prep linens ahead of time by laundering with our high-performing Signature Detergent and Fabric Conditioner. Our Signature Detergent deep cleans to reveal brilliantly bright sheets and towels while our Fabric Conditioner softens and reduces static (Pro Tip: skip the use of conditioner on towels, as it affects absorbency). Add them both to a long, hot wash cycle and delight your guests with the subtly fresh, sophisticated Classic fragrance they'll leave behind.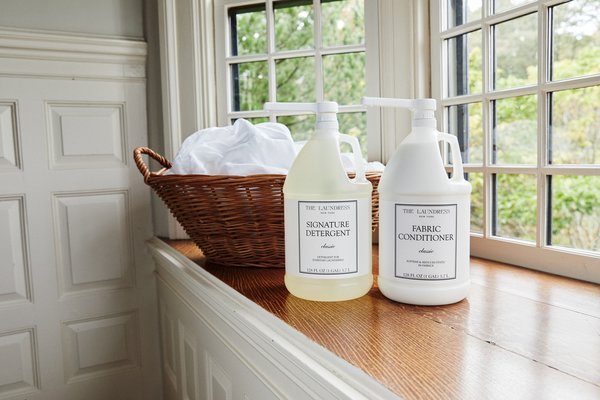 Step Two: Refresh & Revive Rugs & Blankets
Cozy throw blankets, decorative pillows, and luxe woolen rugs are essential lounging spaces for holiday get-togethers, but they can be tricky to clean. Here's how: Before guests arrive, vacuum washable rugs, blankets, and pillow covers as needed, then toss in the wash with our gentle, enzyme-free Wool & Cashmere Shampoo. Use a cold, delicate cycle and add any smaller items to a Mesh Bag for extra protection. Let woolen items air dry fully before replacing in your living space. For more tips, check out our full guide: How To Care For Wool Rugs & Blankets. You can also melt away unsavory smells from unwashable items by giving couches or pillows a thorough steam with a hand steamer. To get in the holiday spirit before guests, light up your favorite holiday candle and creates a warm, cozy ambience.
Step Three: Get Magazine-Worthy Table Linens
This holiday season, dazzle your guests with beautifully clean, bright table linens that will take your holiday table to the next level. From heirloom tablecloths to festive napkins, clear away any lingering stains from dinners past with our high-performing Stain Solution. This stain-fighting formula helps tackle old and new stains, from saucy spills to wine sploshes. Work in with a Stain Brush before laundering with your detergent of choice, such as Signature Detergent for cottons or Delicate Wash for vintage items. Always air-dry any stained items to avoid "setting in" any residual stains with the heat of the dryer. For the in-depth guide, check out our blog here: Dress The Table With Bright, Clean Linens.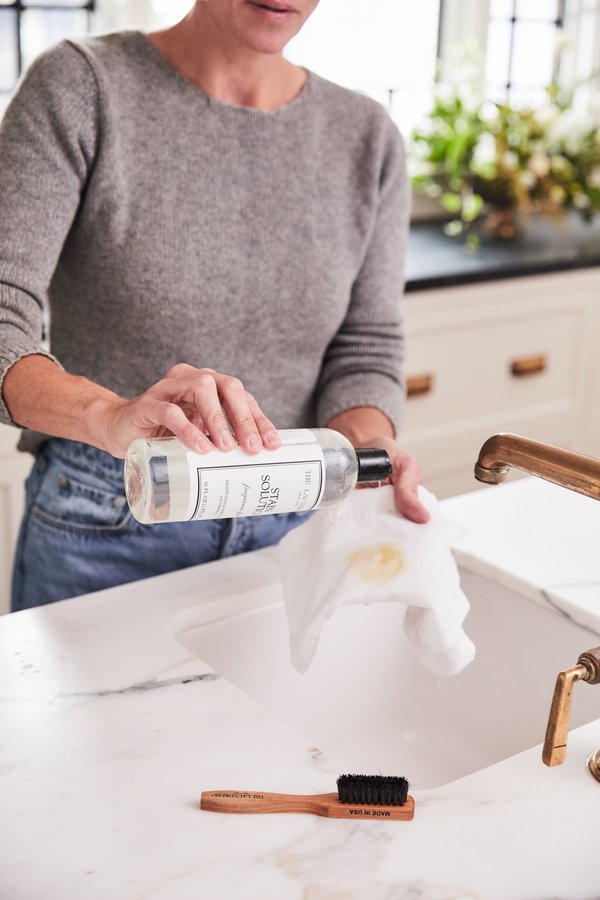 Step Two: Banish Dust Bunnies Like This
Turn up the Mariah Carey Christmas tunes—dusting is kind of fun when you're in the holiday spirit! Reusable lint-free cloths make it easy to wipe away buildup from tight corners, narrow nooks and crannies, and crown molding, giving your space an instant facelift. For fabric-covered picture frames, lampshades, and furniture, use a fine clothing brush instead to lift away dust and dirt from cloth surfaces.
Step Four: Deep Clean Baseboards
Start from the ground up and wick away the dust, pet hair, and grime that tends to settle on baseboards. This move seems small, but you'll be amazed at how transformative it is—it's like a mini facelift for your space! Skip single-use paper towels and instead, go with a cotton lint-free cloth saturated with a 50:50 mix of white vinegar and water (add essential oils for extra fragrance if desired). On your baseboards, it'll help to neutralize unsavory odors and quickly dissolve dirt and sticky grime. Use a spray bottle and saturate baseboards in high-traffic areas like hallways and living spaces. Use the cloth to polish away unsightly gunk, and leave behind an elegantly fresh scent.
Step Five: Make Quick Work Of Clutter
We all know the old host trick of shoving unsightly clutter in the hall closet. Avoid unexpected avalanches and day-after cleaning chaos by stashing away errant toys, clothes, and other knick-knacks in handy, woven or canvas storage boxes or baskets. These chic organizers can be stacked in a closet, slid onto a shelf, or even displayed in your living space.
For a final touch, add flowers! No matter how fanciful your holiday gathering, a beautiful arrangement will always elevate your space and add a touch of magic to merry-making.