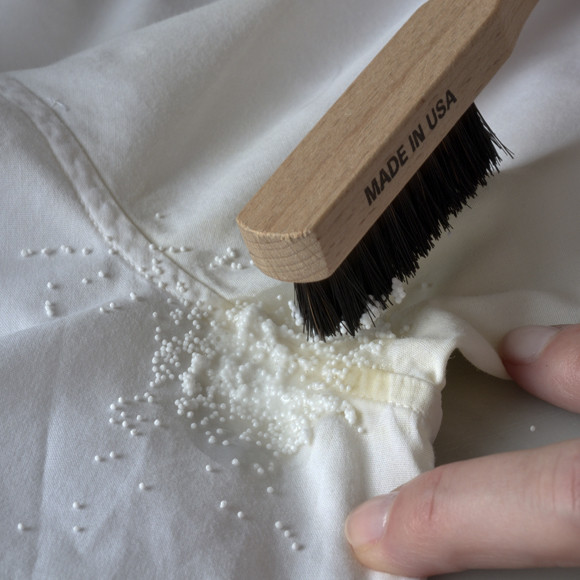 Pretreat
Stain Solution is ideal for protein and tannin stains, such as wine, coffee, ink, grass, urine, blood, and old, set-in stains such as pit stains.
The Wash & Stain Bar removes stains such as dirt, grease, oil, makeup, and ring around the collar.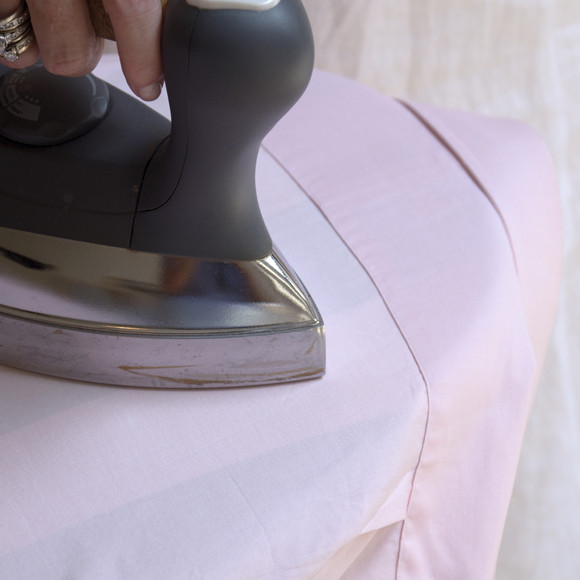 Dry & Finish
Select the appropriate temperature according to the fabric content of your load. To ease ironing, remove from the dryer while still damp or line dry.
Cotton, towels, and linens can withstand tumble drying with high heat. For most other fabrics, use medium/low heat or line dry.
For the ultimate fragrant finish, use Ironing Water while steaming or ironing.
Spray with Stiffen Up when ironing for a crisp finish and added wrinkle and stain resistance.
To freshen between launderings, spritz with Fabric Fresh Classic.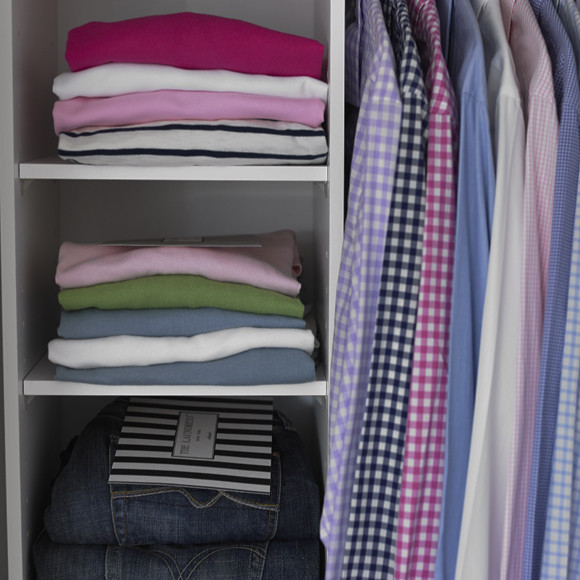 Store
Always store items clean and unstarched. We recommend storing in a breathable cotton
Storage Bag
to protect items from bugs.
Storing in plastic encourages yellowing and can trap mildew-causing moisture, a prime environment for bugs.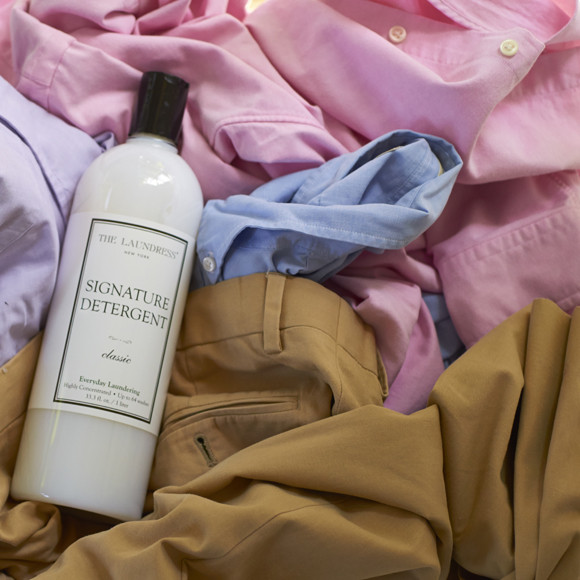 Sort
Sort laundry before washing, keeping like colors together. Sort any patterned items based on the dominant color. If no single color is dominant, take your pick of piles.
Look out for vibrantly colored items! If you are washing a vibrant garment or patterned item for the first time, test for color bleeding.
Sorting laundry throughout the week is a huge time saver.
Set apart stained items and garments to be treated or handwashed from your everyday wash load to eliminate the annoyance of digging through the hamper when laundry day rolls around!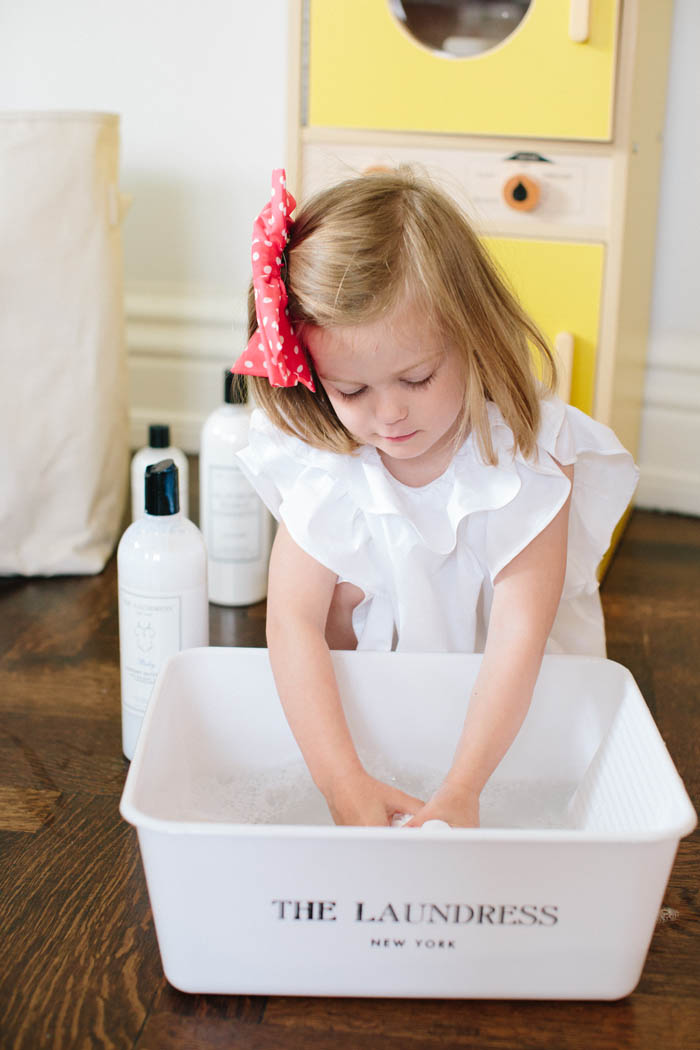 Pre-Treat
Playing "hide-and-seek" with stains is never fun. Formula, breast milk, and spit-up are not always visible until after you wash and dry. Pretreat your clothing and your baby's items with Stain Solution to help hinder surprise stains! Play it safe - add 1 capful of All Purpose Bleach Alternative to every load.
Always wash baby items before first-time use. Launder with hot water to best remove stains and odor and kill bacteria and germs. Add Fabric Conditioner Baby to fluff, soften, and reduce static.
Hand-me-downs don't have to look worn. For older set-in stains, add 1 capful of All Purpose Bleach Alternative to a wash basin or sink of hot water and presoak the garment.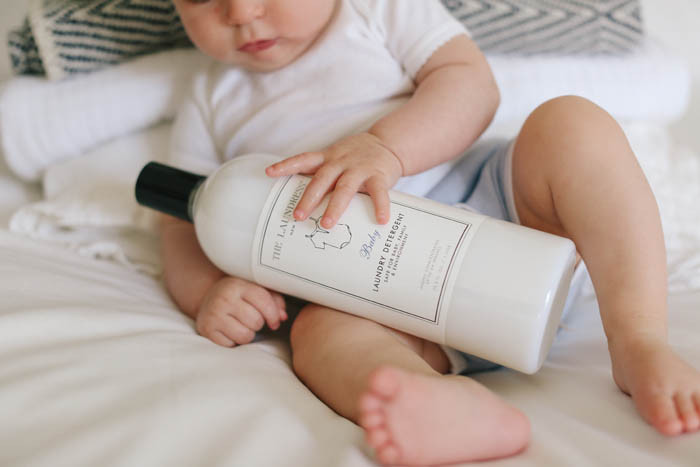 Machine Wash
Place small items such as socks, hand mitts, and booties in a Mesh Washing Bag to keep them together throughout the washing and drying cycle.
Gentle on delicate skin and scented in our calming Baby scent, this conditioner softens items while reducing static and wrinkles. Add Fabric Conditioner Baby to the dispenser for the perfect complement to Baby Detergent.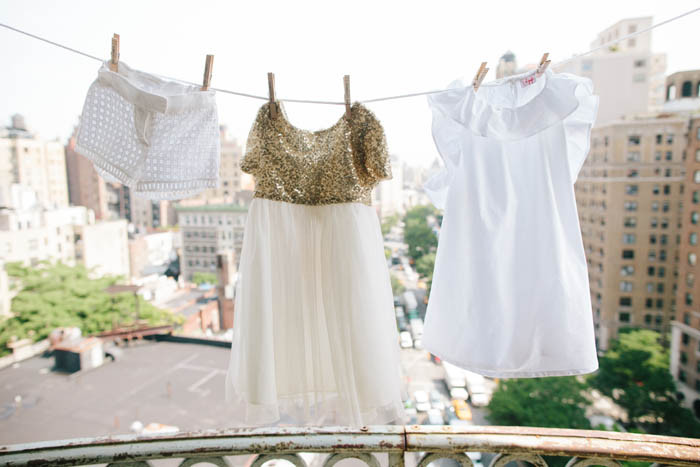 Dry & Finish
Machine Drying: The most intense drying method. The high heat and tumble of the dryer can cause fabrics to weaken, shrink, or fade. The longer the cycle and the higher the temperature, the greater the risk of damage. To avoid shrinkage, set the dryer to the Low or Low Tumble setting. Spritz Fabric Fresh Baby between wearing and washing. It's a safe nontoxic, allergen-free fabric spray that adds scent while removing odor!