After finally finding the perfect fit, properly cleaning and preserving your bra is key to making it last. Follow our steps to keep your intimates looking and feeling beautiful for years to come.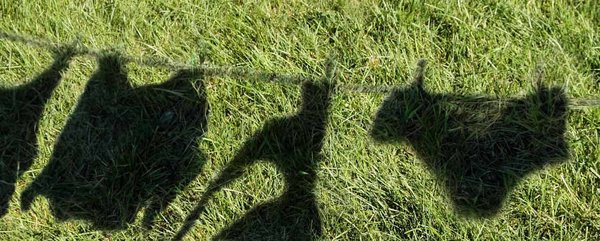 STEP 1:
Sort Out The Situation
Sort bras by material and structure. Detailed fabric, padded push-ups, and supportive underwire or construction should always be washed by hand while non-wire, cotton, and sports intimates can be machine washed. Wash with like colors only.
STEP 2:
Pretreat Stains
Remove stains with Stain Solution. Work into delicate straps, supportive underwire, and underwear liners.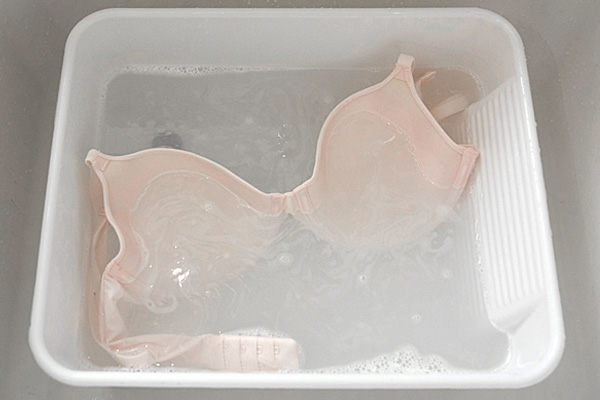 STEP 3:
Target Odors
For stubborn odors (think sweaty sports bras), add 1/4 cup of plain white vinegar to a basin of water and soak for 30 minutes before washing. Use warm water for cotton and synthetics, and cool water for delicates and blends.
STEP 4:
Handwash
Handwashing is the best and safest method for washing bras with detailed lace, padding, and supportive underwire or construction. Add Delicate Wash to a basin or sink filled with cool to warm water.
Submerge the item and gently agitate the water with your hands to evenly distribute. Soak for up to 30 minutes.
Rinse well by running cool water through the item until the water is no longer soapy. Do not wring. Instead, press the water out of the item.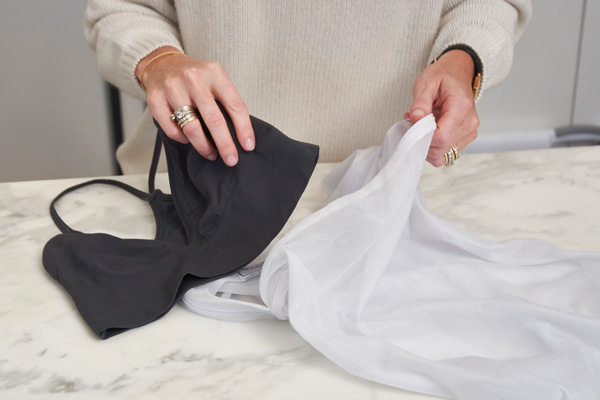 STEP 5:
Machine Wash
When machine washing non-wire, cotton, and sports bras, fasten the band closed and place in a Mesh Bag to preserve elasticity and prevent snagging in the machine. Select the delicate cycle and use cool water. Add the appropriate amount of Delicate Wash according to the machine and load size.
STEP 6:
Hang to Dry
Hang to dry or lay item(s) flat in its natural shape on a drying rack. Never use the dryer as the high heat will reduce the fabric's elasticity and distort padding and straps.