TIP 1: Separate
Separate towels and sheets from other garments and wash separately to reduce lint and tangling. Try your best to wash and dry towels and linens in small loads. Overfilled machines can prevent towels from receiving a proper rinse (leaving behind a crunchy residue) while an overfilled dryer will leave towels damp (so they'll be less fluffy and more prone to residue.)
TIP 2: Pretreat
It's important to pre-treat any heavy spots and stains on towels before washing for the most pristine results. We love to use our triple-enzyme Stain Solution, which lifts stubborn stains both old and new!
TIP 3: Wash This Way
Towels should be washed on a hot, long wash cycle. Opt for Signature Detergent and stick to the recommended amount according to load size. More detergent does not mean more cleaning power: In fact, using too much will leave a soapy residue that will make towels feel stiff. Can't kick the stiff feeling even after washing? Complete an extra rinse or short wash cycle without detergent to help remove any lingering residue.
TIP 4: Skip Fabric Softener
Resist the urge to use fabric conditioner or dryer sheets. Softeners coat fibers, and can reduce towel absorbency over time.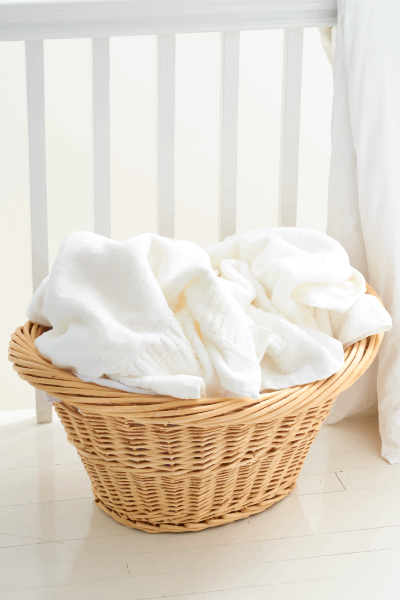 TIP 5: Don't Forget This Move Before Drying
Shake towels out before adding them to the dryer. If you throw a bunched up towel into the dryer, it will take longer to dry and may retain stubborn creases.
TIP 6: Play Ball!
Toss Wool Dryer Balls into your machine drum to help cut down on static and make towel drying more efficient! We recommend drying towels on a long, low heat cycle until they're dry to help keep them nice and fluffy.
Pro Tip: Towels just not getting clean? It may be time for a deep clean on your washer and dryer. Find our tips here: How To Clean Your Washer and Dryer.