Everyone who knows The Laundress knows that we're the experts in laundry and fabric care. But what you may not have known is that we've got the tips for cleaning your kicks too! Follow our steps to give sneakers a good scrub down.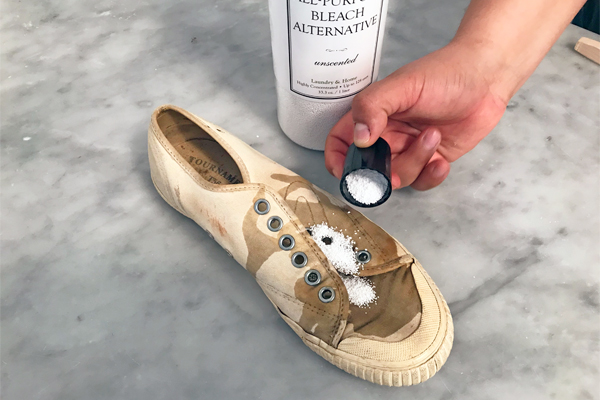 Clean Canvas Kicks
STEP 1:
Sneakers Aren't Sneaky If They're Stinky
If your canvas sneakers are anything but clean, add some pep to their step by pretreating stains, scuffs, and odors. Before treating, always remove laces and both liners. Apply Stain Solution directly to the fabric and sprinkle All-Purpose Bleach Alternative onto the liquid solution. Use the Stain Brush to work this powerful cleaning paste into the fabric.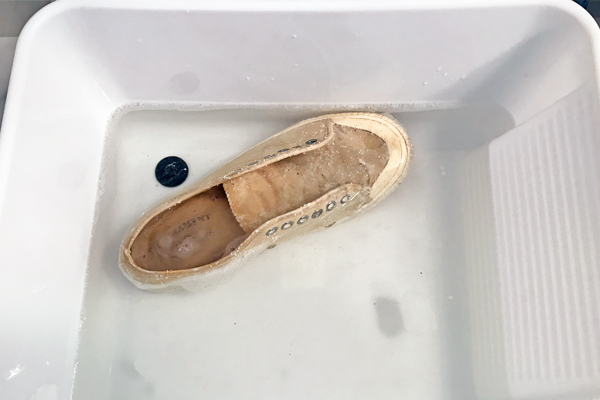 STEP 2:
Take the Plunge
Time to give your kicks a nice, sudsy bath! Add one capful of All-Purpose Bleach Alternative to a bath of hot water and soak for at least 30 minutes. The longer the soak, the brighter and cleaner the shoes! Change the dirty water as needed. Rinse well at the soak's completion until soapy water runs clear.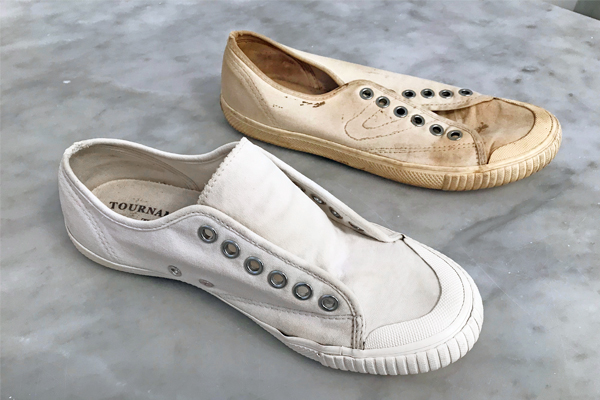 STEP 3:
Dry Off and Jump for Joy
Stuff sneakers with a Lint-Free Cleaning Cloth to absorb moisture and leave to sit overnight.
*If possible, air-dry shoes outside. The sunlight will naturally whiten!
Don't Run From Sport Sneakers
When cleaning traditional mesh sport shoes, we opt for the Wash & Stain Bar to treat hard to reach areas and tricky layered fabrics. Start by removing all liners. Then lather the Wash & Stain Bar with hot water and gently work it into the outer mesh. If needed, you can further work in suds with a Stain Brush. Finish by wiping suds clean with a damp Lint-Free Cleaning Cloth. Leave to air dry and tada!
For a deeper clean, handwashing is the best and safest method for cleaning items with fine mesh like sneakers. Add 2 capfuls or a squirt of Sport Detergent to a Wash Tub Basin or sink filled with cool water.
Gently agitate the water with your hands to evenly distribute soap and submerge the item. Soak for up to 30 minutes.
Rinse well by running cool water through the sneaker until the water is no longer soapy.
Fine Tune Flip Flops
If footprints are left behind on much-worn flip flops or the thong portion is looking a bit discolored, treat with the Wash & Stain Bar. Simply lather the bar in hot water, work it into the sole and thong, and rinse. This method is appropriate and effective on rubber/canvas sandals.