Raise your hand if putting away fresh laundry takes you on average 5-7 business days, mainly because it's hard work to figure out which items go on a hanger and what's better tucked into a drawer. Our official guide will make putting things away easier, smarter, and—yes, we're saying it—more enjoyable.
Shop the Story: Hanging Storage Bag, Crease Release, Static Solution, Cashmere Brush, Cedar Drawer Liners, Canvas Zip Storage Collection, Lavender Pouch, Fabric Fresh Classic
Did you know properly storing pieces according to fabric and item type may actually help extend the life of your wardrobe? Hanging can help maintain a wrinkle-free finish and preserve detailing like pleating or draping, while folding saves space and prevents unsightly stretching. Three main considerations to bear in mind when choosing storing methods are material, fabric weight, and closet configuration. Below, exactly what you need to know to maintain your favorite pieces for years to come!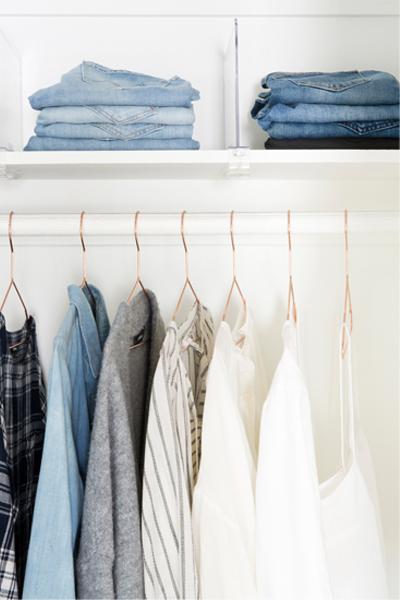 Hang These Items
Hanging can help preserve the shape of structured pieces like jackets, suits, skirts, and dresses. It is also an ideal method for floatier fabrics like silk, chiffon, and linen that wrinkle easily when folded—think evening wear, blouses, and lightweight trousers.
Jackets: Outerwear of any material (leather, wool, synthetics), blazers, and suit jackets do best on padded hangers, which preserve fit and prevent dents or creases. Give special pieces an extra layer of protection by placing them inside a canvas Hanging Storage Bag, which wards off dust, yellowing, and friction from brushing against other garments in your closet. Never store in plastic or cardboard—these materials cause yellowing and attract critters.
Blouses + Shirts: From button-downs to going-out tops, shirts of all kinds stay in tip-top shape for longer when hung. Always fasten top buttons to preserve collars, and for blouses without a button placket, insert the hanger through the button of the item to prevent stretching the neck.
Floaty Fabrics: Airy fabrics like linen, silk, nylon, are prone to creasing when folded up. Mist them with Crease Release and gently smooth with hands before hanging to banish any lingering wrinkles.
Trousers + Skirts: Slip dress pants and pleated skirts on to skirt hangers or tiered pants hangers. For easy access, keep two-piece workwear sets on the same hanger or hang adjacently.
Pro Tip: Seperate pieces by item type (like shirts, skirts, jackets), and then by color for Instagram-worthy closet efficiency. Sticking to sections will make dressing and finding what you need much more seamless. Stash a tray of Laundress essentials like Crease Release, Static Solution and the Cashmere Brush in your dressing area for "finishing" your outfit before you step out!
Get In The Fold
Heavier fabrics, such as knitwear, are best folded in drawers, or, during seasonal storage, in cotton storage bags. Hanging these items can cause tearing or pulling of the fabric as well as changes to fit. Instead, fold them using Konmari methods, which also help to optimize space in your drawers. Give shelves and drawers the Laundress treatment by lining them with Cedar Drawer Liners. They'll add some flair to your space while infusing your items with a crisp cedar scent.
Sweaters + Knits: Cozy woolens and snuggly cashmeres should always be stored folded to avoid misshaping. For extra protection, or for off-season storage, place them inside a Canvas Medium Zip Storage Bag, which are easily slipped onto a shelf, in an armoire, or on a closet floor. These versatile storage bags allow for breathability while keeping dust and yellowing away!
Activewear: The synthetic fabrics which comprise most activewear pieces tend to get warped and wonky on hangers, so folding is preferable.
Jeans + Shorts: Denim is one of the easiest fabrics to fold since it tends to hold shape well. Freshen jeans in between washes using Fabric Fresh Classic, which dissolves odors and adds a crisp, fresh-washed linens scent!
Lingerie + Hosiery: Preserve lingerie by storing in drawers or Canvas Storage Bags with Lavender Pouches to keep fresh.
Embellished Items: Heavily embellished items, such as pieces with beading or embroidery, are best stored flat in one of our Canvas Zip Storage Collection to avoid stress from hanging or folding.
Pro Tip: T-shirts can be hung or folded depending on your closet space. If hanging, avoid distortion to the fit by opting for padded hangers.