Aera x The Laundress
A whole new way to love our scents! Fill your home with the best of The Laundress's handcrafted fragrances with the Aera Touch Diffuser.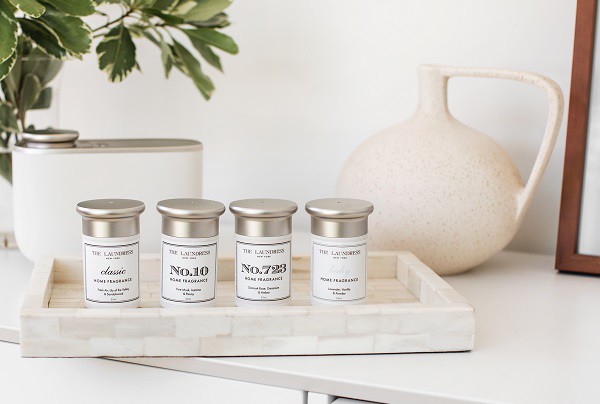 Discover In-Store Exclusive Scents & Inspiration
Experience more home fragrances inspired by customer-favorite laundry scents! Visit our SoHo flagship store or call (212) 564-6788 to learn more about the exclusive collection and place an order. Click here to see the inspo behind the partnership.
Frequently Asked Questions
What size room will Aera scent? Aera uses the airflow in a room to evenly circulate super tiny scent molecules. How large an area will vary depending on ceiling height, whether there are partitions or other impediments to air circulation, and the natural airflow in a room. But in general, placed correctly, one Aera will scent a room with an open floor plan and average ceiling height of 12 feet between 50-1000 sq. ft.
Aera is fully adjustable for small, medium, and large rooms. For small rooms, we recommend placing your diffuser on scent setting 1-3; for medium rooms 3-5; and for large rooms 5-10.
How is Aera different from other diffusers? Aera is the only diffuser with Microdroplet Technology that creates a cleaner, safer, and more immersive scent experience. Aera is easily adjustable to control the scent strength depending on the size of your space and personal preference.
Is Aera Eco-friendly? Yes, Aera is the most eco-friendly air freshener on the market. Unlike aerosols, Aera uses no propellants and produces no harmful volatile organic compounds, or VOCs (volatile organic compounds). Unlike many air fresheners, Aera uses no ethanol or similar solvents to enhance the evaporation of fragrance chemicals.
Can I use my own oils? Aera works exclusively with Aera capsules. Capsules are not refillable.
Can I change fragrances? Yes! Switch them as often as your mood dictates. Aera's press and play capsules make it easy and instantaneous to change the scent in a room.
Is Aera battery operated? Aera's powerful Microdroplet Technology requires a power outlet.
Is Aera safe for family and pets? Yes. When used as directed, Aera's scent effect is hypoallergenic, free of harmful VOCs and leaves no residue on surfaces. As pet owners ourselves, we take the safety of our fragrances very seriously when it comes to our furry and feathered friends.