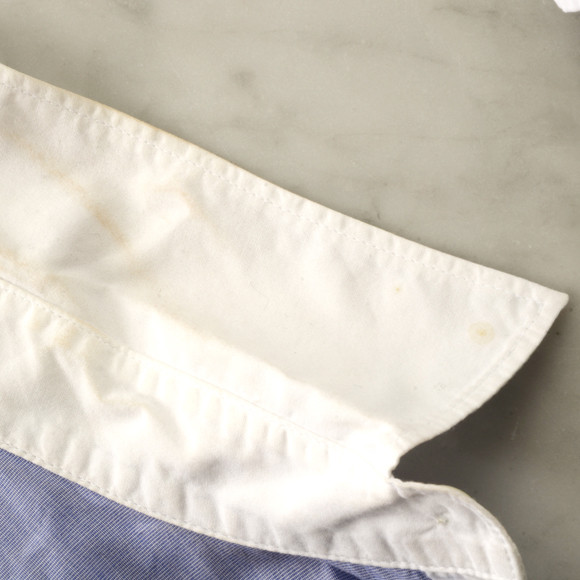 The Solution
You liked it, so you put a ring on it – and not the shiny kind! Ring around the collar, caused by sweat and personal care products, is usually yellow or brown in color and gradually builds up until it appears one day on shirt collars and cuffs. Remove these stains and keep them at bay with our Wash & Stain Bar.
Apply product: Our Wash & Stain Bar is ideal for removing ring-around-the-collar (and cuff stains).
Work the stain: Create a lather using the soap and gently work it into the affected area. Make sure to use cool to warm water.
Reapply or repeat as needed: If the stain is not completely gone, repeat this process until satisfied.
Soak up to 30 minutes: Soak the item in a basin filled with cool to warm water. To remove odors, add ¼ cup of Scented Vinegar. to the basin. Never soak silk items longer than 30 minutes.
Launder the item: Wash according to our instructions.
Prevent:Ward off ring-around-the-collar and cuff stains by pretreating items before every wash. Simply apply our Stain Solution or use our Wash & Stain Bar on target areas before laundering.
Caution/Disclaimer
Our recommended stain and odor removal methods are solely intended for use with The Laundress products. Our products are safe for colors, darks, and whites. We cannot guarantee the safety or success of products from other brands.
We don't recommend using chlorine bleach on stains or odors, ever.
Do not iron stained items.