Fabric First Profile | Gwen Whiting
Oct 12, 2017

The Laundress cofounder Gwen Whiting has always been an advocate for timeless, high-quality fashion, leading her to study at Cornell University's Fiber Science, Textile, Apparel Management and Design program. From there, she worked at perhaps one of the most classic American fashion design houses of all – Ralph Lauren. Ultimately, her commitment to preserve the gorgeous fabrics she studied in school and garments she worked with at Ralph Lauren led her to partner with former classmate Lindsey Boyd to create The Laundress. Together, armed with the knowledge that fabric composition is nuanced and unique, they set out to develop products scientifically designed for every type of textile. When Gwen's not in New York with her husband, they're traveling to their home in Bridgehampton or abroad. Read on to find out which piece Gwen will never let go of, what her fashion uniform consists of, who her icons are, and more.

An item I've worn that defines my personal style is…
Considering I have had these items in a solid wearing rotation for the last 20 years – that must define something…

My black Gucci loafers (that even survived a limoncello explosion in one foot back when you could travel with liquids), my original Thomas Pink shirt (gifted from a fabulous suiter), my monogrammed cufflinks I had made when I studied abroad in London, my Ralph Lauren navy blue blazer, and any Ralph Lauren cable knit sweater from my collection.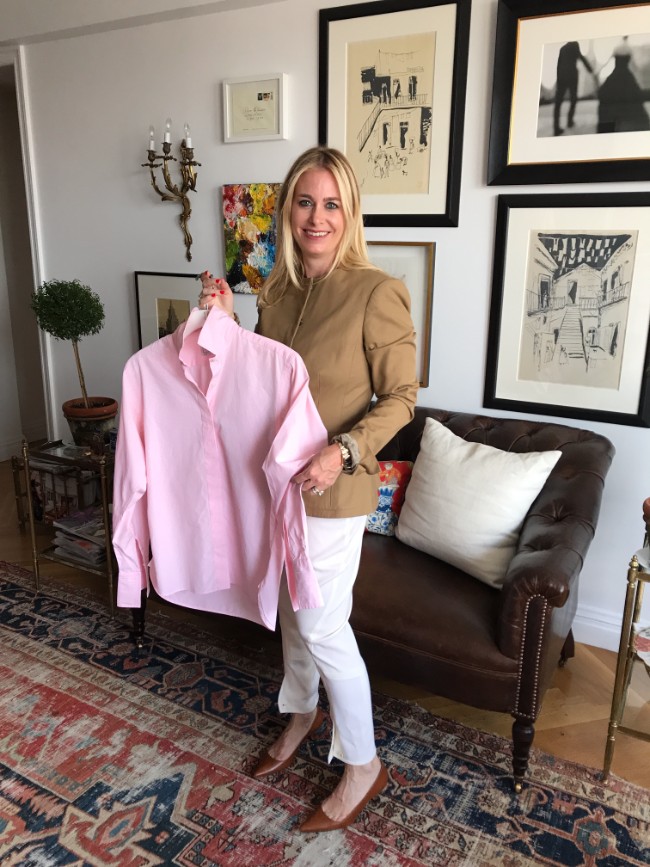 These were all worn before I was the Thomas Pink sales girl on Jermyn Street and the Polo cashmere girl on Bond Street!
Note: I wasn't big in sales, but I could fold a mean sweater wall like no other!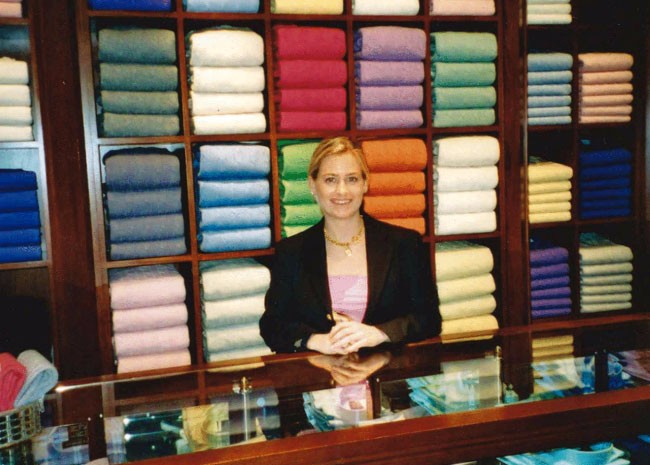 The piece that I will never be able to get rid of is…
Aside from all of the above, any of the pieces I made to wear for myself in high school, my favorite collections from college and post-college in Nepal. It is a great pleasure (and skill) to be able to make your own fashion.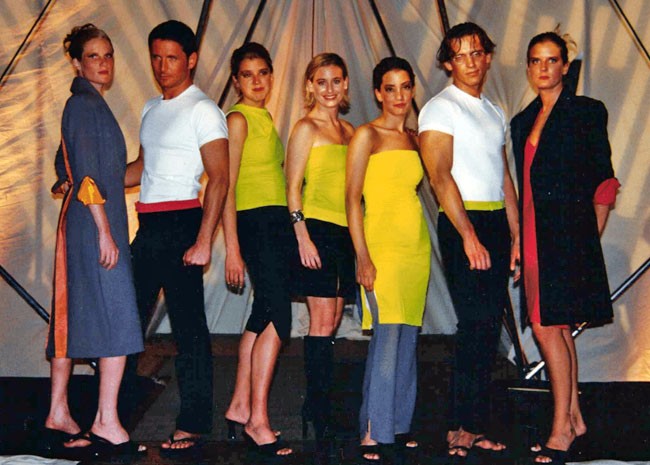 But, most importantly, anything I have from my grandmothers and Great Aunts. In addition to quilts, I have a vast collection of their crafted and collected hankies.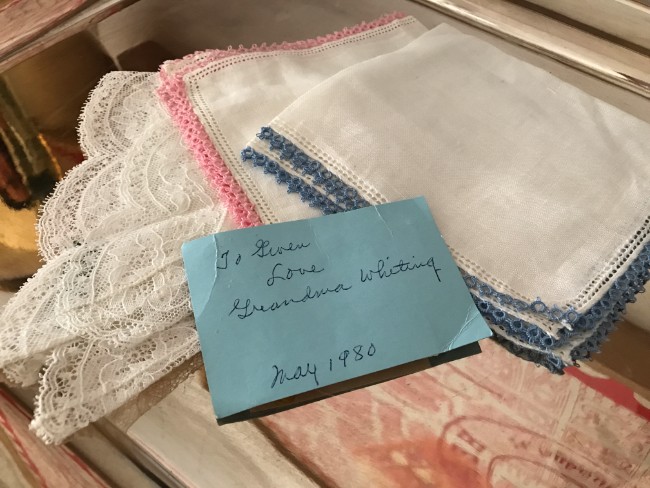 They are special because…
They were all skilled in handiwork from sewing, quilting, knitting, and tatting. I guess this was the most affordable and practical item to make, collect, and gift.

I am so lucky to be blessed with the lessons, strength, and resilience of these women – from the depression to wartime, they were all pioneering working women, too – who took such pride and joy in the little things that made them happy – from their handiwork creations to the (financial) indulgence of making a cake with two sticks of butter! I have a great perspective from them always ingrained in me.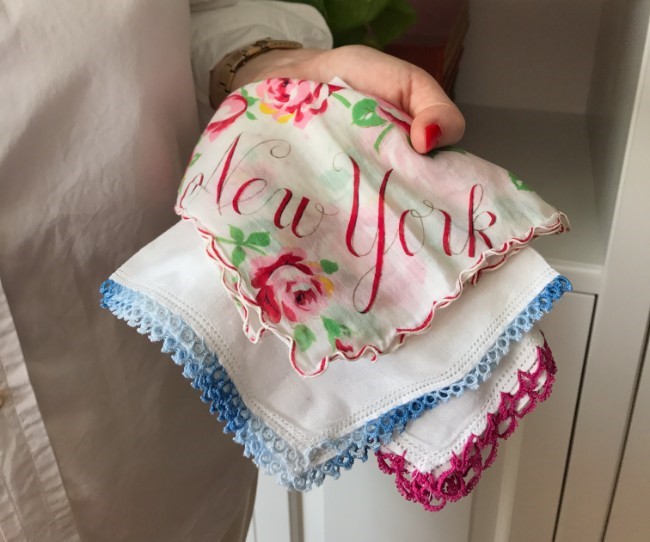 I care for them by….
Using The Laundress obviously – I have resurrected so many attic heirlooms! First, I soak in All-Purpose Bleach Alternative and spot treat with Stain Solution. Next, I handwash with The Laundress detergent. Even the yellowest heirloom ends up looking brand new following a good Laundress treatment, of course!
My favorite Laundress product is…
This is like choosing a favorite child or friend… I love them all! I use the Stain Solution and Signature Detergent every day, but no matter what I am washing with – from cashmere to playing with our scents – it's always a thrill.

The piece I'm most wanting this season is…
I don't really buy for the season. Instead, I acquire as I see things and do most of my shopping abroad. I purchased some great tweedy jackets for fall last winter in London from my favorite spots that I refer to as the huntin', fishin', shootin' stores, which has a much different connotation there than here. I am excited to wear those finds this fall.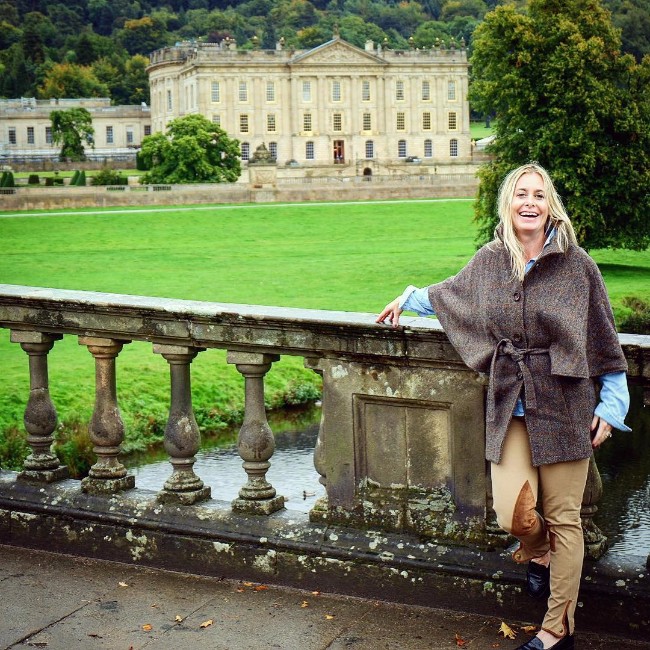 If I only had four items to wear all year, they would be…
Jeans, loafers, a white button down or white t-shirt, blazer, and black cashmere is a given.
Oh and black leather or pleather pants. I don't discriminate, and pleather is easier to wash. I know that's more than four, but that's the uniform!
For fall 2017, I wish I had the following item in every color…
Most people know I am not big on color. I wear white in the summer, black and some gray in the winter, and navy and camel in between. I would have loved to have bought more of the N.Peal cashmere basics in crew, V, and turtle necks.
As far as fashion rules go, one can never have too many….
Smart button downs, cashmere sweaters, perfect black dresses, great scarves, wraps or ponchos.
My favorite fabric or textile is…
Cotton because it's natural, fabulously washable, the perfect sub straight for dye and print, durable, comfortable, and diverse. However, I do love wools for not only luxurious cashmere, durable merinos, and fabulous suiting and draping properties, but also for their secret properties like being naturally stain and odor resistant.
My style icon is…
Oh, this is hard to narrow down… I love and admire people who are so dedicated to a look, like Daphne Guinness. I am dying to know what she wears at home or how she rolls out of bed! I was so excited when I spotted her through the window leaving a restaurant I was eating at two weeks ago. That to me is a star celebrity sighting!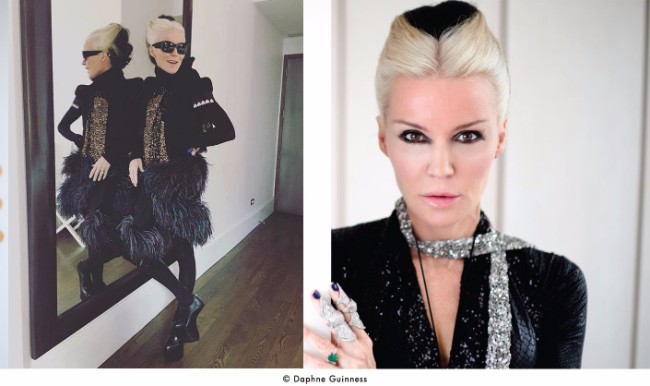 I also love a grand dame that not only dresses in style, but also lives her life with the same stylish details at every level from home, gardens, art, animals, and even chickens.

Bunny Mellon is one of my favorites. Her mantra was "nothing should be noticed…nothing should stand out," and she was beyond being just a tastemaker. She and her husband bought "to surround themselves with the things they loved," and it isn't her purchases that are as fascinating, but rather the placement. She kept a Van Gogh in a bathroom, a Pissarro just propped on a chair, and while she had 17 Rothkos, she had a Rothko exhibition poster, instead, in one of her living rooms. As for her dress, after Balenciaga retired, she became a dedicated client and friend of Givenchy, who not only made her ball gowns, but also whom she tasked to make her large collection of gardening hats.

I get inspiration from her every morning as my dressing table is one of her hand painted pieces from her estate!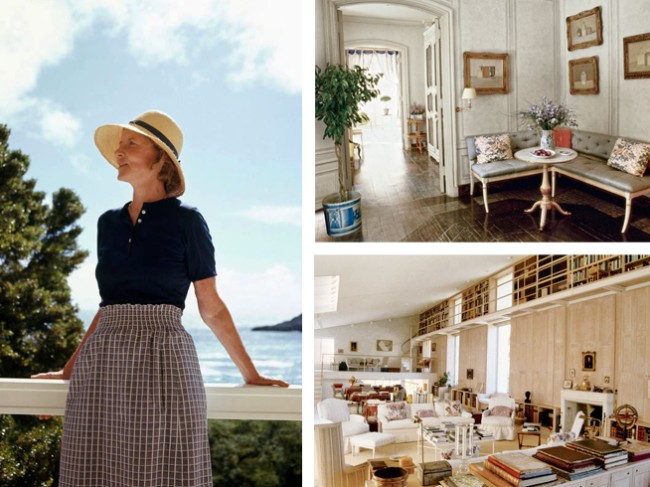 And don't even get me started on the former Duchess of Devonshire aka "Debo". That's for another post.

I'm most comfortable in…
Anything that suits me. I only look good if I feel good – usually in my "uniform," staple items, or something I love.

Everyone looks good in…
A crisp button down shirt.

My experience working in the fashion industry has taught me…
This is also a loaded question, but what keeps coming to mind is friendship. I have met, worked with, and remained friends with so many amazing, talented, and just wonderful people in the industry, which I am so grateful for. The beauty of fashion is that it touches and affects everyone. It is cyclical, but at the same time forever changing and evolves, and is influenced always by the time. Everyone is part of fashion whether they want to be or not. The history of fashion is so fascinating because it is not just about a design or a fabric, but the story of a life, how people lived and under what circumstance.