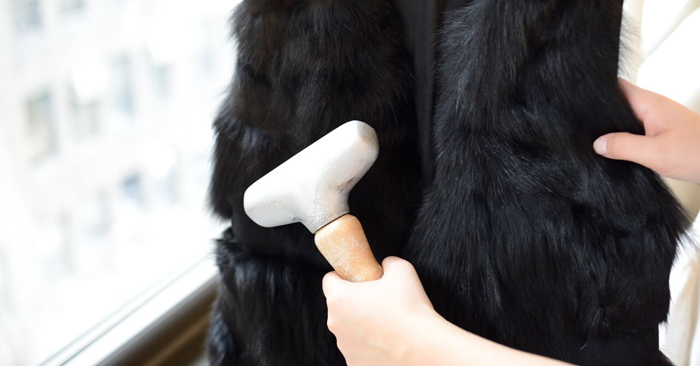 Dry Clean
Apply product: Use the Wash & Stain Bar to spot treat light spills and stains on fur.
Work the stain: Create a lather using the soap and gently work it into the fur.
Make sure to use cool to warm water.
Follow by wiping the suds off the clean fur with a damp Lint-Free Cleaning Cloth.
Reapply or repeat as needed: If the stain is not completely gone, repeat this process until satisfied.
Condition: Keep furs conditioned and soft by spraying the garment with Crease Release before each wear. It works like a glaze!
Deodorize and freshen: Steam the lining and spray the fur with your favorite fabric freshener, such as No.10 Fabric Fresh.
Brush: Brush regularly with the Cashmere Brush to rejuvenate the fur?s natural oils and remove lint and hair.
Launder: Fur that is knitted or lacks an attached skin (such as a fur scarf or stretchy hat) washes beautifully. Wash according to our instructions.-link wool?
Fur That Cannot Be Washed
Fur with skin: We don?t recommend washing fur that has skin on the underside. The skin can shrink or dry out with wet washing. (Example: A traditional fur coat.)
Vintage fur: Older fur is often brittle and frail and may disintegrate during washing. (Example: An older sweater with a fur collar, found in the attic.)
For intensive cleaning, fur should be brought to a professional fur cleaner ? do not dry clean.
Caution/Disclaimer
Our recommended stain and odor removal methods are solely intended for use with The Laundress products. Our products are safe for colors, darks, and whites. We cannot guarantee the safety or success of products from other brands.