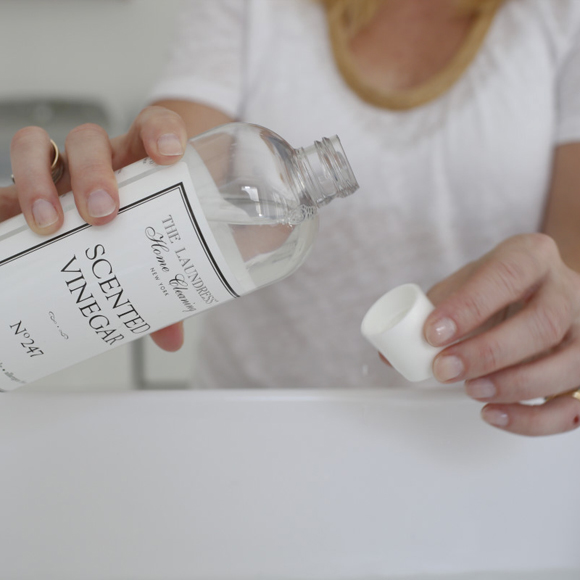 Pretreat Odors
Using vinegar starts with presoaking fabrics. Presoak with pesky odors that just won't come out in the wash.
Add 1/4 cup of Scented Vinegar to a washbasin or sink filled with warm water. Soak up to 30 minutes, then launder as normal.
Launder
Treat odorous items like towels in the wash by adding 1 cup of Scented Vinegar directly to the washing machine drum (for top loaders) or to the detergent dispenser (for front loaders). Run a wash cycle using no detergent or softener. Then, launder as normal. Safe for all washable fabrics including wool, silk, blends, and more.
Washing Machine
If your washing machine is smelling not-so-fresh, a buildup of water, detergent, and dirt is likely causing mold and mildew growth.
To clean your machine, add 1/4 cup of Scented Vinegar mixed with 2 capfuls of All-Purpose Bleach Alternative to your machine dispenser and run an empty, long cycle with hot water. Don't forget to clean out the fabric softener and bleach dispensers!
Surfaces
Vinegar for cleaning is super effective for your surfaces. To clean and deodorize surfaces, glassware, and household items, wet a Lint-Free Cleaning Cloth or sponge with Scented Vinegar.
Then wipe away dirt, stains, germs, and streaks. (This will also keep ants and bugs away.)
Kitchen
Remove cooking odors by simmering a small pot of 1/4 cup of Scented Vinegar and water. For site-specific smells, keep a small bowl of Scented Vinegar on the counter, in the refrigerator, or in the microwave to absorb odor.
Rinse Aid
To prevent spotty glassware, add Scented Vinegar to the rinse aid dispenser in your dishwasher.
Dishwasher Odors
Lingering food and debris can cause a buildup of odor. To deep-clean your dishwasher, fill your dispenser with Scented Vinegar and add 2 capfuls of All-Purpose Bleach Alternative to the machine, then run an empty cycle with hot water.
Sinks, Tubs, Windows and Tile
To remove rust, limescale, and soap scum, or to clean grout, mix Scented Vinegar with All-Purpose Bleach Alternative. Add hot water to the mixture, and scrub.
Toilets
Pour Scented Vinegar in the bowl, making sure to hit the sides and under the rim where stains accumulate on your sinks, tubs and tile floors. Allow to soak and flush to finish.
Mop Pergo Wood Floors
Add 1/4 cup of Scented Vinegar to 1 gallon of water to mop and clean Pergo floors. Avoid other floor cleaners, all-purpose cleaners, and wax as these will leave a film behind.