Wondering how to wash chinos?, you're not alone. Continue reading to learn how to wash chino pants and get answers to questions like ?do chinos shrink? How to shrink chinos; so you can make sure you avoid doing it, get a professional looking finish, and much more.
Not as dressy as work pants and not as casual as jeans, chinos fall in the middle of the dress spectrum. Chinos are a twill cotton fabric that originated in China and was used for British and French military, crossing over into civilian wear when U.S. troops came back from the Philippines at the end of the Spanish-American war.
Originally, chinos were earth-toned, but today, they come in a variety of shades of and look great paired with neutral tops and accessories. Designed for style and comfort, chinos are the perfect fit for laid-back weekends.
Treat stains with Stain Solution or the Wash & Stain Bar. Focus on susceptible areas such as the pockets and pant hem.
Stain Solution is ideal for protein and tannin stains, such as wine, coffee, ink, grass, urine, blood, and old, set-in stains such as pit stains.
The Wash & Stain Bar works the material to remove dirt, grease, oil, and makeup.
To remove odor, presoak the item for 30 minutes in hot water mixed with 1/4 cup of Scented Vinegar.
Prepare to wash by turning the item inside out. Wash with Signature Detergent on the normal cycle with hot water to achieve the deepest clean.
Wash with like colors and fabrics only.If your item is dirty, dingy, or dull in color, add a capful of All-Purpose Bleach Alternative to the pretreat or wash cycle.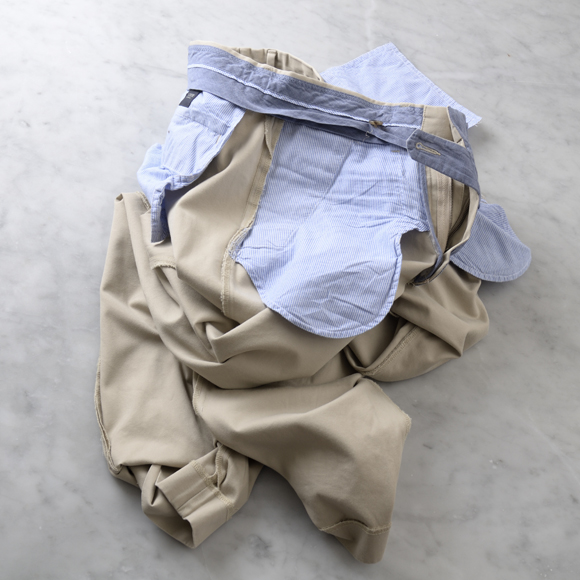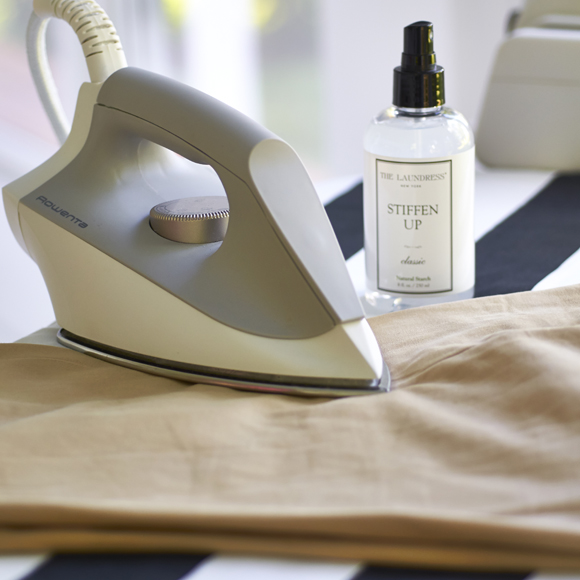 Cotton chinos can withstand tumble drying with high heat. To ease ironing, remove from the dryer while still damp or line dry.
Cotton has a maximum shrinkage capacity. A garment will shrink once using high heat or gradually using low heat. Always launder chino pants prior to making any alterations in fit or length. Use hot water and a hot dryer cycle to ensure there will be no further shrinkage.
Chinos can be hung to prevent wrinkles, or folded (which may leave fold marks).
Always store items clean. We recommend storing in a breathable cotton Storage Bag to protect items from bugs.
Storing in plastic encourages yellowing and can trap mildew-causing moisture, a prime environment for bugs.
All techniques are based on textile science. Not all garments perform and react as science would predict.