With over 15 years of professional experience, home organization expert Samantha Pregenzer knows her way around a tough challenge. Her Simply Organized clients regularly turn to her for advice on problem solving, troubleshooting and fixing everything from a bulging drunk drawer to a cluttered closet. When remote learning plans started to roll out for back to school, we turned to Samantha to share her take on how she's setting her own family of 5 kids (yes 5!) up for success.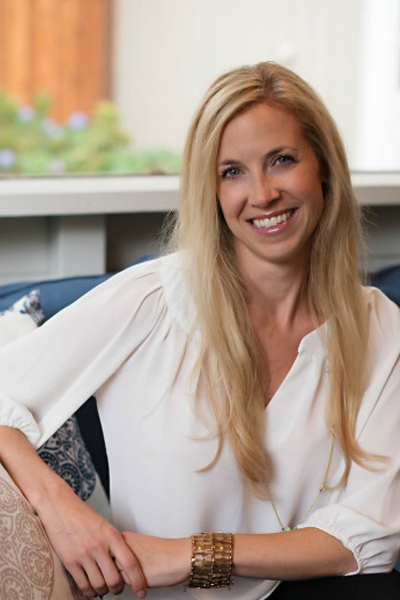 As an add-on to my last post about organizing a remote learning space for kids, I wanted to share additional tips that may be helpful no matter what grade your child is in. These are my top suggestions to keep kids engaged, focused, and organized...and you sane.
Act as if you're leaving for school
This falls right in line for adults working from home, but is incredibly important for kids. Children need a schedule and structure to their day. What we can do as their parent is provide them that guidance and structure - in a positive way. Share with them how working from home is affecting you too (if you are working from home, of course). Have your child wake up at their normal time. Act as if you're leaving for carpool. Get up, take a shower, get dressed in regular clothes and out of PJs, have breakfast and then go to school in your designated space in the house.
Do remote learning outside of your bedroom - sitting upright
After week 1 of remote learning, we've already received notification from our school district that they don't want to see children learning from their bed or in a position of laying down. It's so important for kids to be sitting upright at a desk or table rather than laying in a bed. We've noticed this in particular with the teenagers in our home. Since many of them don't have or need school supplies, it's easy for them to wake up, open their laptop and hang in bed for school. This will definitely affect your school output AND energy. For me personally, I can't work from bed for more than 30 minutes and I start feeling drowsy. Getting out of their bedrooms helps to create definition to the day.
Remove all other electronics
Remove any and all other electronic distractions. It's too tempting to check Snapchat, Instagram or text with friends. If your child is working from a Macbook, for example, disable the messages application and turn off Facetime. We've seen this often with the high schoolers in the house. It's too tempting and it creates an enormous disruption to their learning. For younger children, keep the TV off and other electronic noises to a minimum.
Set up a space with no distractions
In the case of this homeschool space, we've eliminated all other distractions. There is nothing on the desktop other than tools that don't fit in the drawers. There's great natural light and a desk lamp for additional lighting if needed, but otherwise the decks are cleared. The teal 3-shelf organizer is placed here to add additional space for items they may accumulate during the school year. I'm doing my best to eliminate ALL work surface distractions.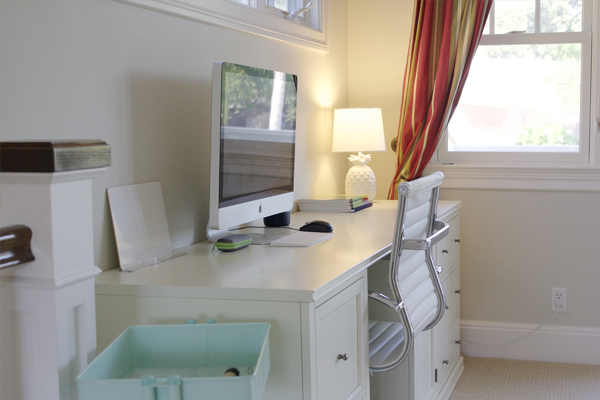 Ensure good natural light
Keeping your space bright, open and fresh is important. A dark space may contribute to feeling drowsy or lethargic. I love all the light that flows into this room.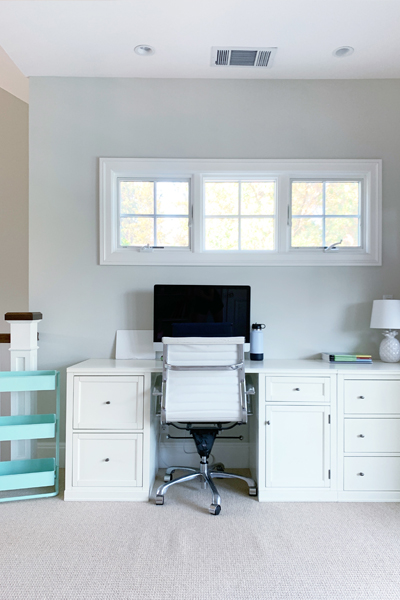 Only add necessary supplies
Adding too many supplies or excess may encourage additional distractions. I really try to think about remote learning spaces the way a teacher may. Would a teacher allow kids to have items within reach that aren't necessary to learning in a classroom? If not, it's not here.
Get a good night's sleep
Sleep is everything. All parents can relate to this. Even though we don't have the additional carpool time on the docket, after school activities and more...we need to keep their weekdays as similar to a regular school day as possible. We're putting the kids to bed at the normal time we would during a typical school year.
Ensure good nutrition
Our kids are on different passing periods / lunch schedules, but no matter what - we are still making sure there are 3 balanced meals in the house and healthy snacks to quickly grab throughout the day. Granola bars, fruit, crackers and hummus, cut veggies, french bread with lunch meat and cheese. It's all here and at the ready for them to grab when they're hungry between classes.
Have water available
Besides getting hungry during the day, kids are also thirsty. A hydro flask or water bottle on the desk is a great idea...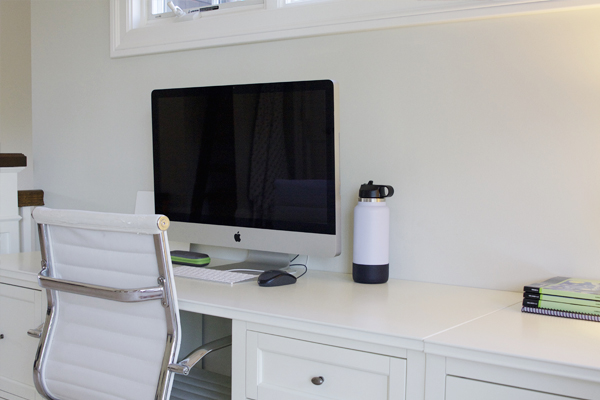 Get outside for exercise / movement
Fresh air, movement and a change of scenery is important. Especially when remote learning. When you're learning from home AND living at home, you need the break from these 4 walls. Encourage movement like walking around the block, taking dogs for a walk, swimming after school, getting outside to shoot a few baskets. Whatever you can do to get out of the home space for a fresh outlook is a good thing.
Keep indoor noise to a minimum
I mentioned we have children with varying ages and of varying grades. With the different schedules, we are doing our best to keep noise in the house to a minimum. Sharing the various school schedules with everyone can help ensure everyone feels respected.
Schedule your day
Have a daily schedule and stick to it. Do anything you can to make it as normal as a typical school day.
Arrange safe play time pods
Regardless of all that's happening, we've noticed how different and more positive the kids are when they have the chance to connect with friends in person. The only way we've seen this safely possible is with a small pod of families who agrees to follow the same protocol. Seeing only a few select people. I see an immediate change in the kids' spirits when they have that social outlet.
Limit more screen time
This is one of my biggest concerns with our children. Spending the entire day online learning...and THEN taking a break by sitting on their phone or gaming? Not the best decision for these guys. More than ever we are limiting screen time on the weekdays - focusing on that outdoor time or in-person time with friends.
Be sure to check out Samantha's tips for organizing a successful remote learning space here.
For more expert advice from Samantha, please find her on the Simply Organized website.