The cofounders of Megababe, a line of skincare products that embraces body positivity, are empowering women to shift the way they think of themselves, flaws and all. We caught up with Katie and Kate and chatted about the inspiration behind the brand, the importance of a little alone time, and of course, their favorite Laundress products.
Tell us about Megababe! What were some of the driving factors behind the brand?
KS: Megababe came from personal need for a product that really worked that I wasn't embarrassed to take out of my purse. Megababe's driving force is to provide cute solutions to real problems out there and make women feel empowered to live their lives!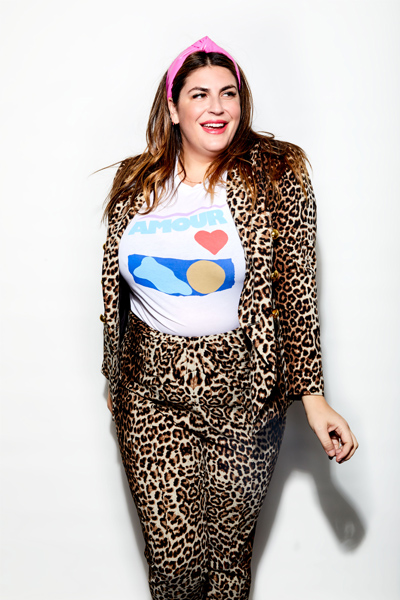 How do your customers/followers play a part in the brand?
KM: Thigh Rescue, our anti-chafe stick, has changed the lives of so many women, so our relationship with our customers goes deeper than most beauty brands! We email and DM with customers, daily, for instance who are finally able to walk in a dress or who have a teenage daughter who no longer needs to sit out certain activities. It's inspiring!
How many products are in the line now?
KS: We have about 20 products now!
For someone new to the brand, what's the first product you'd recommend trying?
KM: For anyone who deals with chafe, Thigh Rescue is a must have — you won't know how you lived life without it! If that's not your thing, our aluminum-free Rosy Pits Daily Deodorant smells sooo good and is a great clean alternative to anti-perspirant.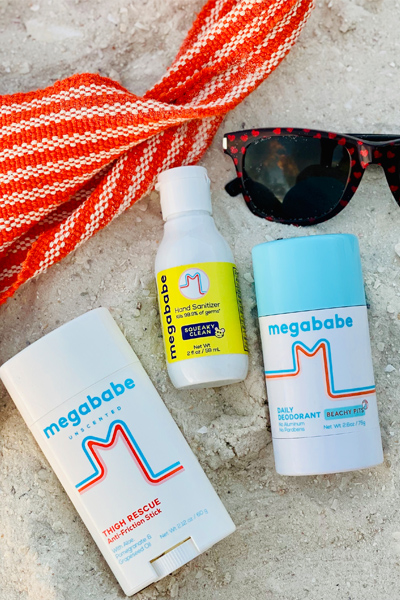 Katie, you started out with your blog, The 12ish Style. Can you tell us a little about it and how it has resonated with your followers?
KS: I first started The 12ish Style to give shopping tips for women who were in my size range, and show that style has no size. It's evolved into a place to encourage women to embrace themselves and stop projecting so many negative thoughts towards their body!
Transparency is so important today and you've really nailed that with Megababe. Can you tell us how you've been transparent and what has helped with that? (Social media, blogs, etc. and how?)
KS: Authenticity is something that comes naturally to our brand because we are so small and our customers are really engaged with us! When my parents were packing our orders from their garage for the first two years, our customers really loved following along on our journey! They are rooting for us when we have success, and they're honest with us if we fail them.
What do you do to take time for yourself?
KM: I have two little boys under the age of 3 so I don't get a lot of alone time, but I always carve out time for baths. I LOVE a bath. I'll take my phone and work like Winston Churchill or listen to an audiobook or scroll social media — I haven't dropped my phone in the tub yet but now I'm probably jinxed!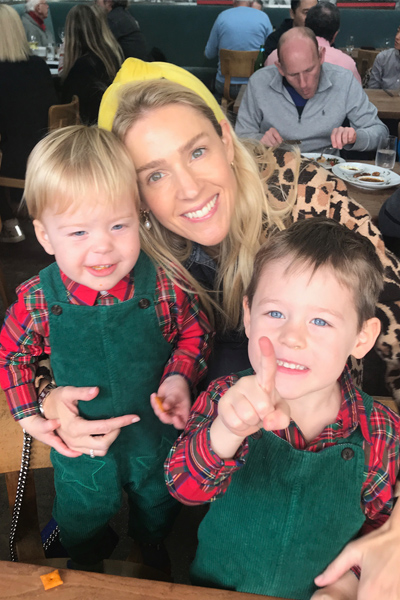 KS: I try to unplug after 7:30pm and hang out with my dogs and my husband!
What do you love most about your job?
KS: I love hearing from women who say that they wore a bikini to the beach for the first time in years because of my blog, or wore shorts to an amusement park and were so comfortable because of thigh rescue. A reminder that my work is making a difference in someone's life always gives me a boost to keep going!
3 things that are always in your bag?
KM: I don't go anywhere without Squeaky Clean Hand Sanitizer from our line! My kids are little petri dishes and I use it a zillion times a day to stay healthy. AirPods are another must have, and I'm a real hand lotion person. The Aesop one is great.
Ideal day off?
KS: My ideal day off is super chill! I love to walk my dogs in the park with my husband, or binge whatever new show I'm wrapped up in. I'm also always down to hop on a plane and go explore! But truthfully I never get whole days off!
Morning routine that sets you up for success?
KS: I am a BIG fan of mornings. I usually meditate soon after I wake up, take my dogs for a walk and grab a coffee! When I come home I eat some breakfast then I get right to work.
Favorite Laundress product and why?
KM: The Le Labo Santal 33 Detergent is one of my favorite things on the planet. I air dry my clothes when I use it and it makes the whole house smell like heaven. Getting dressed becomes such a treat, and the scent really lasts! My other fave is the Surface Cleaner. I refuse to clean my kitchen counter without it!
KS: I love the Scented Vinegar, it's so good!
Ask The Laundress: Featuring Katie Sturino