We're all spending more time at home right now, which means more cleaning. But what better time to get all family members involved? Divide and conquer with Lindsey's family chore list and smart tactics that make cleaning and tidying up more efficient and fun, too.
"I find that chore charts and to-do lists are helpful for everyone. It helps you keep track of what needs to be done and once completed, the whole family feels really good! Sometimes I'll offer my kids rewards like a sweet treat or an activity they love, but most times I'll mark off finished chores with gold star stickers. I don't always like to give out material objects as I think balance is important. Plus, it creates more mystery and excitement because they never know what they're going to get next!"
- Lindsey Boyd, CoFounder of The Laundress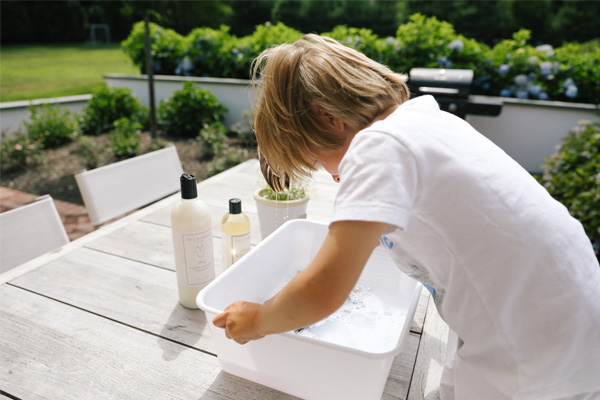 Laundry
Sort Laundry: Each member of my family has their own Laundry Sorter. When the time comes to do laundry, everyone brings theirs to the laundry room and we form piles of darks, whites, and items to be hand washed. This step saves time and energy by consolidating loads.
Pre-Treat Stains: My kids love this activity! I'll have them "search" for stains before putting them into the washing machine. They love to identify the stains, count them up, and treat them with Stain Solution or Wash & Stain Bar.
Fold and Put Away Clothing & Linens: I'll fold clean laundry and group them according to family member. Everyone puts away their own clothes!
Lindsey's Insider Wrinkle-Zapping Tips: I line dry almost everything, which can sometimes cause fabrics to dry a bit wrinkly. A good trick here is to lightly tumble dry your items for about 15 minutes before hanging. This really reduces creasing! For cotton or linen sheets and t-shirts, adding some Fabric Conditioner to the washing machine will also help. After, you can steam or iron pieces that absolutely need it or spritz on our Crease Release.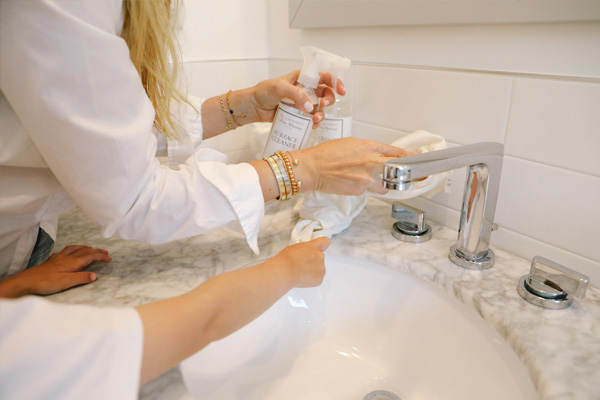 Bathrooms
Clean Toilets and Sinks: Keep Scented Vinegar close by for everyone to clean and deodorize toilets throughout the day and keep them fresh between cleanings. You can just pour some directly into the bowl! I'll use Surface Cleaner to wipe down the toilet seats, hardware, and faucets almost daily.
Lindsey's Insider Bathroom Cleaning Tips: I cleanse the tub, shower, and tiles with a mixture of All-Purpose Bleach Alternative and All-Purpose Cleaning Concentrate. You can find the tutorial here. Our Glass and Mirror Cleaner is best for making shiny surfaces (like chrome hardware) and mirrors gleam.
General Household
Vacuum, Sweep, and Mop Floors: Floors need more attention than normal, especially if you have kids! Have them pitch in with sweeping and mopping highly-trafficked areas like the foyer. (I love cloth mops that you can wash after using!) Implement a rule that everyone removes shoes at the door upon entering. This will reduce the amount of dirt and germs entering the house.
Lindsey's Insider Mopping Tip: For mopping, I'll combine All-Purpose Cleaning Concentrate with All-Purpose Bleach Alternative as a solution, which can be used on most floors. (Click here for our complete floor cleaning guide.)
Wipe Down Doorknobs: Make sure to have everyone clean door knobs daily! Especially the front door, where you are bringing in things like boxes, mail, and shopping bags. We'll often open boxes outside, then clean the knobs with Surface Cleaner and wash our hands before touching anything in our home.
Daily Freshening: The kids love going around the house and spraying curtains, sofas, rugs, carpets and other soft furnishings with Fabric Fresh. It's made with antibacterial ingredients and smells like fresh-from-the-dryer laundry.
Yard Work: Enjoy some fresh air together and rake the leaves, weed, or water flowers!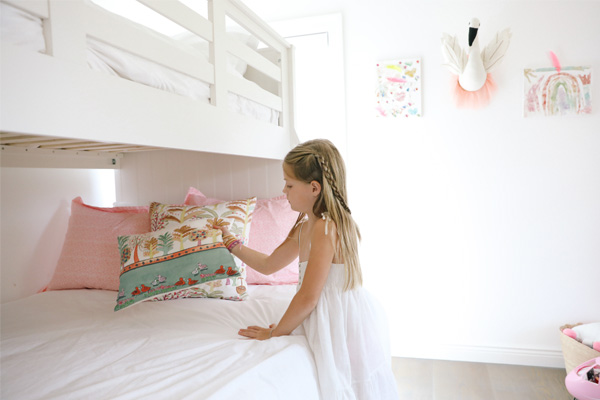 Bedrooms
Make The Bed: Everyone in my family makes the bed as soon as they wake up or after they get dressed. It really sets you up for the day! Growing up, my mom always had us make our beds as part of our morning routines, so it became just as natural to me as brushing my teeth, getting dressed, and combing my hair.
Tidy Up: This is a big one! I'll make sure the kids are picking up their clothes from the floor and organizing their desks. They'll also tackle the playroom and put their books and toys away at the end of the day because things end up all over the house!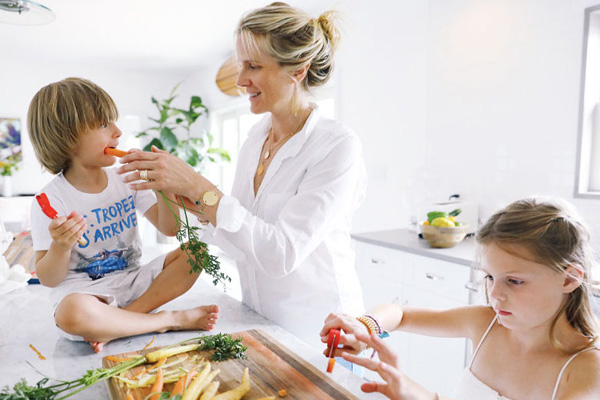 Kitchen
Food Prep: This is a great time for everyone to come together in the kitchen: From picking the menu to prepping food and filling water glasses. We make it a family activity whenever we can, although I'll usually tackle lunches and my husband handles dinner!
Set Table: Children love doing this because it makes them feel like they're involved in the kitchen.
Wash and Dry Dishes: After meal times, everyone will take their own dishes to the sink.
Lindsey's Insider Dishwashing Tip: I love Seventh Generation Dish Washing Soap, The Laundress Dish Detergent, and our Scented Vinegar. I add the Scented Vinegar to the rinse-aid compartment in the dishwasher and it really helps prevent spots and streaks and makes glassware sparkle.
Wipe Tables & Counters: My kids love our Surface Cleaner and it's easy and safe for them to clean the dining room table, kitchen countertops, cabinets, and hardware. They'll use it with the Lint-Free Cleaning Cloth, which is a must!
Pantry: We organize the pantry by storing dry goods in large glass jars with bamboo tops. I keep cereal, pasta, and nuts in these.