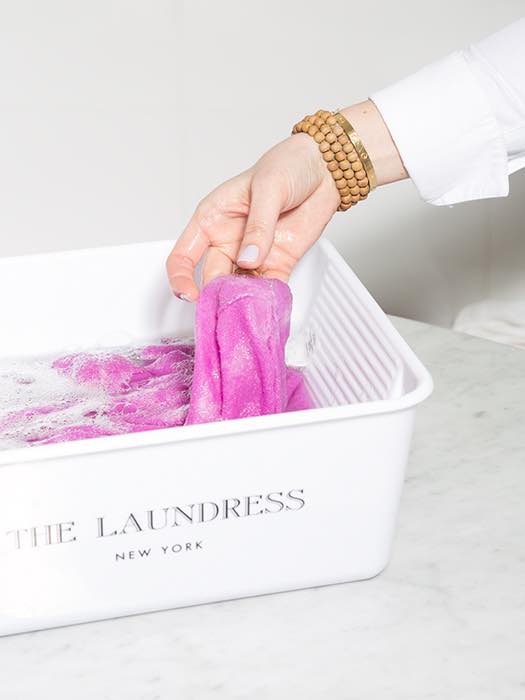 Can you wash wool sweaters at home? Yes! Don't be afraid to. The most important thing to note with wool garment washing is not to put it in the dryer ever. The first thing you'll need to do is pick up our specially formulated Wool & Cashmere Shampoo. Next, you'll need to decide whether you will hand wash in a basin or sink or machine wash your sweater on the gentle cycle. Either method is appropriate, and learning how to handwash a sweater is easier than you think. If you use the washer, you will want to place the sweater inside of a The Laundress Mesh Bag and choose the delicate or woolen cycle.
Sweater Care Extraordinaire
Now that your sweater is washed, lay flat to dry in its natural shape. Do not put it in the dryer! Once dry, enjoy the soft, subtle feel of a sweater laundered at home. No need to wash with each wear - between washes spritz it with the Wool & Cashmere Spray to keep it smelling fresh until your next sweater washing session. Enjoy!
Never worry about dealing with toxic dry cleaning chemicals affecting the quality of the fabric in your most beloved sweaters. Dry cleaning wool sweaters is simply not necessary. Simply wash woolens at home using our Wool & Cashmere Shampoo.
Master wool sweater washing with exclusive tips from the cleaning experts at The Laundress. Wondering how to wash a wool sweater or how to wash wool or cashmere at home? Keep sweaters, scarves, gloves, and more looking their best with the Wool & Cashmere Shampoo, the best wash for laundering wool sweaters.
Use the Wool & Cashmere Spray, which is fragranced in a sweet and spicy cedar scent, to freshen your woolens so they continue to smell great between washes. Discover how to wash wool sweaters without shrinking, and get more laundry and fabric care tips with our helpful how-to guides on the Clean Talk Blog.