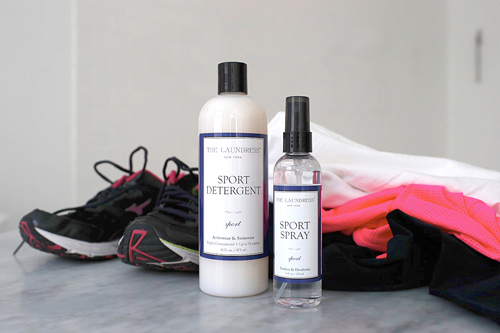 Spandex is a unique synthetic fabric that is often used in athletic wear. For this reason, it is also truly put to the test when it comes to exposure to wear and tear, odors, and stains. Here at The Laundress, we understand that you want to know Sport Detergent so you can look and smell your best while you're working out! Sport Detergent was made to help you ensure that your wardrobe withstands your active lifestyle. It's ideal for spandex, cotton, polyester, and other athletic materials when it comes to keeping them clean and looking great.
How To Wash Spandex The Right Way
It is safe to machine wash spandex, and with the Sport Detergent, you'll have the perfect formula for removing any stains or body odor. (For tough stains, grab the Stain Solution to have on hand, as well.) When there is significant odor, presoak the item in a bath of cool water and Scented Vinegar for 30 minutes and follow by laundering as normal. To retain the highest level of elasticity, hang dry your spandex, though it is also considered safe to tumble dry on low heat.
Hit the gym or the trails without worrying about body odors overwhelming your performance fabrics. Wash spandex with our highly effective Sport Detergent.