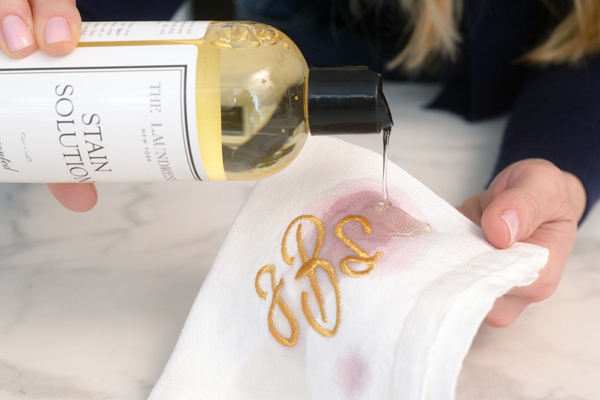 STEP 1:
Apply Solution
Pour Stain Solution directly onto affected areas—a little goes a long way!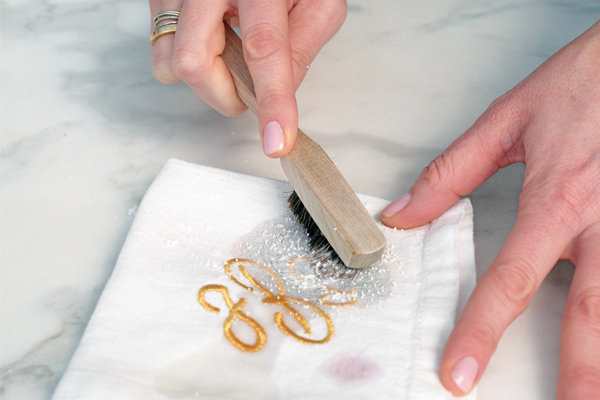 STEP 2:
Create a Powerful Paste
Strengthen the formula by sprinkling All-Purpose Bleach Alternative* on the Stain Solution to create a powerful paste. Use your finger or a Stain Brush to work the mixture into the fabric.
*Do not use All-Purpose Bleach Alternative on fabrics made with silk or wool.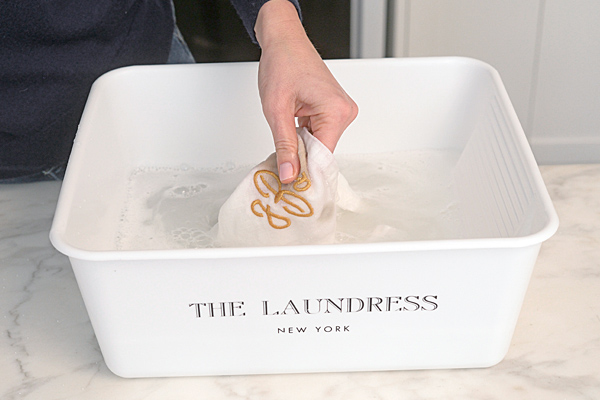 STEP 3:
Give it a Soak
Soak the item in a Wash Tub Basin filled with hot water and one capful of All-Purpose Bleach Alternative* for up to 30 minutes. If the stain is not completely gone following this step, repeat this process until satisfied.
*For wool or silk items, skip the All-Purpose Bleach Alternative and soak in cool water for up to 30 minutes.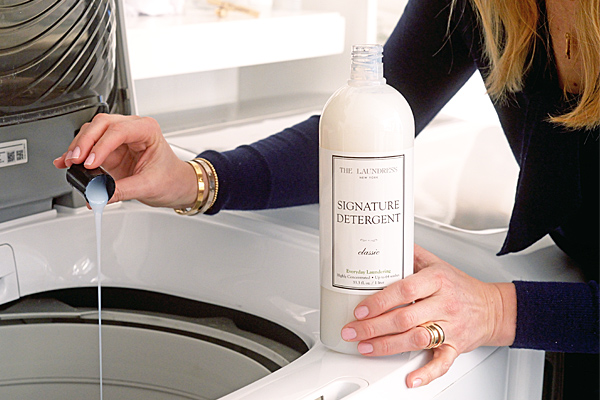 STEP 4:
Launder
Launder the item using the appropriate Laundress Detergent for a clean, stain-free finish
SPILLS ON UPHOLSTERY
Spilled some vino on the couch? With our effective spot-treating hacks, you can sit back and relax.
Note, when cleaning upholstery for the first time, we always recommend testing an inconspicuous area before cleaning fully.
Do not continue cleaning if: 
• The water or product leaves a mark or creates discoloration.
• The treated area is cleaner and brighter than the rest of the fabric.
• The fabric ripples or wrinkles.
If you see any of the above reactions, stop spot treating. If the item requires further cleaning, have a professional clean the item in-home.
Gather These Tools:Stain Solution, Stain Brush or Scrub Brush, Lint-Free Cleaning Cloths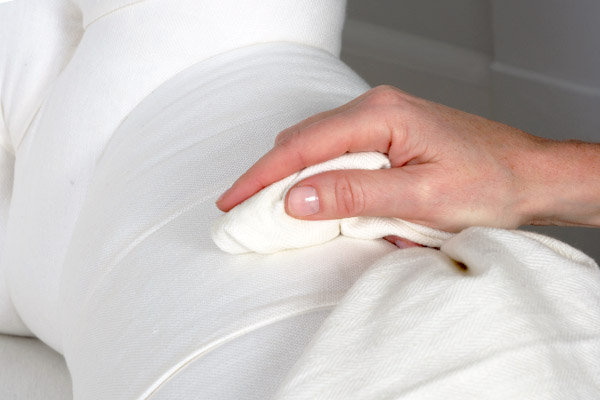 STEP 1:
Apply Stain Solution directly to the affected area. Work the solution into the fabric using your finger, the Stain Brush, or Scrub Brush, depending on the surface area of the stain.
STEP 2:
Wet a Lint-Free Cleaning Cloth with warm water and gently blot the affected area until the stain and all suds disappear. Repeat steps 1 and 2 as necessary.
STEP 3:
When the stain is no longer visible, thoroughly blot with a clean, dry Lint-Free Cleaning Cloth.
To find more stain solutions, visit our how-to guide here.