In a close-knit relationship with your loungewear sets? We definitely are. That's because these days, loungewear can go anywhere, anytime, thanks to flattering, sophisticated silhouettes and fine fabrics like cashmere, silk, and blends. Washing your pieces the right way will help keep them in rotation by preserving the fit and feel. So sit back, relax (in your comfiest cozies, we presume), and read on: Our official guide to laundering all your loungewear is right here.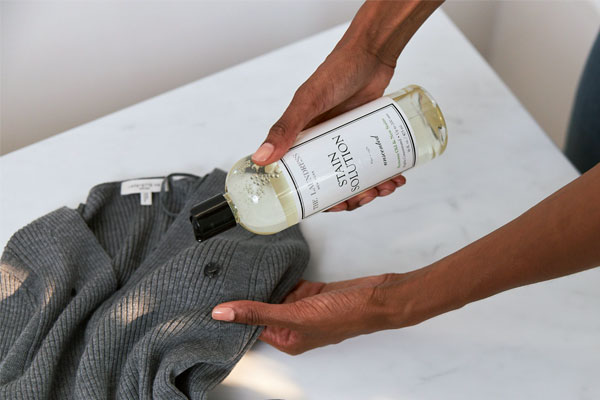 Step 1: Pretreat Stains + Odors
Before washing, treat stains with the appropriate pretreatment according to stain type. Use our Stain Brush to work the treatment in.
Wine, coffee, chocolate, ink, grass, urine, blood, pit stains: Stain Solution
This concentrated liquid of plant-derived enzymes is formulated to treat all protein and tannin-based stains, AKA most commonly stains that are rich in color. Simply pour a few drops over the stained area, and work in before soaking or washing. For protein stains like blood, grass, or milk, be sure to use cold water to avoid "cooking" the stain further into the fabric.
Dirt, grease, oil, salad dressing, makeup, chalky deodorant marks: Wash & Stain Bar
Our handy bar combines plant-derived vegetable soap, borax, and essential oils that bind to greasy stains and lift them from your garment. First, run the bar under warm water, then use your fingers or the Stain Brush to create a stain-lifting lather. Launder as normal or blot away soap with a damp Lint-Free Cleaning Cloth — the bar can also be used as a spot treatment!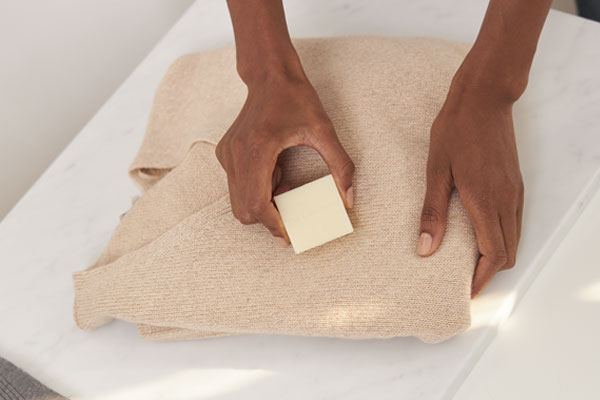 For tougher, older stains try applying your stain pretreatment, then soaking the garment for 15-30 minutes in a Wash Tub Basin, with the warmest water the fabric can tolerate. For most sensitive loungewear fabrics like silk, cashmere, and wool, a warm to cool soak is best. After soaking, apply more stain product if needed, then proceed with washing. Some tougher stains may need a few stain treatment applications to fully remove.
Odors
For funky, set-in odors like those from perspiration, soak items in a Wash Tub Basin before laundering, adding a few capfuls of the versatile, odor-neutralizing Scented Vinegar. Vinegar's powerful cleansing properties are effective, yet gentle enough to use even on sensitive fabrics like wool and silk, and our formula is scented in our pine, eucalyptus, and rose No.247 fragrance, which offsets the strong scent of vinegar. For underarm smells, an enzymatic treatment like the Stain Solution helps combat the source of odor and prevent pit stains from forming. Pour a few drops onto the underarm area and massage in with a Stain Brush or your fingers before washing or completing a soak using Scented Vinegar.
Shop Solutions: Stain Brush, Stain Solution, Holiday Wash & Stain Bar, Scented Vinegar, Wash Tub Basin, Lint-Free Cleaning Cloth
Step 2: Launder with a Fabric-Specific Formula
Ready to launder? Keep the "problem of pilling" in mind before the wash: Protect fabrics by turning them inside out and placing inside Mesh Bags before inserting them into the machine. Certain fabrics, like knits, silks, and items with delicate straps, buttons, or detailing should always be put in mesh bags if machine laundering to avoid snagging during the wash cycle. While most loungewear garments are designed to take a lot of wash and wear, some snuggly fabrics are engineered to be extra soft with the inclusion of synthetic fibers. These are best preserved with cold water, a delicate cycle, and a gentle, fabric-specific detergent. Unsure about the best cycle for your slouchy item? Refer to our guide below or opt for a handwash is always the safest bet.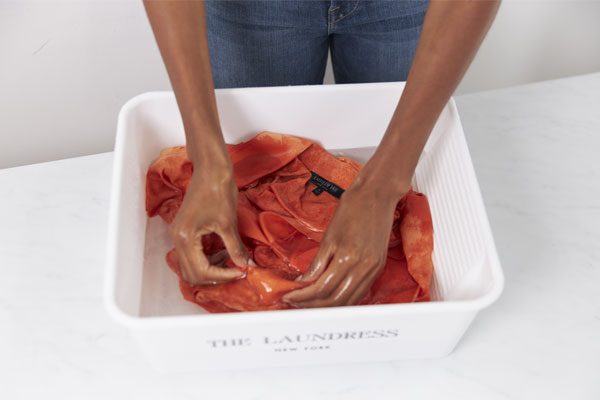 Cashmere, Wool, Apaca, Faux Fur: Use 2-3 capfuls of Wool & Cashmere Shampoo, a delicate cycle, and cold water
Cotton, Flannel, Jersey, Cotton Blends
Use 1-2 capfuls of Signature Detergent (try our Deep Relax Signature Detergent for extra calming vibes) or 2-3 capfuls of Delicate Wash, a normal or delicate cycle, and warm to cold water. Typically, jersey fabrics should be washed in cold water for best preservation.
Synthetics - Modal, Polyester, Acrylics:
Use 2-3 capfuls of Delicate Wash or Wool & Cashmere Shampoo (for synthetic knits blended with natural fibers), a delicate cycle, plus cold water. Many "teddy" style knits are made from synthetic blends, and these should always be laundered in cold water.
Performance Fabrics - Mesh, Nylon, Spandex:
First insert items into a Mesh Bag to prevent stretchy fabrics from snagging in the machine during the wash cycle. Wash with cool or warm water (hot water causes a breakdown of synthetic fibers, leading to dull, shapeless garments) and 2-3 capfuls of Sport Detergent.
Silk, Satin, Silk + Synthetic Blends:
Use 2-3 capfuls of Delicate Wash, select a delicate cycle, and cold water.
If handwashing in a sink, tub, or Wash Tub Basin, remember to soak more delicate items for up to 30 minutes max, then rinse. Soaking for longer can cause changes to the fit and finish of certain fabrics, especially wool and silk. Set your timer!
Pro Tip: For blended fabrics, launder according to the most delicate fiber in the blend. For more info, check out our deep dive on laundering blended fabrics - How To Wash Blended or Mixed Fabrics.
Shop Solutions: Mesh Bag Bundle, Delicate Wash, Signature Detergent , Deep Relax Signature Detergent, Sport Detergent, Wool & Cashmere Shampoo, Wash Tub Basin
Step 3: Dry + Freshen
To keep your loungewear pieces soft and cozy for longer, always air dry whenever possible, or air fluff in the dryer. Instead of single-use dryer sheets, toss in a couple of Dryer Balls to soften fabrics, cut down on static, and speed up the drying process.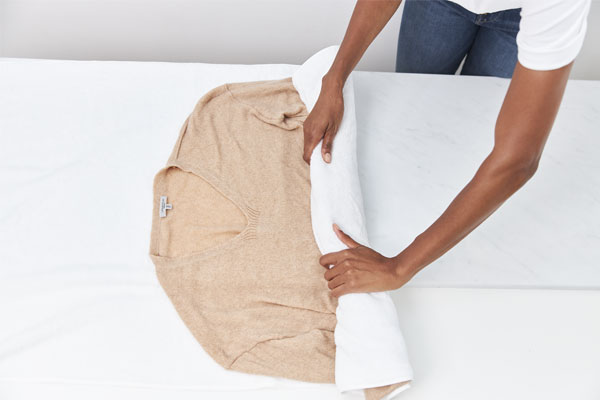 Cashmere, Wool, Apaca, Faux Fur:
These fabrics MUST be air dried, no exceptions. Gently reshape after washing, then lay flat on a surface or over a rack to dry. Keep in mind that rolling knits up in a clean towel first can help to speed up drying time by absorbing some of the excess water.
Cotton, Flannel, Jersey, Cotton blends:
More durable cotton-based fabrics can be dried on a low temp inside out to avoid pilling
Synthetics - Modal, Polyester, Acrylics:
Always air dry synthetic fabrics whenever possible to preserve them for longer, and to avoid shrinking or melting the sensitive fibers. Luckily, synthetics tend to dry very quickly due to their construction! Lay items flat if possible, or lay over a rack. If you must machine dry synthetic garments, select an"air fluff" setting.
Performance wear - Mesh, Nylon, Spandex:
Air drying prevents pilling, protects fit and finish, and can even extend the longevity of your workout gear. If you're crunched for time, tumble dry on low with Dryer Balls to combat static and speed up drying time. Tip: Mist your dryer balls with a few spritzes of Sport Spray for an infusion of laundry-fresh scent!
Silk, Satin, Silk + Synthetic Blends:
Like woolens, these fabrics must be air dried to avoid shrinkage and changes to the fabric's finish. We recommend gently smoothing out silk and satin pieces by hand before and (ideally) during the drying process to prevent wrinkles.
To prevent wrinkles, smooth out fabrics gently by hand before laying out to dry, and spritz with Crease Release as needed. This wrinkle-eliminating fabric spray works on any fabric, damp or dry and infuses them with the scent of Classic, an addicting, laundry-fresh scent!
In between washes, keep your loungewear odor-free with a few spritzes of your favorite Fabric Fresh Spray. We love Fabric Fresh Classic for a timeless clean laundry scent, Sport Spray for a bright infusion of greens and citrus, or Wool & Cashmere Spray for a touch of warm, spiced sandalwood and cedar.
Shop Solutions: Dryer Balls, Crease Release, Fabric Fresh Classic, Wool & Cashmere Spray, Sport Spray