Little compares to the nostalgic, straight-from-the-dryer scent of fresh laundry, but getting that aroma to last? That's another story. Lucky for you, we've done loads of experimenting over the years and we've cracked the code for locking in that coveted laundry scent with help from our solutions. Because we believe everyday chores like laundry should be enjoyable, our products mix fragrance with function. And because our complex scents are formulated more like a fine fragrance than your run of the mill detergent scent, they can basically take the place of your perfume… just sayin'. Read on for how to get—and keep—your laundry smelling scentsational.
Get The Tools You Need: Scented Vinegar, All-Purpose Bleach Alternative, Signature Detergent & Fabric Conditioner Duo, No. 723 Fabric Conditioner, Classic Fabric Fresh, Wash Tub Basin
Make Sure Your Washing Machine Is Clean
When's the last time you cleaned your washing machine? Believe it or not, these appliances need some washing themselves. Washing machines that smell musty can transfer that odor to your laundry loads, so be sure to clean yours regularly. Plus, the tools you need – All-Purpose Bleach Alternative and Scented Vinegar – might already be in your laundry cabinet. Get the in-depth guide here.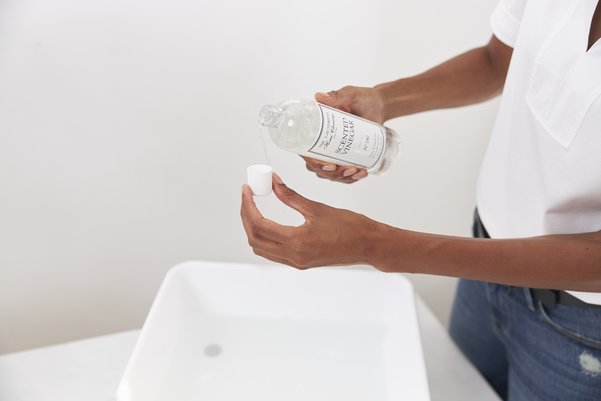 Start Fresh
If any items in your laundry are giving off unsavory odors, first pretreat by soaking them in a Wash Basin filled with warm water and 3-4 capfuls of Scented Vinegar for up to 30 minutes. The formula will absorb any strong smells and ensure your laundry detergent scent has nothing to compete with. (To learn how to remove dulling buildup and more lingering odors, check out our easy laundry stripping tutorial.)
Choose A Premium Detergent Scent
We expertly crafted each and every one of our scents to be as compelling and complex as a fine fragrance. With clean notes like soft musk, leafy greens, and bright botanicals, our blends are the perfect recipe for a home and laundry that smells heavenly. Each one of our scent formulations contains perfectly balanced top, middle, and base notes that gently unfold throughout the wash cycle, transforming your laundering experience. To capture the timeless scent of fresh linens blowing in the breeze, we love to use Classic Signature Detergent. Discover more fine fabric fragrances here.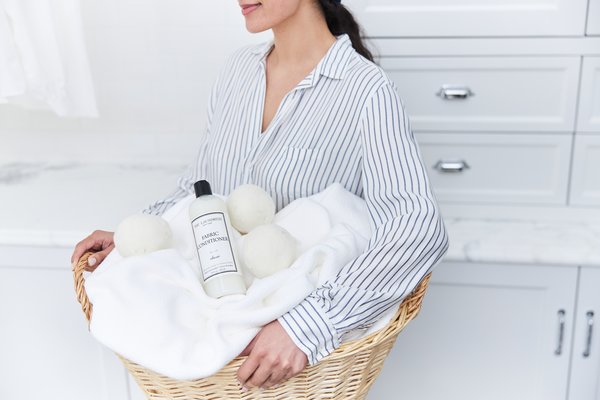 Pair Your Detergent With a Complementary Fabric Conditioner
To enhance the fragrance experience and seal in the scent, we make sure to add Fabric Conditioner in a scent that matches our laundry detergent to each load. To complement our Classic Signature Detergent, use Fabric Conditioner Classic. Or to add a hint of damask rose scent, try the No. 723 Fabric Conditioner instead for a unique fragrance twist!
Tip: Skip the use of Fabric Conditioner, or just use every other wash when laundering towels. Because fabric softeners work by lightly coating fabrics, using too much can affect certain fabrics' absorbency. Do not use with delicates, synthetics, woolens, or moisture-wicking activewear.
Spritz & Set
Now for our secret weapon Fabric Fresh! Air dry or machine dry your laundry as normal, then spritz the pile or each individual item with Fabric Fresh, a refreshing, revitalizing formula that's like a plant-derived perfume for your clothes. Use it in between washes to remove odor and add a fresh aroma. To get the most out of the scent, you can mist Fabric Fresh in the fragrance coordinating with your detergent (such as Fabric Fresh Classic) over bedding, upholstery, rugs, and carpets. It's also ideal for deodorizing outerwear, car interiors, sneakers, and luggage and refreshing closets and drawers, and is suitable for fabrics considered dry clean.