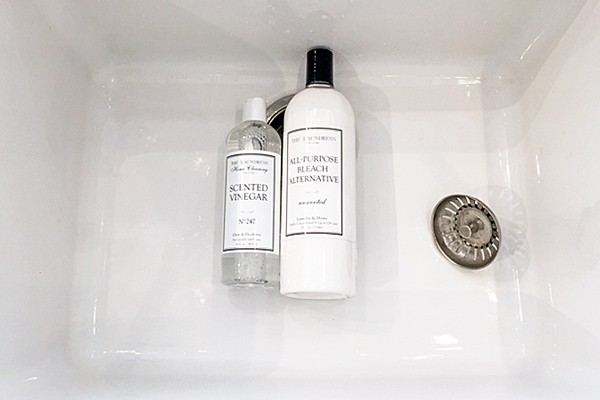 STEP 1:
Scrub Away Stains
To remove tough stains on stainless steel, cast iron, and porcelain sinks, sprinkle two capfuls of All-Purpose Bleach Alternative and 1/4 cup Scented Vinegar directly onto the sink's surface and let the mixture sit. When ready, use the Scrub Brush to help lift stains. Run the faucet to rinse away grime.
Note: Do not use this mixture on porous stones, such as marble countertops.
STEP 2:
Clear the Drain
Mix 1/4 cup of All-Purpose Bleach Alternative with one cup Scented Vinegar. Pour the mixture down drain and let sit for 5 minutes, then run hot water down the drain.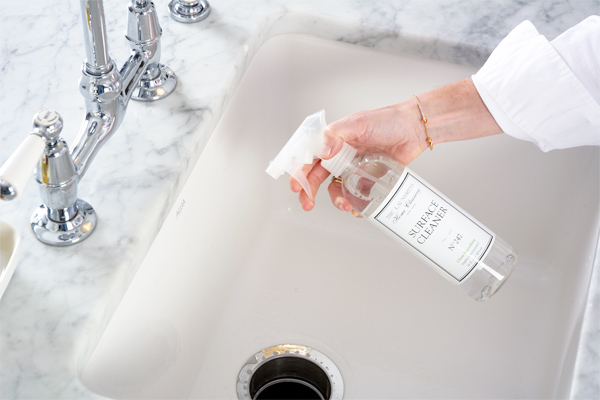 STEP 3:
Spray Surfaces
For an all-encompassing clean, spray the sink basin, countertop, and faucet with the Surface Cleaner—it's safe to use on all hard surfaces, including marble! A quick tip for maintaining a clean-smelling sink: quickly spray the basin daily to help deodorize and sanitize.