Time for a little laundry "pillow talk"! Silk pillowcases and eye masks are all the rage, but are they worth the price tag? When it comes to beauty sleep, absolutely, yes! The lustrous, smooth fibers of silk are ideal for sleepwear and bedding because they cause less friction than traditional fabrics, reducing lines on skin and moisture absorption from skin and hair. It's a magic thread for optimal rest, but its delicate fibers require special attention in the wash to avoid damage. Here's everything you need to know about cleaning silk, removing skincare and makeup stains, and maintaining its beautiful luster in the process.
Your silk washing toolkit: Wash Tub Basin, Stain Solution, Wash & Stain Bar, Stain Brush, Scented Vinegar, Delicate Wash, Delicate Spray, Jiffy Steamer
Tip 1: Always Pretreat Stains
When it comes to putting stains to bed on silk pillowcases, bedding, or sleepwear, taking the time to pretreat goes a long way. Learn how to treat by stain type below: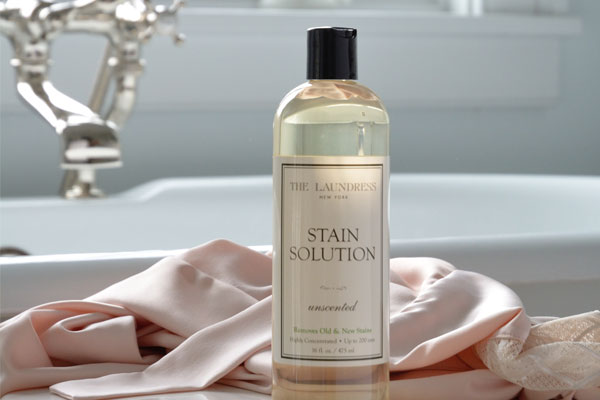 Face cream, body oil, sweat, hair treatments:
Grab your Wash & Stain Bar and Stain Brush for these greasy marks! First, run the bar under warm water and work up a lather using the Stain Brush. The soft fibers in the brush are gentle enough to use on silk, and really help to coax out oily discoloration. Using the brush, massage the lather into the stained area using circular motions before washing.
Hair dye, self-tanner, makeup, pet accidents, blood*, coffee, wine:
If that at-home hair dye job bled a little onto your silk pillowcase, reach for Stain Solution instead! This concentrated liquid targets color-rich protein and tannin based stains like food and dye with ease. Pour a drop or two over the stains, and work in using your fingers or the Stain Brush. For older, set-in stains, pretreat with Stain Solution, then let soak for 10 minutes in cool water. After soaking, apply a little more Stain Solution and massage with the Stain Brush and promptly launder.
Pro Tip: While All-Purpose Bleach Alternative is a superstar for brightening everyday fabrics like cotton and linen, it should never be used on silk or wool fabrics. Regular pretreatments using the Stain Solution and Wash & Stain Bar will help to reduce yellowing and stains on these natural fibers.
*Always soak and wash blood stains with cool water until completely removed.
Tip 2: Soak Away Odors
If your silk pillowcase is smelling a little funky, soak with some odor-absorbing Scented Vinegar. This step is super important since built-up sweat, hair, skin products, and excess detergent can cause odors and dinginess in silk items. To do, add 2-3 capfuls of Scented Vinegar to a Wash Tub Basin filled with cool water and soak your pillowcase or eye mask for 10 minutes before washing as normal. Scented Vinegar can also be added directly into the wash cycle or a hand soak to help keep silk shiny while removing odors and detergent buildup… sort of like laundry stripping without the harsh stripping part.
Tip 3: Wash at Home Using This Formula
Silk pillowcases, eye masks, and sleepwear can be hand or machine laundered using cool water and a low agitation setting. If you are unsure of the temperature of your machine's "handwash" or "delicate" setting, washing by hand in the Wash Basin is a safer bet, as it allows for the most control over your garments.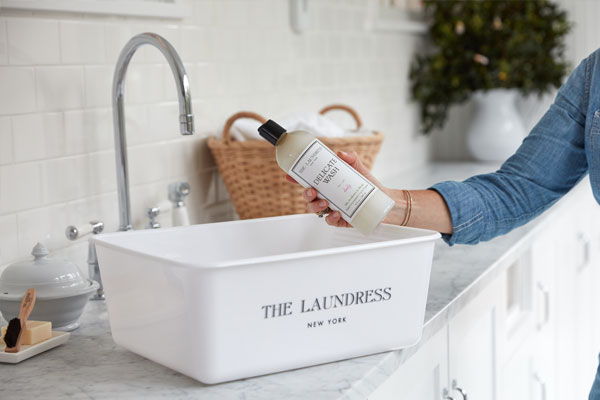 Whether you choose to machine or hand launder, always reach for our Delicate Wash detergent. Delicate Wash is expertly-crafted and specially formulated to clean and preserve silk while effectively removing buildup from perspiration, body oils, and stains, thanks to coddling, plant-derived enzymes. Only a small amount of this concentrated detergent is needed: For handwashing, add 1-2 capfuls, and for machine washing, add 3-4 capfuls.
We recommend using a Mesh Bag Bundle when machine laundering to protect silk items from snagging or tangling inside the washer. (Pro Tip: Drizzle your detergent directly on top of the Mesh Bag Bundle in the drum for best product distribution.) When hand washing, don't let your silk pillowcase or eye mask soak for longer than 30 minutes, and be sure to avoid twisting or wringing when rinsing items—press out excess water instead. While silk fabric is strong when dry, it weakens when the fibers are wet, so a gentle touch is essential for preservation!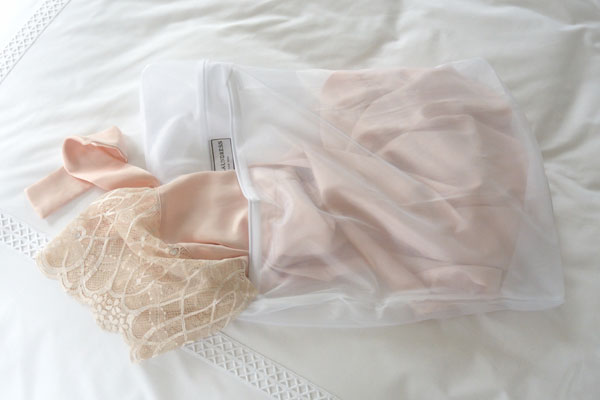 Once your wash cycle or hand soak is finished, always air dry silk pieces. Never place them in the dryer, as this can burn the delicate silk fibers. To reduce drying time, roll up items in a clean, dry towel after washing and lightly press out excess water. We recommend laying items flat or over a hanging rack to avoid creasing.
Tip 4: Freshen Up
Launder pillowcases and eye masks at least once a week to lift out body oils and maintain freshness. If you experience acne or other skin concerns, you may want to consider laundering more frequently. And don't forget to wash pillow inserts regularly! Follow our guide to washing down pillows and comforters here. In between washes, freshen your silk using Delicate Spray. This "wash in a bottle" helps lift odors and adds a fresh, citrus and herbal scent to garments. For a more intense fabric refresh, try misting items with Delicate Spray in combination with steaming using the Jiffy Steamer, which removes stronger odors and bacteria.