Whether you use your baking sheet or sheet pan to bake cookies or roast vegetables, we can bet that you're always left with some sort of "leftovers," whether that's burnt-on pieces, brown spots, or even rust. These debris can feel virtually impossible to remove with regular dish soap and a sponge, and even if you're able to (which, serious props to you!), your arm will likely be left sore from all that scrubbing. Ahead, our ridiculously simple recipe for getting your baking sheets free of grime and absolutely gleaming... in less time than it takes to whip up a batch of brownies.
YOUR TOOLKIT: All-Purpose Bleach Alternative, Scented Vinegar, Dish Brush, Copper Cloth, Dish Detergent, Lint-Free Cleaning Cloths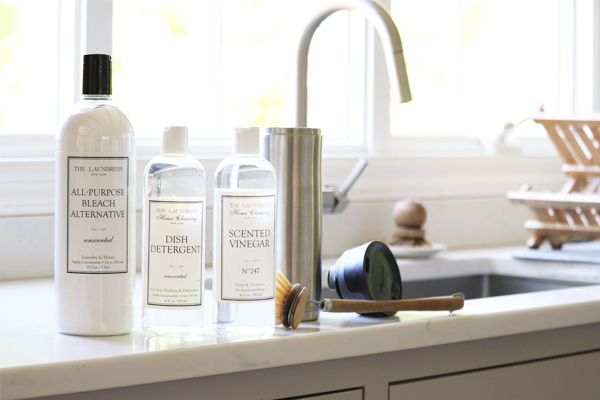 SOAK IT ALL UP
Scrape away any large pieces of food or burnt bits. For large, burnt-on pieces, brown spots, or rust, soak the pan in a sink or basin of hot water and 1 capful All-Purpose Bleach Alternative for a minimum of one hour—even better if you can allow it to soak overnight! The chlorine-free, oxygen-powered crystals will help to loosen up and lift debris that have been adhered to the pan. To remove any lingering food or burnt odors and up the shine factor of your pan, add a capful or two of Scented Vinegar to the soak water.
WIPE & WASH
Use a stiff brush to clear off the loosened pieces and surface residue—they should slip right off! Next, add a squirt of Dish Detergent and give the front, back, and sides of the pan a good scrub with some warm water. Be sure to thoroughly rinse.
DRY
Wipe or pat dry with a Lint-Free Cleaning Cloths