When she received her grandmother's heirloom quilt, Gwen knew she had her work cut out for her! With tears and weak, deteriorating threads from sitting in her aunt's attic, some serious preparation was needed to get the piece machine-wash ready. Caring for beloved heirlooms like handmade quilts is easier than you think. Follow our tips for start to finish instructions on washing your passed down pieces without the fear of them falling apart! 
Gather These Tools: Stain Solution, All-Purpose Bleach Alternative, Stain Brush, Signature Detergent, Fabric Fresh Classic, Extra Large Zip Storage Bag
STEP 1: Prep
Stitch up any snags, tears, or holes before washing as the stress and tension caused by the weight of the water will pull the fabric and increase the hole size.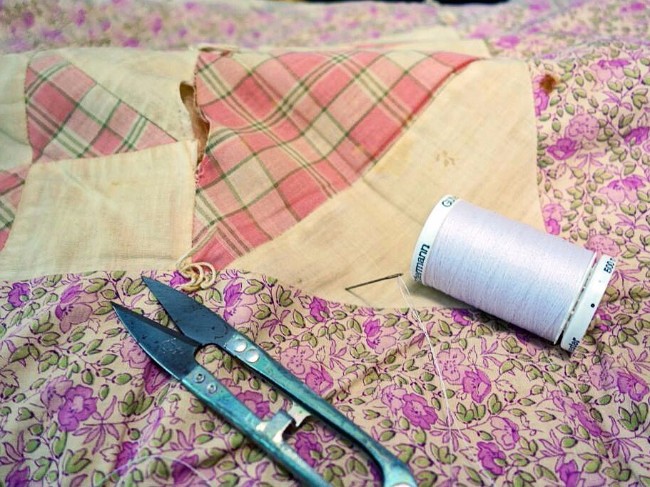 STEP 2: Pretreat
Aged cotton quilts are best pretreated with Stain Solution and All-Purpose Bleach Alternative. This powerful stain fighting duo can banish spills, spots, and yellowing with ease while maintaining the integrity of fabrics. Simply apply our Stain Solution directly to the spot and sprinkle on the All-Purpose Bleach Alternative. Use a Stain Brush to work this mixture into the fabric and create a paste. Pour hot water from a height to further work in the solution.
NOTE: If the item is too delicate or has frays, loose threads, rips, or other damage, do not scrub or machine wash. Carefully spot treat and handwash to clean.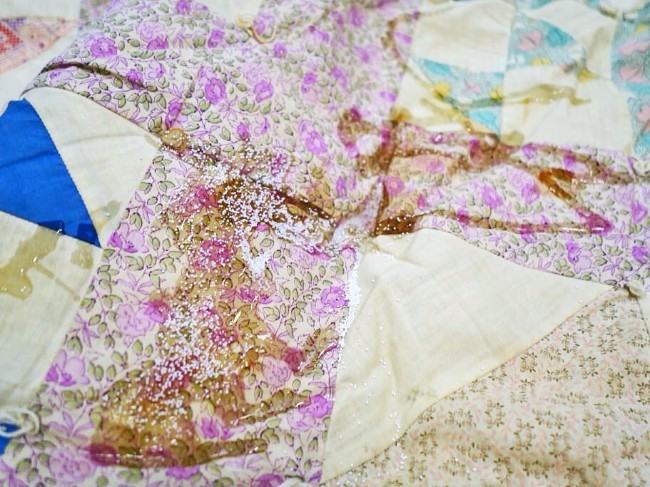 STEP 3: Machine Wash
Because this quilt is quite large and the threads are exceptionally delicate, we used the Soak setting and hot water temperature on the washing machine and added two capfuls of Signature Detergent. Allow it to soak for 45 minutes.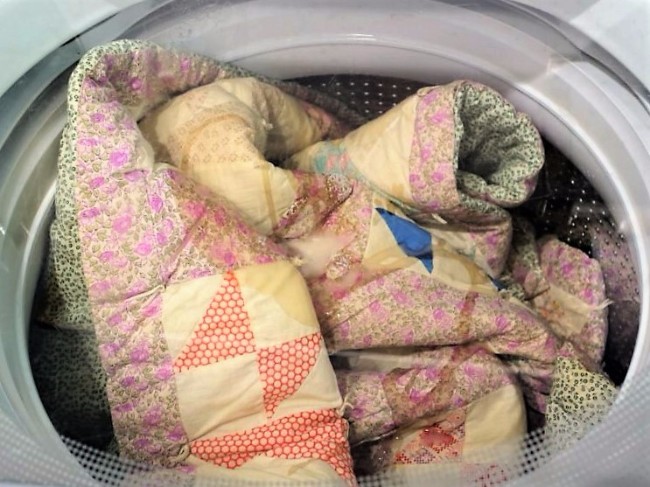 STEP 4:
Dry
Always air dry items that are delicate or worn. Lay flat in its natural shape. This will protect the piece from stress sometimes caused by the drying machine.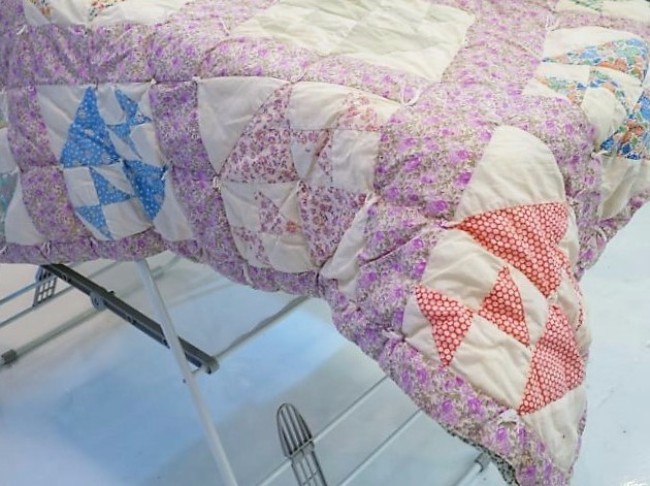 STEP 5: Freshen
Spritz your piece with Fabric Fresh Classic to achieve the ultimate start-to-finish laundering experience. This versatile formula adds scent while removing odor. The spray will keep your heirloom fresh in between washings.
STEP 6: Storage
To protect your precious heirlooms from yellowing, mildew, and critters, we recommend storing them in a canvas storage bag. Our bags are outfitted with a double zip feature for added protection.