The key to cleaning with confidence is building a "toolkit" of skills over time! If you have children at home, adding some age-appropriate skills to their kit will help you out at home and help them develop a deeper understanding of responsibility and ownership. Ahead, our A-Z roadmap of home basics to guide you and your little ones.
Your Kid-Approved Toolkit: Stain Removal Essentials Kit, All-Purpose Cleaning Concentrate, Kitchen Soap Bar, Storage Cube, Lint-Free Cleaning Cloth, Mesh Bag, Clothing & Upholstery Brush, Fabric Fresh Classic, Home Spray, Double Sorter & Triple Sorter
A is for appliances: Teach kids to recognize which appliances are for grownups to use and which are okay to touch with supervision! When they're old enough, have them help you clean your kitchen appliances with this helpful guide.
B is for bathroom cleanup! Toddlers can rinse off toothpaste marks from the sink and put away bath time toys, while school age kids can polish mirrors with Glass & Mirror Cleaner and bring dirty towels and bathmats to the laundry room. Teens can tackle deep cleaning bathrooms with All-Purpose Bleach Alternative and All-Purpose Cleaning Concentrate.
C is for chore charts, which help keep tasks fun and organized. Read about how our cofounder Lindsey organizes her family's chores here, and download our age-appropriate task list!
D is for dust bunnies! Encourage little ones to clear away lint and dust from their playrooms or bedrooms using the Goat Hair Duster Wand or Lint-Free Cleaning Cloths.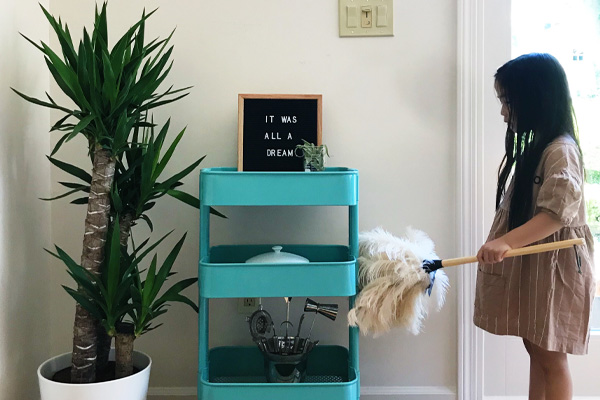 E is for everything in its right place. Encourage them to store toys and games after playtime to avoid clutter - even toddlers can help tuck away toys in a Storage Cube! Follow our guide to playroom organization here.
F is for freshening up! School age kids and up can learn how to spray Fabric Fresh Classic and Home Spray to get rid of yucky odors on clothes and soft surfaces in the car and home. Reinforce autonomy by having them select the Fabric Fresh scent they like best for their room.
G is for giving away! Keeping a clutter-free home means parting with things we no longer need or use. Kids can assist in selecting, cleaning, or laundering gently used toys and clothes, and teach them the value of giving them away to someone in need!
H is for hampers that make sorting a breeze. We love our Double and Triple Sorters because even the littlest kids can learn how to divide laundry by color.
I is for "I spy"! Teach young children to identify areas of the home that need tidying by learning the differences between clean, dirty, and messy. For example: toys on the floor vs. toys in their designated bins, or clean folded clothes vs. smelly socks in the hamper. When they tap into sensory cues like sights and smells, kids can learn to understand what makes a clean home truly clean.
J is for finding joy! There are lots of ways to make cleaning fun—having a sing-a-long, turning chores into games. Besides the great bonding opportunity, this helps build positive associations with tidying time.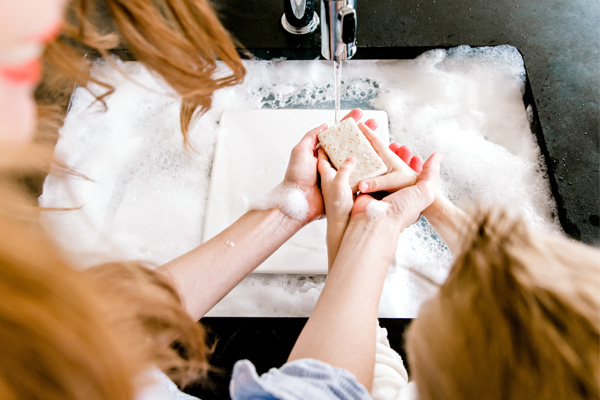 K is for kitchen cleanup. School age kids can learn which items can go in the dishwasher, and which must be washed by hand with the Kitchen Soap Bar, like wooden tools and utensils. By about age 9, they can be experts at mealtime cleanup, knowing how to load the dishwasher, put leftovers into tupperware, and wipe down countertops.
L is for laundry, of course! Even the littlest ones can help out with laundry, but be sure to delegate age-appropriate tasks. Toddlers can help put dirty clothes in the hamper, and learn to sort by color. School age kids can help divide laundry by color and type, and start to learn how to read garment tags and product labels. As they get older, they can learn how to pick a matching detergent for color and fabric type according to the tag (i.e. Whites Detergent for white towels and Sport Detergent for their soccer uniform), and help out with selecting a washing cycle. Preteens and teens can complete laundry from start to finish!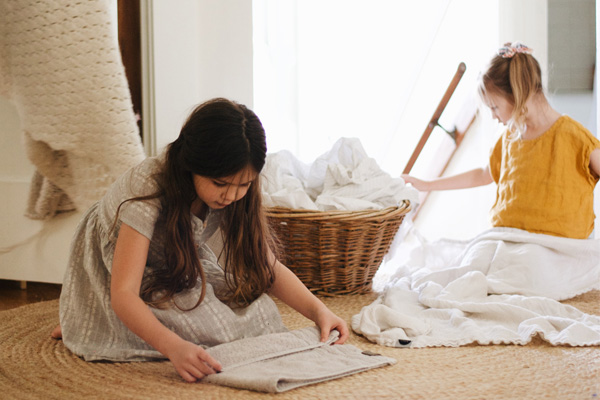 M is for mealtime prep. From washing produce to watching pasta boil, letting kids help out with meal prep through age-appropriate tasks will help them build confidence in the kitchen and enjoy the process of cooking.
N is for no sock left behind! Teach kids to put dirty socks in a Mesh Bag (we keep one inside our hampers) to prevent losing them come laundry day.
O is for open food contains. School age kids and up can learn that once snack or meal time is over, food should be sealed and put in its proper place.
P is for pet care! Got pets? Kiddos should learn from a young age how to care for them safely, which will give them a sense of responsibility. While toddlers can help with simple tasks like filling Fido's water bowl, older kids can feed, walk, and clean up after pets.
Q is for quick bed-making. Teach kids how to make their bed while still laying in it so they can essentially do it with their eyes closed! Show them how to tidy covers and pillows while horizontal, then simply roll out the side of the bed! By the time they're teens, it'll be second nature.
R is for routine. Sticking to a routine, especially before and after school, can accustom kids to completing small chores on a regular basis. For example, wiping down wet countertops after morning teeth brushing with a Lint-Free Cleaning Cloth, or taking out the trash after dinnertime.
S is for safety first! Protect your child by always supervising tidying tasks, especially those that involve cleaning products or appliances. Teach kids to read safety labels, and learn how to properly wash their hands after cleaning and indoor or outdoor play. The CDC has a great guide to parenting safety tips by age.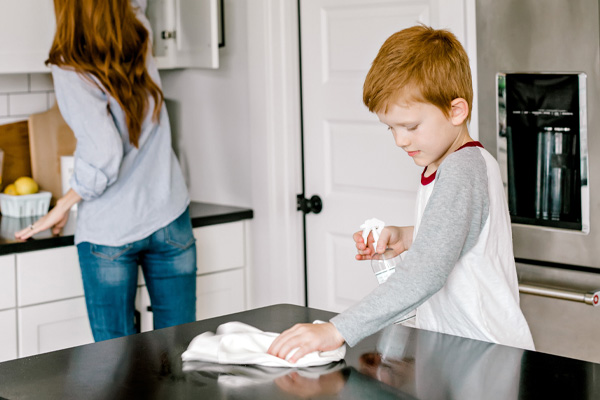 T is for turning things off to conserve energy. Teach kids to shut off lights and power down gaming systems after use in order to reduce electricity use and cut down on bills (more money for birthday presents...).
U is for keeping upholstery clean. School age kids can learn to keep sticky hands and outdoor shoes away from the couch and gently brush away lint and pet hair with a Clothing & Upholstery Brush. Teens can learn how to clean up a stain with the Wash & Stain Bar and Stain Brush by following this guide.
V is for vacuuming up crumbs ASAP! School age kids can use a hand vacuum with supervision to address small messes and help prevent bugs in the home, and older kids can tackle vacuuming larger spaces independently.
W is for watering plants. Even toddlers can help out with this simple chore! Keep a special watering can for tiny hands and let your child decorate it with their favorite stickers.
X is for putting in a little extra effort to get teens to help out! Ask them to select which chores they'd like to complete from a list, and take the opportunity to chat while you complete tasks together. Letting them take control of the Spotify playlist for Sunday morning chores doesn't hurt either!
Y is for yard cleanup! Young kids can help bag up leaves and put outdoor toys away, and teens can help mow lawns. Kids of all ages can help out with planting an herb garden, which is a great way to educate them about sustainability.
Z is for zapping out stains by treating them according to type. Preteens and teens can become stain-fighting superstars by following this basic guide to treating stains on various fabrics!