We believe anyone can enjoy laundry as much as we do, and that the joy should extend to the spaces in which we care for our belongings. Whether you're working with a small apartment closet or expansive laundry room, a few simple yet thoughtful elements can transform it into a pleasurable place. That's why we tapped our very own cofounder Gwen Whiting and brought together friends of The Laundress Tori Mellott, Brittany Bromley, and Mel Bean to share their expert tips, inspiration, and thoughtful details. It'll come as no surprise that they all perfectly meld practicality with personality and intelligently utilize every inch of space – even the makeshift kind – with their designer flair. Read their six core principles, then get ready to transform your laundry room—whatever that looks like in your home—from purely utilitarian to your own laundry oasis.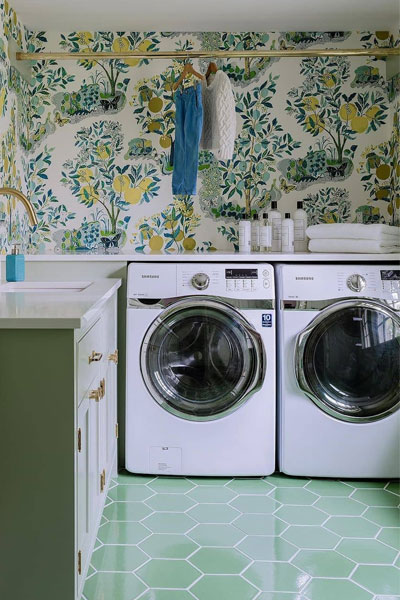 1. INTRODUCE COLOR
Image courtesy of Amanda Reid
The laundry room is the ideal place to take bold design risks you normally wouldn't elsewhere… even if that just means a splash of color. "People think laundry rooms need to be snowy white. I couldn't disagree more! Your laundry room should bring you joy and put a smile on your face," says Tori Mellott, style director of Frederic Magazine, who suggests adorning walls with a fun wallpaper in a vinyl material, which is easily cleaned. If the wallpaper pattern you like isn't available in a laundry room-suitable material, consider papering just the ceiling instead, suggests Tori. "I also love to complement with bright cabinets. Reds, greens, and blues in high gloss finishes makes a laundry room feel glamorous and chic." And don't ignore the floors! "A dramatic rug provides the color and pattern needed to dress up a smaller space, and a good rug pad can make laundry less painful." says Mel Bean founder of Mel Bean Interiors .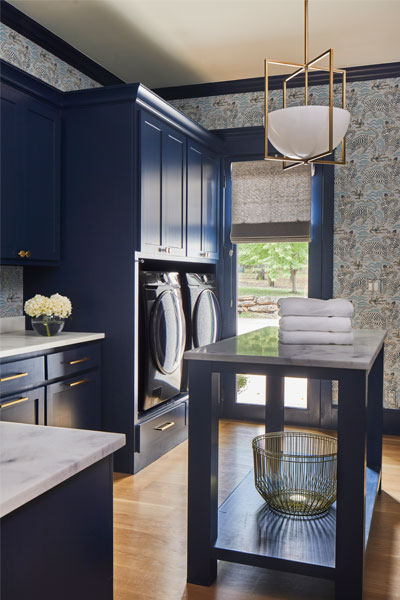 2. CREATE COUNTER SPACE
Image courtesy of Laurey Glenn
"People really underestimate workspace," says Gwen Whiting, cofounder of The Laundress and designer of countless laundry rooms for the brand. "If you don't have a proper counter or surface to sort, fold, pretreat and stack you won't get the most out of your laundry room." If you've got a compact or closet laundry room with no counters, or a basement space with floating machines, you can create workspaces with a hamper that comes with a built-in worktop or a rolling counter table, says Gwen.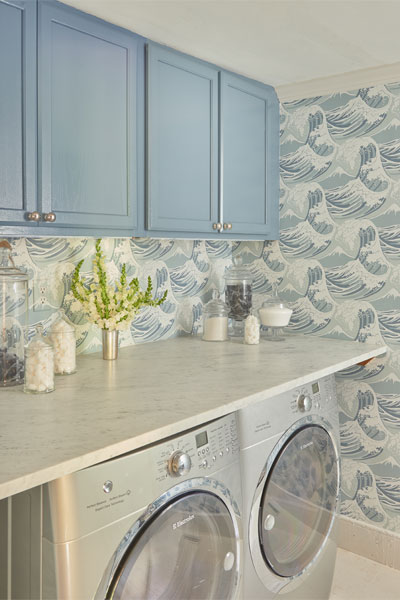 3. MAKE STORAGE STRATEGIC
Image courtesy of Jane Beiles
When it comes to choosing storage solutions, consider the types of items you're storing, then tailor according to your space and usage. For detergents and other fabric care formulas that you regularly reach for on laundry day, utilize cabinets, a slim bookshelf (Tori likes the options from IKEA, which come in a host of sizes), or simple, sleek shelving. "I often get shelf boards from Home Depot or IKEA and jazz them up with great brackets from Etsy," says Gwen. If you're short on space and storage options, go for baskets, hampers, or storage boxes to stash fabric care, and jars for tools like Stain Brushes. "Baskets and apothecary jars are both visually interesting and corral pieces into well organized, contained spaces," says Brittany Bromley of Brittany Bromley Interiors. "A neat, clutter-free environment is always inviting and elevating!"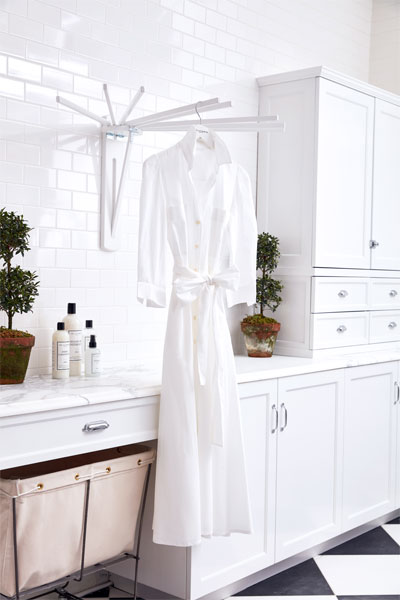 4. CONSIDER HANGING AREAS
Everyone does laundry differently, so think about your wardrobe and how best to complement your laundry routine with your space. This applies to your vertical hanging needs. If you have lots of men's button downs, long dresses, and skirts, try a long wall-mounted arm, says Gwen. "They're often collapsible so they can disappear when not in use and are a great place to hang dry and hold clothes before putting them away, steaming, or ironing. If you have shorter-length activewear, children's clothes, and undergarments in your air drying rotation, a rack with multiple arms can be placed above counters. If you don't have the space for that, don't dismiss the power of a retractable line. They are great for smaller and lighter items such as undergarments.
Lastly, do you have a space for drying knits? Knits and sweaters need to air dry flat so as to not distort the item. Consider a mesh rack that can be folded up and tucked away or, if you have the luxury, a built-in, pull-out drawer drying space. Wall mounting is also always helpful: Wall mount your ironing board in your laundry room or a closet nearby to save on space (of course with a chic cover such as The Laundress Ironing Board Cover).
5. INCORPORATE LIGHT
"No matter the space or design aesthetic, proper lighting is key," says Mel. "I like to incorporate a decorative fixture as well as task lighting." In a large laundry room, this could mean a combination of a chandelier or hanging pendant, recessed lighting, and undercabinet lighting. In a tighter space, this could be one flush mount ceiling fixture with sufficient wattage for the area, she explains. As an alternative, mirrors create light and the illusion of an airy, open space, even if yours is compact as could be. "I source all my mirrors from antique stores, but you can search on Etsy or make one from an old frame, too!" says Gwen.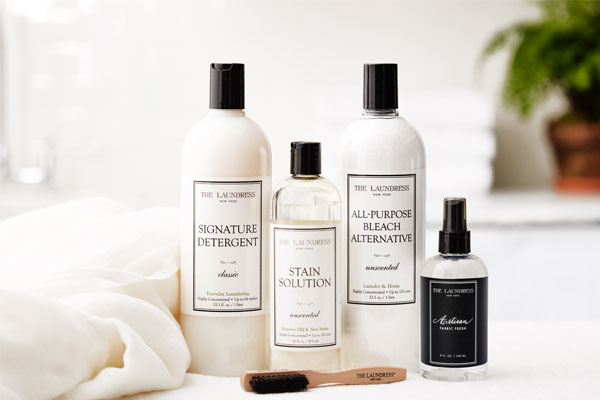 6. OPT FOR EXPERT-CRAFTED FABRIC CARE
Truly the easiest and quickest way to love where you do laundry is loving how you do laundry with masterfully-made fabric care. No detail has been left unturned when it comes to The Laundress products, from textile science backed formulas that increase the longevity of your clothes to sophisticated fine fragrances that gently linger dryer to drawer. Our Laundry Best Sellers Kit and Stain Removal Essentials Kit are top laundry room essentials and great products to start with or add to your collection.