With over 15 years of professional experience, home organization expert Samantha Pregenzer knows her way around a tough challenge. Her Simply Organized clients regularly turn to her for advice on problem solving, troubleshooting and fixing everything from a bulging drunk drawer to a cluttered closet. When remote learning plans started to roll out for back to school, we turned to Samantha to share her take on how she's setting her own family of 5 kids (yes 5!) up for success.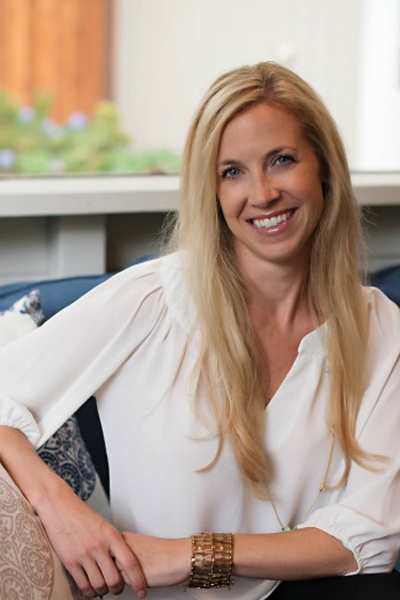 Depending on where you live, you may have children remote learning from home. The list of challenges with new-to-us homeschooling is long and complex. No matter how much space you have, getting our kids organized for success with online, at-home learning is difficult.
Families have been reaching out for organizing help with remote learning spaces around their homes (we've had to get creative) and it's a reality for us as well. We have children in high school, middle school and elementary. One of them in a special education classroom. Take comfort in knowing I feel you now matter where you land on the education spectrum. And each grade needs different supplies to work from home. So while I can't be there in person to help you resolve all the issues, what I can do is share with a broader audience one of our organized homeschool spaces, how I've cleaned and organized it, and additional tips and strategies.
This is one of our homeschool spaces, which is set in an open loft area.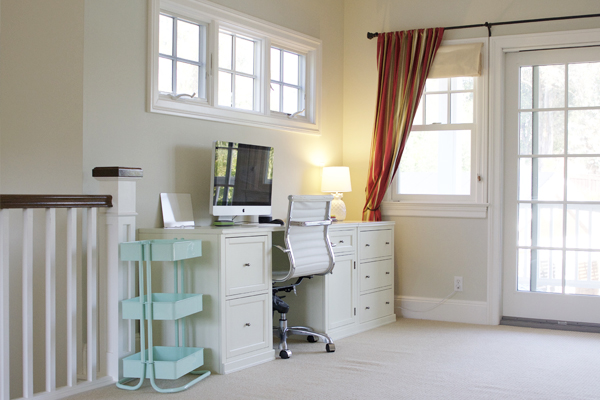 Before school began last week, it was due for a serious deep-clean and simple organization update. For me, there is nothing better than an organized space with a clear work surface. It's how I work best while working from home. But I also love and appreciate a space that is clean.
When organizing for families, cleaning is a part of the process. To begin organizing a space, I first remove everything and clean. I love using The Laundress products for laundry, but they have the most incredible and diverse selection of cleaning products and tools as well.
This simple divided turntable keeps it all beautifully contained and easy to access...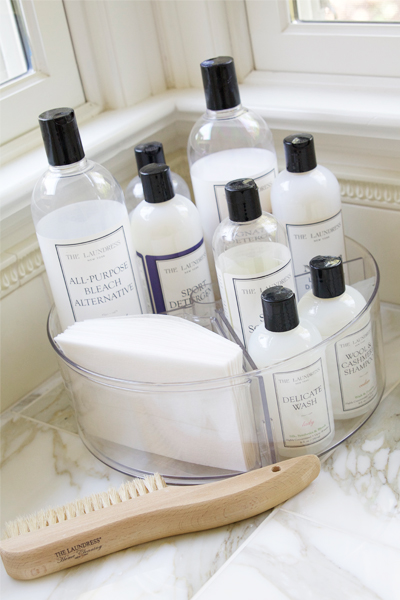 What I love about their products isn't only their pretty, classic packaging but also the unique and non-offending scents. Their signature 247 scent blends eucalyptus with notes of pine and hints of rose, lily of the valley, bergamot, ylang-ylang, and thyme. I also notice hints of musk and lavender.
There's a lot to love here, especially when organizing a clean, remote learning set-up for your children. You want the products you use to be safe and not to smell like chemicals. Just fresh and clean.
I first removed the drawer organizers from the desk. These alone were in need of serious attention. To clean these great drawer organizers, I used The Laundress All-Purpose Cleaning Concentrate. Just a drop is all that's required. I let them air dry a bit before wiping clean.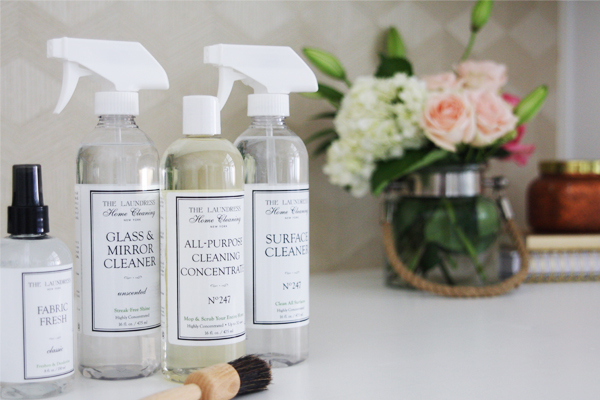 While they dried I cleaned the desk interior with The Laundress Surface Cleaner.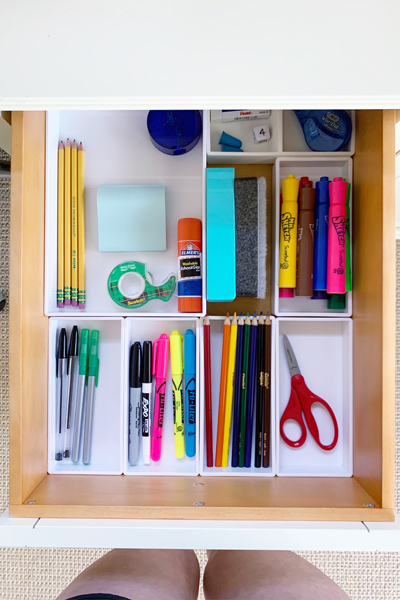 The Laundress created this versatile formula to work well on all surfaces, from stainless steel to finished wood. So I didn't worry about spraying it directly into the drawers.
This single product can tackle kitchen countertops, appliances, bathroom fixtures, and tile. It's highly concentrated yet safe to use around kids and food. It's become a household favorite. Not kidding.
Next, it was time to move on to organizing. We determined what supplies we really needed in the desk and accessible. That ultimately guided us as to which organizers would be the most useful. As a professional organizer, I'm a stickler about measuring. These fit like a glove and I stocked them with the only tools this 5th grader actually uses and needs day-to-day while remote learning.
We added binder paper, blank paper and extra supplies to a lower cabinet.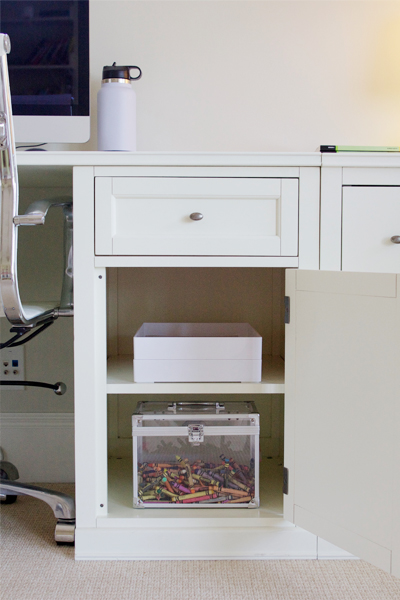 These work so well for keeping paper contained and they are stackable.
The Laundress not only has great cleaning supplies, they also have tools that make cleaning easier and a more beautiful. I love this Duster for Small Spaces because it works well cleaning the computer keyboard of crumbs and dust.
Finally, when all was organized and put away, we cleaned the entire work surface with The Laundress Surface Cleaner.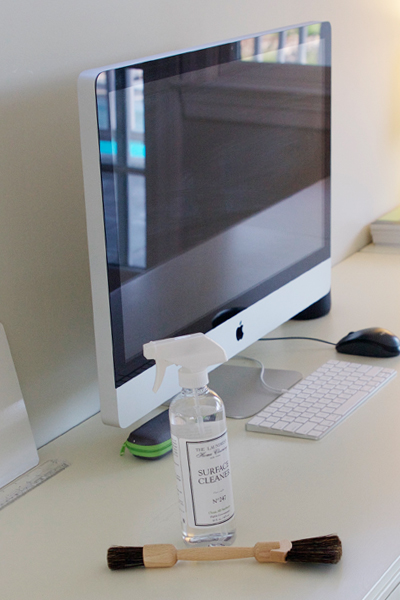 For more from Samantha, click here for her tips and strategies for successful remote learning.