April showers are in the forecast! Be prepared by caring for your rain gear. Gwen and Lindsey share the rainy day pieces they love most, along with their tips for cleaning and maintaining them for years to come.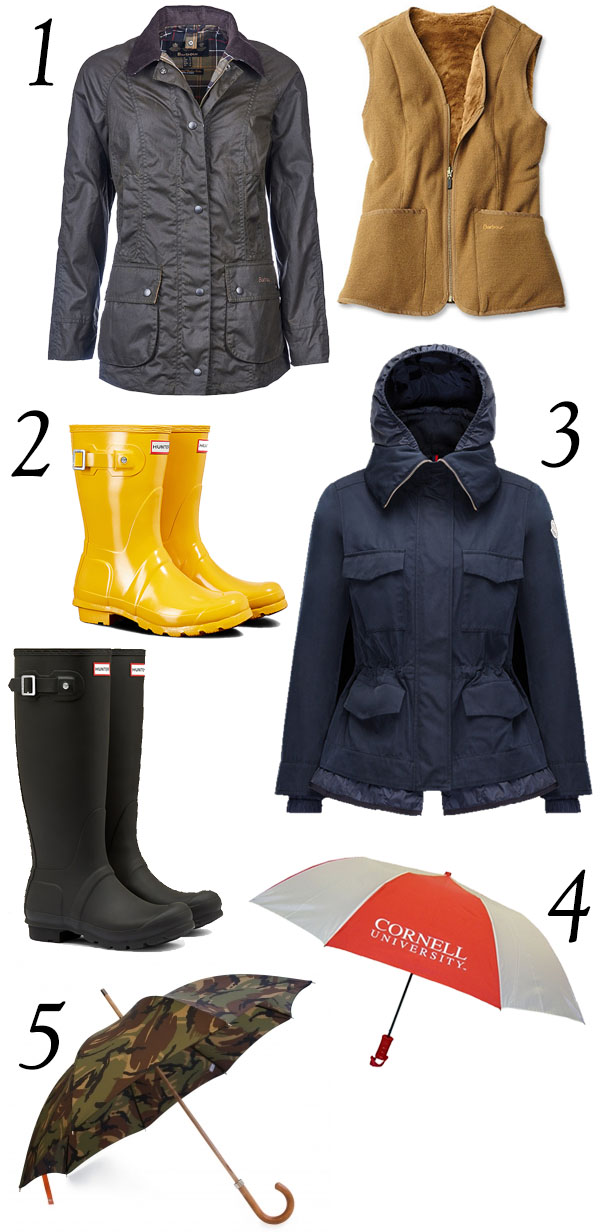 1. CLASSIC BEADNELL WAX JACKET | BARBOUR
Gwen's such a fan of this investment piece, she's been wearing it since college! She adds the fuzzy inner liner for colder temps.
How-To Clean:
Wax jackets must can be cleaned by wiping down the outside with a damp sponge or cloth and cold water. We recommend submerging a Lint-Free Cleaning Cloth in cold water and gently rubbing soiled areas. Hang to dry when finished. Avoid using hot water, soap, and the washing machine as this can remove the wax coating completely. Hang to dry when finished. The inner liner can be washed. While it's made of acrylic and polyester, Gwen opts for the Wool & Cashmere Shampoo. Place the liner in a Mesh Washing Bag and launder on the delicate cycle in cool or tepid water.
Lindsey and Gwen bought Hunter wellies years ago on a London trip before the brand became a mainstay of American fashion. Gwen went for classic black while Lindsey opted for yellow.
How-To Clean:
Mix a capful of All-Purpose Cleaning Concentrate in a bucket of warm water. Dip a Scrub Brush into the solution and apply to the boots gently removing any dirt or debris starting at the top and working your way to the bottom. Place in a sunlit area to dry or dry with Lint-Free Cleaning Cloths. For everyday cleaning and maintenance, you can also spray with Surface Cleaner and treat with a Lint-Free Cleaning Cloth. To eliminate odor inside, spritz with Sport Spray.
This military-inspired field jacket is one of Lindsey's go-tos on a crisp spring day in the city.
How-To Clean:
Raincoats and other water-wicking fabric pieces should be turned inside out before laundering. Insert garment into a Mesh Bag and machine launder using your favorite detergent from The Laundress using the delicate cycle. Always check your garment's label for specific instructions.
Gwen always picks up an umbrella when she's on campus at her alma mater and tries not to lose it! Gwen and Lindsey love to show their Cornell spirit however they can.
5. CITY GENT CAMOUFLAGE UMBRELLA | LONDON UNDERCOVER
Lindsey loves fun umbrellas – especially cheetah or camouflage. They still go with everything, while being a departure from the standard black versions.
How-To Clean:
For mildew stains, apply Scented Vinegar and leave it to soak directly on the affected area for about 10 minutes. Rinse with cold water.
For regular cleaning, fill your bathtub or a large sink with warm water. Add a capful of The Laundress detergent such as Signature Detergent or Delicate Wash. Open the umbrella as much as space allows and leave it to soak in the mixture for 5 minutes. Dip a Scrub Brush into the solution and apply to the umbrella, scrubbing where necessary. When finished, rinse your umbrella in cold water and air dry.