Our #PeopleWeLove series focuses on the lives of people we're crushing on who just so happen to use and love The Laundress. Here, the dirt on their favorite things, day-to-day routines, and more.
Kally Ellis knows the power of flowers on the human mind. Today, the floral company she founded, McQueens, a sought-after florist agency that specializes in direct to consumer flower delivery and unique displays for events and businesses, is focusing not only on bringing joy to its clients, but also sustainability. We sat down with Kally for a virtual discussion to talk business, blooms, and the beauty of caring for the environment.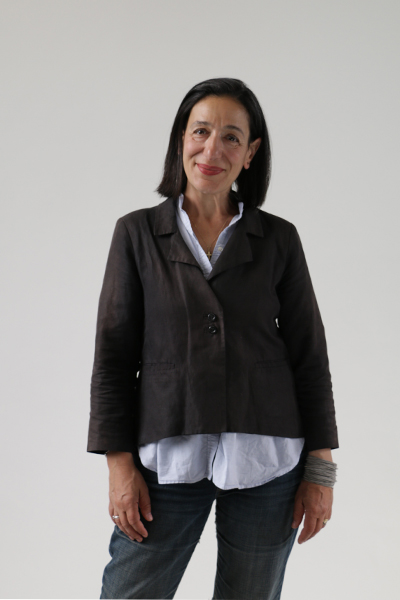 Tell us about yourself and how McQueens Flowers started.
I started McQueens back in 1991. I was working in the City – at an interesting but very uncreative role – and I was becoming increasingly frustrated. After a trip to Paris to see a dear friend, I went into a flower shop to buy flowers for my friend and instantly became entranced by the way the hand-tied bouquet was being assembled; the care with which the flowers were selected and arranged, how it was skillfully tied up and then presented (remember, this was 30 years ago when hand-tied bouquets were almost unheard of!). A few days later I woke up having had a dream that I was making that very same bouquet – I suddenly knew what I wanted to do.
Do you have a background working in the floral industry? If not, how did you learn?
No, I knew nothing. I met a very experienced and utterly brilliant Italian florist – Ercole Moroni – and he became my business partner. I told him I was going to college to learn the basics. He laughed and said, "You don't need to go to college – just watch me." And he was right. I'm a quick learner. If you really love what you do and you have talented teachers, it's amazing how fast you learn.
We love your new compostable and recyclable Winterdale wreath! Can you tell us about the sustainability initiative behind it?
McQueens Flowers was the first florist to receive a Positive Luxury Butterfly Mark for its commitment to sustainability. The Winterdale Wreath is a great example of our dedication to this. At the end of the holiday season, you can return it to our Manhattan studio and the team will either compost, recycle or reuse the components, ensuring nothing goes to waste!
What are some other ways McQueens Flowers practices sustainability?
We have eliminated the use of floral foam for events and we have also redesigned our packaging and ensured that our flower bags are 100 percent biodegradable. We compost our green waste; in New York we're using a local non-profit who picks up from us once a week and delivers to a community garden for composting. It's thinking about your raw materials, how they are sourced, where they've come from, and thinking about where it's going afterwards. I feel it's our job to know these things; we all have a duty of care for future generations.
Top five flower care hacks or tips?
1. Cut your stems at an acute angle to make sure they last longer. 
2. With woody stems such as hydrangea or roses, crushing the ends will also help prevent them drooping. 
3. Remove dying blooms in your arrangements daily to extend life and keep them looking their best. 
4. A drop of bleach or a sterilizing tablet in the water of your cut flowers will extend their life. 
5. If your flowers come with a little sachet of plant food add this to the water. You'd be amazed how often people just throw these away! They really work.
The holidays are right around the corner. Can you give us some tips for people who want to use flowers as focal centerpieces on their holiday table? (any flowers you recommend, if they should do a few small vases or one big bouquet, etc.)
Keep it simple. Head to the garden if you're lucky enough to have one and forage for holly, ivy, anything fresh and green to bring a natural touch to your house. For me, a few beautiful white hellebores – Christmas roses – in a range of containers arranged down the length of your table look stunning. And don't underestimate the power of candlelight. A few carefully placed tea lights will bring a touch of class to the proceedings. For impact, a huge vase of Ilex berries looks glorious and should see you through the holiday season.
What are your go-to holiday floral combinations? Anything particular that works well with Christmas
Christmas roses (hellebores) are always a highlight of the holidays. They also make gorgeous bouquets for winter brides. Another personal favorite is long-stemmed Ilex berried branches to create that focal piece.
Is there a flower or scent that holds significance to you and why?
My mother always grew Lily of the Valley in our garden in North London – there was a little patch beneath the walnut tree – and they have the most amazing perfume. That evocative scent never fails to remind me of my childhood and my wonderful mother.
Are there any emotional or therapeutic effects that flowers/plants have?
Oh, so many people talk about the scent as soon as they walk into a flower shop and you can see their cares melt away as they just stand and breathe it all in. We all know that flowers lift our spirits, but it's not just about aesthetics. It's always that wonderful smell. Even something as simple as a bouquet of garden roses has transformative powers.
What are your favorite Laundress products?
My favorite Laundress product is the Deep Relax Signature Detergent. It's infused with natural oils which I use for my bed linen, the aroma is not only delicious but brings about a deep sense of calm.