Discover the blissful freedom of going fragrance-free with your laundry routine without skimping on efficacy. Our fragrance-and-dye-free, dermatologist-tested solutions are formulated for those who take laundry seriously, but are sensitive to scents and unnecessary additives. This three-step regime will help you effectively solve stains, beat odors, and refresh everyday clothes without the frills of fragrance… just pure, expert-crafted formulas, for your best clothes ever.
Your Fragrance-Free Starter Kit: Fragrance-Free Signature Detergent, All-Purpose Bleach Alternative, Stain Solution, Stain Brush, Lint-Free Cleaning Cloths, Laundry Measuring Cup, Wash Tub Basin, Dryer Balls, Jiffy Steamer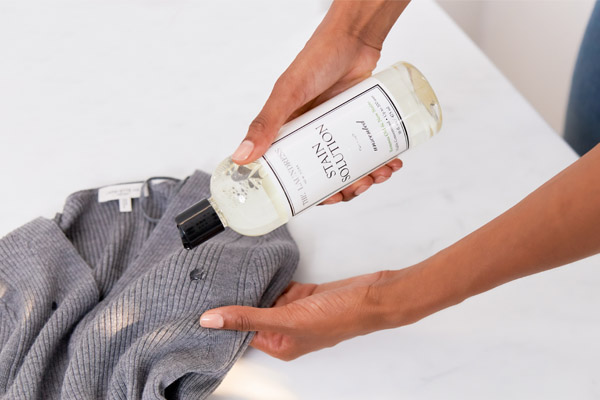 Step 1: Pretreat Stains
First up, pretreat stains on any fabric with our scent-free Stain Solution. Taking a few moments to complete this key step will help garments last longer by warding off future stains and lifting existing ones. Stain Solution is designed to remove all color rich stains such as yellow discoloration, wine spills, coffee stains, grass, fruit, and ink. Pour a drop over stained (or stain-prone) areas and work in with your fingers, Lint-Free Cleaning Cloths, or Stain Brush before washing. The Stain Brush is a great tool for gently dissolving tough, older stains without compromising the finish of your fabrics.
If you have a really tough, set-in stain on a light garment or bedding item, repeat the above process until satisfied or try "boosting" the Stain Solution with ½ capful of All-Purpose Bleach Alternative. These oxygen-based, non-chlorine beads are fragrance-free (no bleach smell here!) and designed to brighten and whiten cottons, linens, and durable synthetics when used as a stain-fighter or in a laundry load. Apply your Stain Solution, sprinkle the All-Purpose Bleach Alternative beads on top, then mix into a paste: Dip the Stain Brush in some hot water and using the brush's natural, densely-packed bristles, massage the paste into the fabric with small circular motions.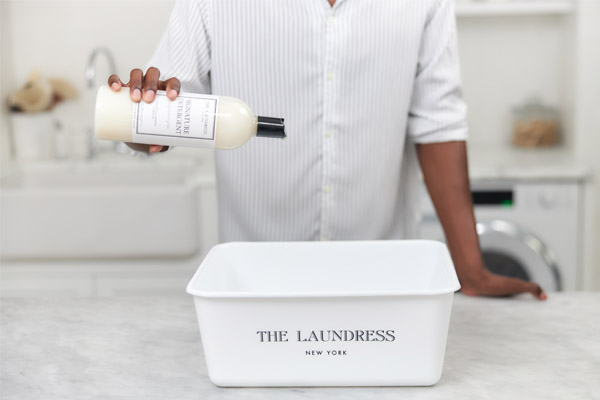 Step 2: Machine or Hand Wash
After pretreating, it's time to wash up! Reach for Fragrance-Free Signature Detergent to give everyday cottons, linens, and durable synthetic fabrics a brightening, stain-and-odor-fighting wash without perfumes or dyes. This formula can be used for hand or machine washing and only a few capfuls are needed for excellent washing results thanks to ultra-concentrated, plant-derived cleaning enzymes.
Add your detergent to your machine dispenser or Wash Tub Basin according to machine type and laundry load size. Avoid sticky hands by using our silicone Laundry Measuring Cup to dispense—simply add the appropriate amount to the heat-proof cup and toss right into the machine with your load!
We recommend washing whites, light colors, and heavily soiled cotton or linen items in hot water. Wash darks, colors, and synthetic items in warm or cold water. For color-safe whitening and brightening, add a capful of All-Purpose Bleach Alternative directly to the machine drum and select a hot wash cycle. For those with extra sensitive skin, adding an extra rinse cycle is a good idea but usually not necessary with our gentle detergents.
Pro Tip: If you love The Laundress's fragrances but want or need a lighter scent experience, mix our Fragrance-Free Signature Detergent with a small amount of your favorite scented Laundress detergent to tamp down the intensity.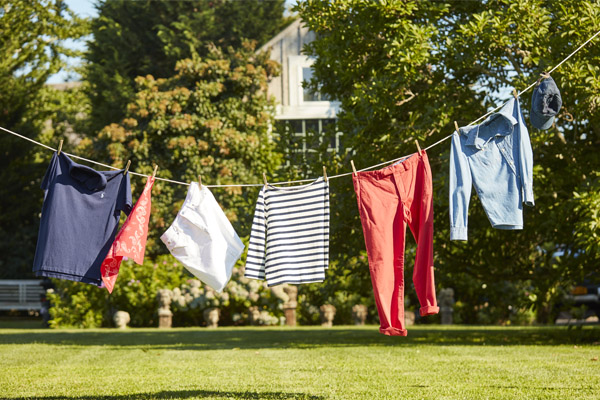 Step 3: Dry and Finish
Once items have finished washing, toss them into the dryer along with our Dryer Balls. A great fragrance, harsh chemical, and waste-free alternative to dryer sheets, these help to speed up the drying process while eliminating static and preventing wrinkles: Their round shapes help to create airflow between wet layers of clothes that would normally stick together during the dry cycle, and this separation allows the warm air to efficiently dry and fluff up fabrics. Remember, the lower your dryer temperature, the less damage is done to your clothes, and your energy bill—win!
Pro Tip: To remove bacteria and odors in between washing and wearing without using a scented fabric spray, give garments a thorough steam with the Jiffy Steamer or hang out to dry in the fresh air—the sun is a natural germ-killer!