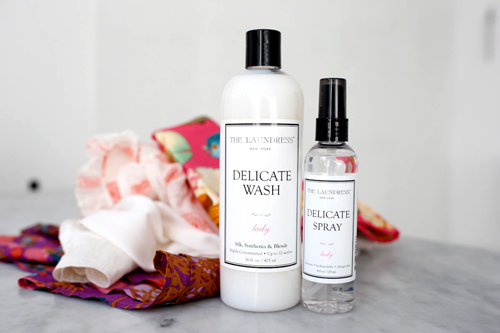 Master Washing Silk Yourself
There's no need to take silk garments and accessories to the dry cleaner. When it comes to delicate fabrics, we know that you want to be careful with washing and treating such investment pieces. We created the Delicate Wash so that you can confidently claim that you know how to wash silk. It's the perfect solution for silks as well as other delicates, like lace.
The key to washing silk is to have the appropriate soap, such as Delicate Wash. You should wash silk in cold water, and it is safe to use the washing machine on the gentle cycle.
If you opt to use the machine, you should consider investing in a Mesh Bag as this will protect delicates from snagging or tangling during the wash cycle. When handwashing, do not soak silk for longer than 30 minutes. If you are dealing with stains, you should pretreat problem areas with Stain Solution before soaking. When air drying, you can hang it or lay it flat in its natural shape, being sure to NEVER put silk in the dryer!
If you're ready to self-launder silk safely and effectively, pick up some of our Delicate Wash and enjoy the results.