Tasty BBQ toppings got you down? From ketchup, mustard, mayo and BBQ sauce to chocolate and caramel sauce, we'll help you remove classic cookout stains from shirts, skirts, and more. Read our full menu of tips below to achieve a Grade A finish.
Your Stain-Fighting Starter Pack: Stain Solution, Wash & Stain Bar, All-Purpose Bleach Alternative, Stain Brush, Wash Tub Basin, Lint-Free Cleaning Cloth
Treat The Stain On The Spot
We recommend keeping our pocket and purse-sized Wash & Stain Bar on hand to treat stains while you're out and about. Don't panic and attempt to tackle the spot with whatever's on hand—paper towels, napkins, seltzer water, and miscellaneous soaps will leave behind a bigger mess that will make removing the stain more challenging later on.
Lather the Wash & Stain Bar under warm water, then work it directly into the stain until it lifts. Use a damp Lint-Free Cleaning Cloth to blot up excess water, then use a dry cloth to absorb as much moisture as possible. You can launder the item when you get home!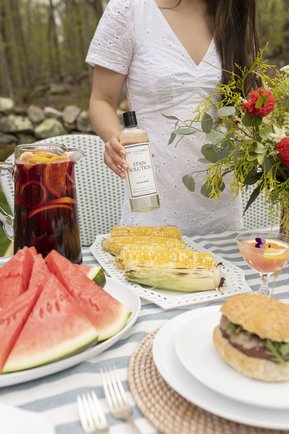 Do a Proper Stain Removal
Once you're home, target the your stain using the proper product according to stain type. For oil-based stains like greasy fingerprints, use the Wash & Stain Bar. By contrast, to lift tannin and protein-based marks like ketchup, sangria, and grass stains, use Stain Solution, a concentrated pretreat made with plant-derived, stain-fighting enzymes. Simply work the appropriate solution into the affected area with your fingers or a Stain Brush, then proceed with washing or soaking. Avoid machine drying garments until marks are fully removed.
For particularly tough stains on light-colored cottons, linens, or durable synthetic fabrics, try by creating a paste with Stain Solution and All-Purpose Bleach Alternative. Work the mixture into the stain using a finger or our Stain Brush, which will drive the formulas deep into your fabrics' fibers to break up the stain. Next, put the item in a Wash Tub Basin, sink, or tub, and pour hot water over the mixture to activate the All-Purpose Bleach Alternative beads. Follow with a soak in a bath of hot water for up to 30 minutes.* If the stain is still visible, repeat the process until it has dissipated. Finish by following up with your favorite Laundress detergent!
*Do not use All-Purpose Bleach Alternative or hot water on silk, woolens, or delicate synthetics.
You may also like: