What better workout inspiration is there than a super cute workout outfit? (We'll answer that for you: There is none.) But no matter how chic your look is, a good workout will always leave your athleticwear sweaty, smelly, and in need of a cleansing routine with a little bit of muscle. So we turned to #fitspo Sophie Jaffe, who never misses a day of physical activity, for how to keep sports bras, workout tops, leggings, and even sneakers, super clean. This is her ultra-effective 15 minute routine.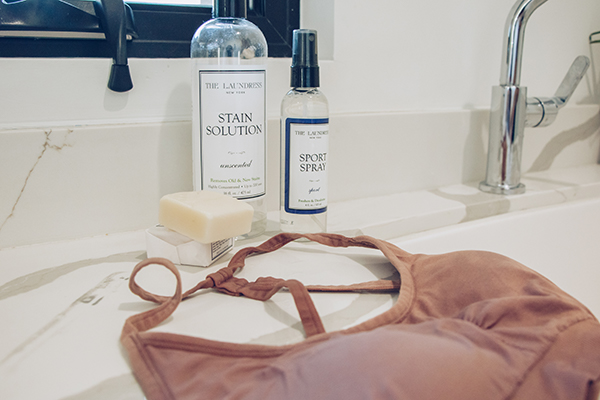 When you move and sweat as much as I do, the laundry can pile up, especially athleticwear! It's important to me that I too use products that I 100% trust. That's why I'm so happy to have found The Laundress. Plant-derived, simple, and GORGEOUS products like The Laundress's line of detergent, fabric care, and home cleaning are so important for keeping your clothes – especially all of my athleisure – and home clean, fresh, and in good condition.
First, I use the Wash & Stain Bar on areas where stains accumulate from sweat, sunscreen, and deodorant (like beneath armpits and near the chest). Lather the bar with cool to warm water and gently work it into the material. If any residue or oil is left behind you can add a drop of Stain Solution and work in with the Stain Brush to really get in there. Repeat as needed.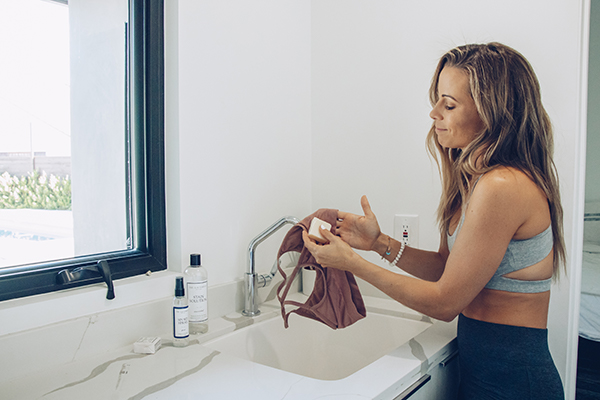 To eliminate odor from those serious sweat sessions, I use this trick before washing them. I'll add ¼ capful of Scented Vinegar to a Wash Basin or tub and let my athleticwear (especially my sports bras!) soak for up to 30 minutes. The Scented Vinegar is amazing because it has all the same cleaning properties of regular vinegar but contains calming essential oils that counteract the strong smell.
When I'm done pretreating, I separate my athleticwear like leggings, workout tops, and sports bras and do them together in one load. I place sports bras, socks, bathing suits, and smaller items in Mesh Bags to protect them from snagging in the washing machine. Then I select the normal cycle with cool to warm water and use Sport Detergent. It was made specifically to clean and preserve high-performance, moisture-wicking fabrics like activewear and swimwear and helps the items maintain their shapes. When the wash is done, I hang my pieces to dry because putting them in the dryer can compromise the structure of athleticwear. I lay them flat in their natural shapes on a drying rack.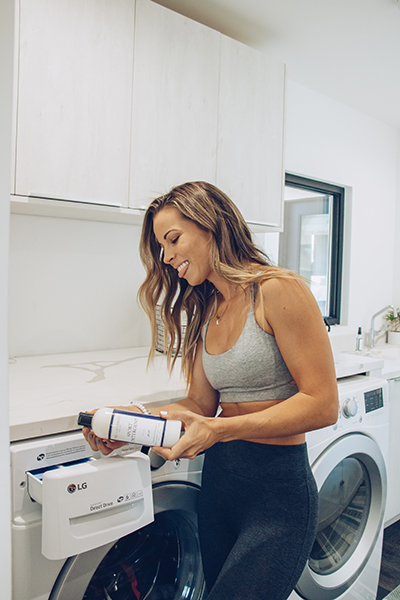 For items that can't be laundered such as spin shoes, helmets, yoga mats, and gym bags, I give them a good spray-down with Sport Spray. The formula helps freshen and banish odors in seconds!
And that's it! I hope that you're able to pull some inspiration (and tips!) from my laundry routines. I've been using these methods for years and my pieces look good as new.
For more fitness, intuition, and food inspo, follow me @sophie.jaffe.