Spring has sprung, the sun is shining, the birds are singing, but your closet is still dealing with the winter blues. Bunched up sweaters and bulky winter accessories have made a home of their own at the forefront of your closet and you're wondering where on earth your spring wardrobe is going to live. That is why we teamed up with professional organizer, Shira Gill, on how to streamline your closet for the new season.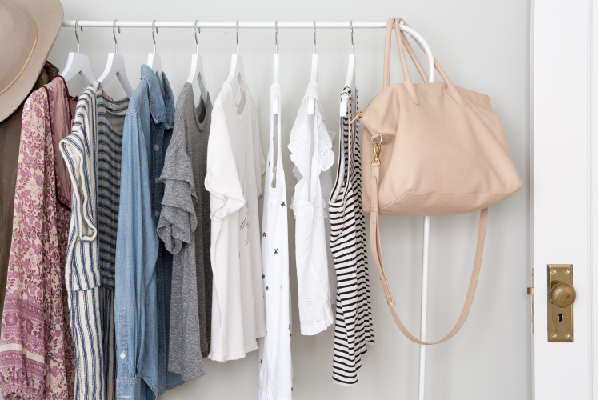 Are you desperately seeking a streamlined, curated closet, but you don't know where to begin? The good news is that just by following these simple steps, you'll be well on your way to closet bliss.
STEP 1:
PREP
Before you begin, think about what's required for your typical week, as well as what you need for workouts, hobbies, and travel or events. Since the contents of your closet will determine your style, this is also a great opportunity to become more intentional about how you present yourself each day. Pull out a few of your favorite outfits to set the standard high. Gather up inspiration, or create a spring style board on Pinterest. Once you have a clear vision for how you want to dress, it will be easier to stay on track with your spring closet edit and future shopping adventures.
STEP 2:
EDIT
Time to get down and dirty. Pull out the contents of your closet and ruthlessly edit, one category at a time. Remember: Just because something cost a lot of money, or looks good on somebody else, it doesn't mean that it is the right fit for you. Think about how you want to look and feel in your clothing, and do your best to keep only what you actually use, wear, and love. Donate or consign the rest.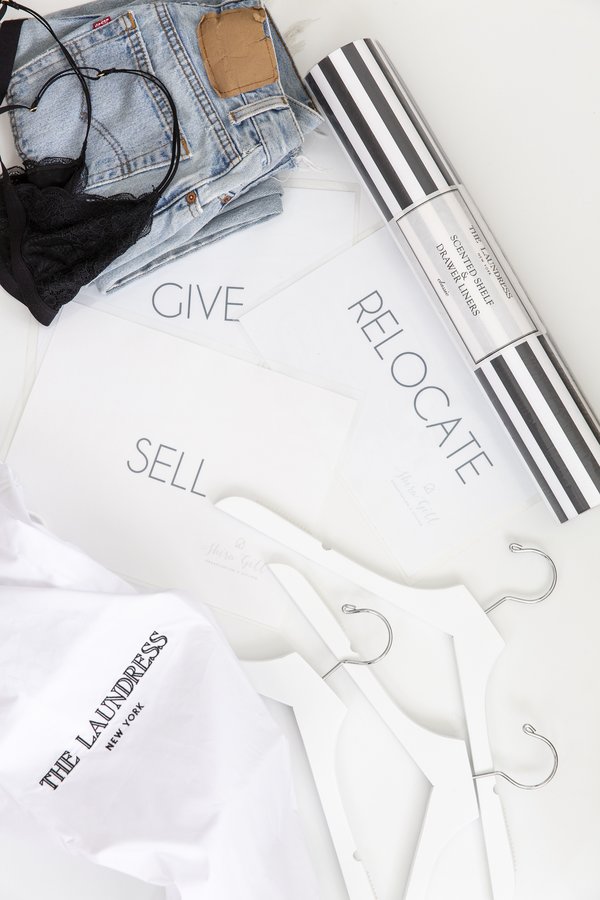 STEP 3:
ROTATE
Spring is a great time to lighten up and refresh your closet. Pull out the bulky coats, sweaters, scarves, and other seasonal items, and relocate them. You can store them in garment bags in the back of your closet, or box them up in breathable cotton storage boxes. Let those spring and summer clothes have their moment in your prime real estate areas!
STEP 4:
STYLE
In setting up your closet, take care to store items by frequency of use. Set up everyday essentials in prime real estate areas for visibility and easy access, and formal, seasonal, and occasional items in the back of the closet, or in bins on a high shelf.
Once you're all set up, it's nice to add some personal touches and decor to complete the transformation. You might try accessorizing with an accent rug, pretty lighting, framed pictures, or a style inspiration board. Remember: You start and end each day in your closet. It's worth it to invest a little added effort to ensure it feels inviting and lovely.
STEP 5:
SHOP
Once you've thoughtfully edited and set up your closet for spring, it will be easy to see if there are any wardrobe gaps you'd like to fill in. Jot down the items you'd like to invest in to round out your wardrobe, and make sure to only shop with a budget and a list.
Happy Spring!
Shira Gill thinks your life will be better with less. Visit her at www.shiragill.com to sign up for her signature Virtual Closet Makeover Program or to check out her full-service organization and style makeovers. Follow Shira on Instagram @shiragill for weekly tips and inspiration.
Credits:
Organization + Styling by Shira Gill Home
Photography by Vivian Johnson Photography