Whether your laundry room is more of a closet (hello, tiny apartments!) or a true, dedicated room, a few functional, low-effort refinements can make a big difference in your cleaning confidence and mindset, resulting in better laundry with every load. Ahead, a few expert-approved—and super aesthetically pleasing—tools that will help turn your pile of laundry into a routine that's equal parts luxurious and effective.
Ditch unsightly industrial bottles and store our Best Sellers Kit—all the expert-crafted detergents you need for every fabric, including dry clean items—on a dedicated shelf or chic mirrored tray on top of your machine. It's the quickest way to spruce up your space, and you won't mind leaving our thoughtfully-designed bottles out on display! Avoid sticky detergent messes by using the Laundry Measuring Cup to dispense product with ease.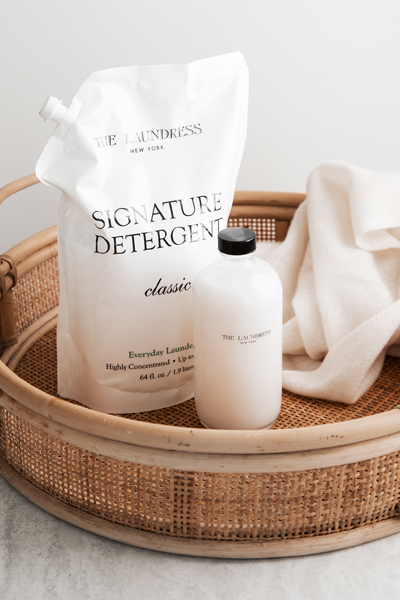 If a uniform look is more your style, decant detergents, stain removers, and even home cleaning solutions into Glass Bottles. Display your pristine glass bottles and stash away Gallons and Refill Pouches —the most economical way to replenish!—in cabinets or Storage Boxes for a more elevated look.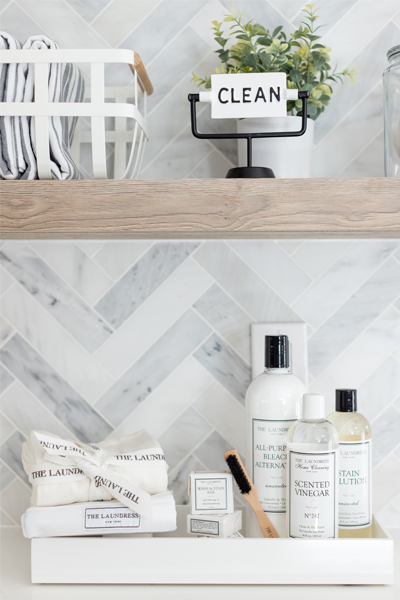 3. Stain Removal Essentials Kit
This kit's got all the necessities for removing any type of stain on most types of fabrics including delicate, dry clean tagged items! We love storing these in our Wash Tub Basin, the perfect tool for pre-soaking tough stains and hand washing. Find our master guide to stain removal here.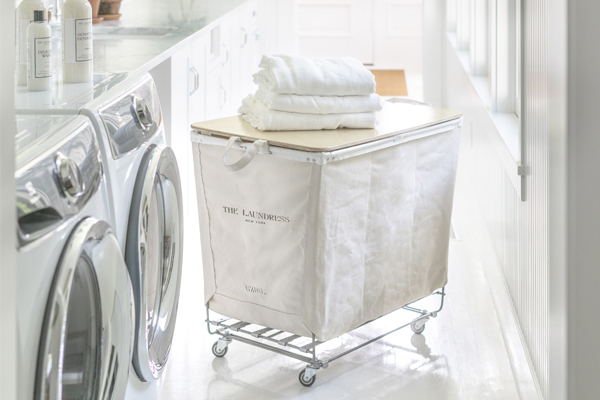 4. Dryer Balls
These MVPs of drying are made of 100% wool fibers and allow you to skip wasteful, chemical-heavy dryer sheets. Our Dryer Balls speed up laundry's dry time, remove static and lint, and fluff up fabrics by allowing warm air to better circulate between items. Because they're easy on the eyes (and for easy access!), we love placing wool Dryer Balls in a glass jar or bowl.
5. The Laundress x Steele Canvas Hampers
Chic hampers that double as storage? It's more than a pipe dream! The Laundress x Steele Canvas Hampers are impossibly stylish but also versatile, with custom folding tabletops (that can also serve as a side table in your laundry room) and multiple storage compartments for stowing dirty laundry, fabric care tools, linens, and more. Plus, they're rolling, so you can easily maneuver large laundry loads around your home.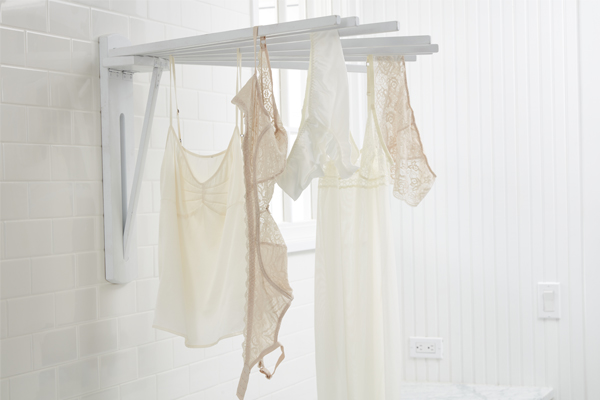 6. Drying Racks
When it comes to loving your garments for forever, we're big fans of hanging items to dry whenever possible— it's better for your fabrics and the environment (not to mention your energy bill!). Keep your laundry room looking organized by investing in collapsible wall-mounted racks, or a folding rack that stashes easily in a closet. One of our favorite tips is to keep Fabric Fresh Classic nearby to add a laundry fresh-scent to garments as they dry.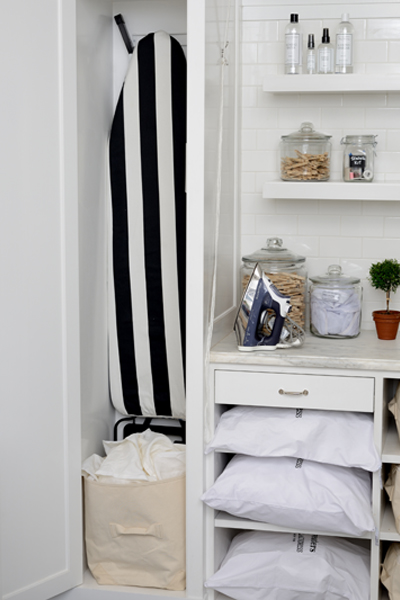 This multitasking solution removes odors from both clothes and the air alike. To remove unwanted scents from fabrics, soak in a solution of warm water and one capful of Scented Vinegar for up to 30 minutes before laundering as usual. If your laundry room is located in a damp basement or stuffy closet, banish unsavory smells by setting out a fresh bowl of odor-absorbing Scented Vinegar every few days.
8. Aera Home Diffuser Collection
Infuse your space with luxurious, laundry day-inspired scent every day by hitting play on our Aera Home Diffuser Collection. Aera's microdroplet technology dispenses fragrance as ultra-tiny scent molecules for even, livable fragrance — and a whole new way to love our perfumer-crafted scents. Try the Aera Touch Diffuser & No. 723 Capsule for a warm, alluring, spicy rose scent in medium to large rooms, or the convenient plug-in Aera Mini Diffuser & Mini No. 247 Capsule for fresh notes of eucalyptus, pine and lavender in smaller spaces.
Hanging a few Lavender Pouches throughout the laundry room or tucking them in a pretty glass jar is a low-maintenance way to instantly upgrade your space and infuse your laundry room with a light, herbal aroma. Toss them in the dryer with your Wool Dryer Balls to add a hint of scent to clothes and pack them away with short and long term storage—while people love the scent of lavender, critters do not!
Take your ironing area from drab to fab with our striped Ironing Board Cover! The timeless black and white cover adds a stylish look, while the scorch-resistant material and double-lined fiber pad ensures safety and durability. It even has a hanging pocket, perfect for keeping your Ironing Kit within reach.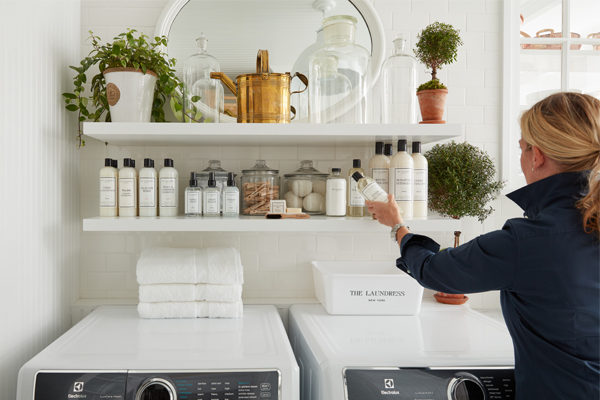 11. Storage Cubes
Need a place to store miscellaneous clutter or tools like sewing supplies, cleaning rags, and fabric brushes? Storage Cubes will make your space look tidier and more streamlined in seconds. The boxes can be easily stacked or slid onto a shelf, and clear label holders allow for quick and easy IDing.
These versatile cloths function to replace paper towels, and can be used for fluff-free spot removal on garments and upholstery, as well as general cleaning tasks around the home.
13. The Laundress Finishing Solutions
Keep an on-the-go freshening station or drawer for when you just don't have time to launder or iron before stepping out. Stock up on our problem solvers like Fabric Fresh Classic for waterless "laundering," Crease Release for instant wrinkle removal, Static Solution for cling, and Stiffen Up for a starched finish. Follow our guide to a perfect fabric finesse here.
In the mood for more inspiration? Explore our Organization How-Tos on Pinterest!